June 8, 2020
This is a feel-good story about a Flower Hill Primary School third grader. Zachary Goldstein is a creative, thoughtful and downright inspirational youngster and his love of music has lifted the hearts of many, including his teacher, Brenda McManus and his classmates.
Mr. Goldstein has many talents, to be sure, and one of them is playing the guitar. During Teacher Appreciation Week, he sent a video of himself playing the instrument to Mrs. McManus, who was so touched by his thoughtfulness and creativity that she suggested the third grader brainstorm some lyrics to honor his classmates and teachers. Mr. Goldstein agreed and the two of them reached out to Flower Hill music teacher Karen Cronin for her expertise.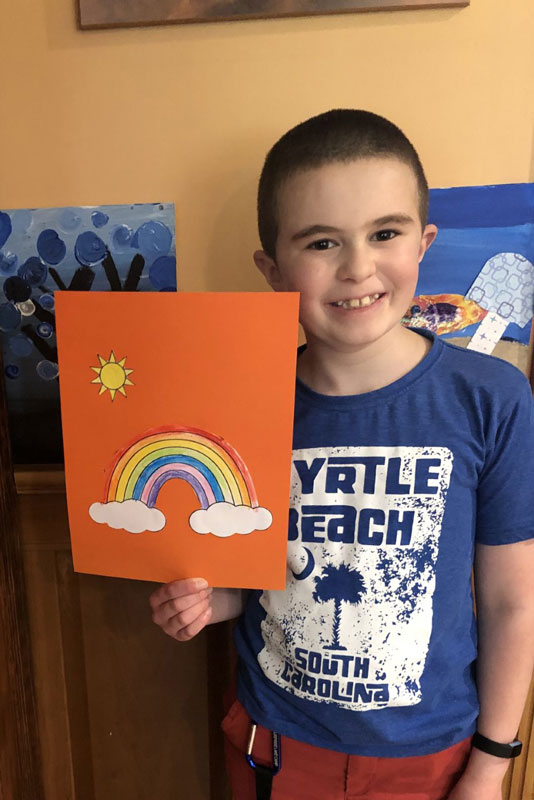 Flower Hill School third grader Zachary Goldstein is quite a musician.
"I was so moved by Zachary's video and the fact that he was expressing himself using the guitar," Mrs. Cronin said. "He was giving a musical voice to the frustrations of being away from his teachers and friends and how COVID-19 was affecting us all. So using Zachary's thoughts and his chord progression, I sat down on the keyboard and 'We Are Rainbows' literally came spilling out."
Mrs. Cronin and Flower Hill third grader teacher Allison Conlon collaborated on the project and created a recording of the song.
"We asked the Flower Hill third graders to send in photos of themselves with rainbows they had created," Ms. Conlon said. "We wanted to show visually how hopeful our kids were, even in the midst of the COVID-19 storm and how they have persevered through this time of digital learning. They were our rainbows."
Ms. Conlon and Mrs. Cronin compiled the photos and set them to the music to create a memorable end-of-the-year third grade video keepsake. We Are Rainbows, inspired by Mr. Goldstein, is proudly dedicated to the 2020 Flower Hill third grade class, which is set to move on to Woodhull Intermediate School and Jack Abrams STEM Magnet School.
Mr. Goldstein loves to play guitar and is taking lessons. His taste in rock music has been influenced by his family, who are supportive of his musical endeavors.
"Zachary's perseverance and talent shine outside of his daily Google Classroom assignments," Mrs. McManus said. "He truly is an inspiration to us all."