January 14, 2020
The Huntington wrestling team turned in a strong performance at the Kohl Invitational at Suffern last week. The Blue Devils sent six wrestlers to the finals and three won weight class championships.
Huntington wrestled well in the completion, finishing third in the team standings in a field of 12. The performance was especially impressive since the Blue Devils were missing four wrestlers who were out of the lineup with sickness, injury or for other reasons.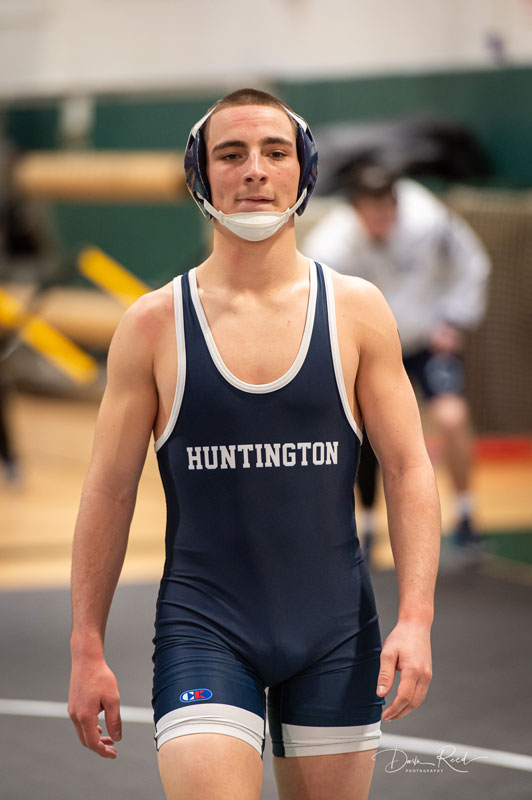 Senior Aedan McDonald pinned three opponents at the Kohl Invitational. (Darin Reed photo.)
Joe Petrone (106 lbs.), Joe Nicotra (152 lbs.) and Nick Tudisco (195 lbs.) all captured first place. Lucas Cirlincione (96 lbs.), Aedan McDonald (145 lbs.) and Robbie Smith (182 lbs.) all placed second. Billy Burton (120 lbs.) and Ethan Franciscovich (132 lbs.) finished in sixth place. Many other wrestlers won at least one match in the highly regarded tournament.
Petrone (17-1) pinned North Rockland's Valenti Mendez in 1:49 and then topped Manhasset's Jason Pilla, 6-0 to reach the finals where the Huntington junior nipped Pearl River's Matt Shaw, 6-5.
"I feel that I wrestled great and that in the semifinals and finals matches I really earned the wins," Petrone said. "I think if the team keeps training the way it is and certain individuals keep training the way they are we will go very far."
Nicotra (22-1) pinned three opponents to reach the finals. The junior flattened Plainedge's John Huttle (0:35 seconds), Manhasset's Tyler Roszko (0:15 seconds) and Monroe-Woodbury's Mike Zrelak (2:54) before edging Goshen Central's Christopher James Fini in the championship bout, 5-0.
"I'm very proud of how we all wrestled today," Nicotra said. "I think this tournament was a great experience for the team. We fought hard and proved that we can wrestle with the best. If we keep up the hard work, we are going to do big things at leagues and counties."
Tudisco (19-1) pinned Goshen Central's Dominick Siracusa in 1:16 to advance to the finals where the junior pinned Suffern's Jaden Barnes in 39 seconds.
"I think everything went well today," Tudisco said. "The whole team is starting to come together. I'm happy with my performance but at this point in the season I am mainly focused on doing well at leagues and counties."
Cirlincione (16-4) topped Suffern's Trinity Lynch by technical fall in 2:37 before pinned Pearl River's Aiden Veirun in the semifinals in 1:53. The sophomore dropped a 4-0 decision to Suffern's Cosmo Damiani in the finals.
McDonald (18-7) pinned Pearl River's Aiden Muarskey (0:37 seconds), Manhasset's Patrick Perulli (1:52) and Sayville's Braden Ainslie (4:33) before the senior fell to Monroe-Woodbury's Luis Paulino in the finals, 8-3.
Smith (15-1) pinned Plainedge's Alex Abrams in 3:12 and then battled to an 8-4 decision over North Rockland's William Santana. The sophomore dropped a 5-0 decision in the finals to Mineola's Ericson Velasquez.
Burton (21-4) won three matches in the tournament, including decisions over Monroe-Woodbury's Grant Barczak (7-2), Pearl River's Ian Rowan (6-0) and Plainedge's Mike Caliendo (7-2). The senior dropped a a consolation round overtime sudden victory verdict to Suffern's Timothy Dube and had to settle for sixth place.
Franciscovich (9-10) pinned three foes in the competition, including Mineola's Lucas Goring (3:10), Goshen Central's Anthony Mitchell (1:42) and Pearl River's Mike McCarvil (0:40 seconds). The junior dropped a 14-3 decision to Suffern's Steven Trombetta in the consolation round and took sixth place.
Many other Huntington wrestlers won matches in the tournament, although they failed to place in the top six of their respective weight class. They included:
At 99 lbs., eighth grader Sam Nicotra (9-7) pinned North Rockland's Justin Riello in 3:01 and Plainedge's Tim Drake in 0:34 seconds.
At 113 lbs., Enzo Pupillo (8-7) pinned Goshen's John Lamberty in 1:06 and Plainedge's AJ Deutch in 4:23.
At 138 lbs., Zachary Zboray (7-8) topped Pearl River's James Freedburg by technical fall in 3:21 and then nipped teammate Anthony Annunziata, 2-0.
At 138 lbs., Anthony Annunziata (7-6) pinned Pearl River's Luke Failing in 5:11.
At 145 lbs., Ryan Baker (7-9) edged Plainedge's Justin Tarnogorski, 7-5 and pinned Plainedge's Alex Assemacher in 2:07.
Final team scores: 1. Manhasset-271; 2. Monroe-Woodbury-198; 3. Huntington-188; 4. Plainedge-184.5; 5. Suffern-184; 6. Sayville-181.5; 7. Goshen Central-117; 8. Pearl River-86.5; 9. North Rockland-67; 10. Mineola-60; 11. East Ramapo-21; 12. Burke Catholic-17