January 13, 2020
Principal Michelle Richard took to the airwaves early one recent morning to announce the latest round of award winners at Washington Primary School.
Dr. Richards announced the names of December's Washington Ways Award recipient as well as January's Featured Artists of the Month. The students were excited to be recognized and both groups posed for a series of commemorative photos.
Washington Ways Award winners for December included Elder Sanchez, Melanie Pin, Yuval Barak, Lylah Murtaza, Jake Molina, Nidia Flores Reyes, Angela Kekatos, Jennifer Mendoza-Canas, Nevaeh Rodriquez, Byron Jimenez, Anthony Lopez, Yahel Barak Elitsur, Darwin Portillo Villegas, Jaida Blatt, Leah Edwards, Xavion Greene and Will Respass.
The entire class of teachers Vicki Creighton and Jacklyn LeGodais was honored as the Blue Ticket Award recipient.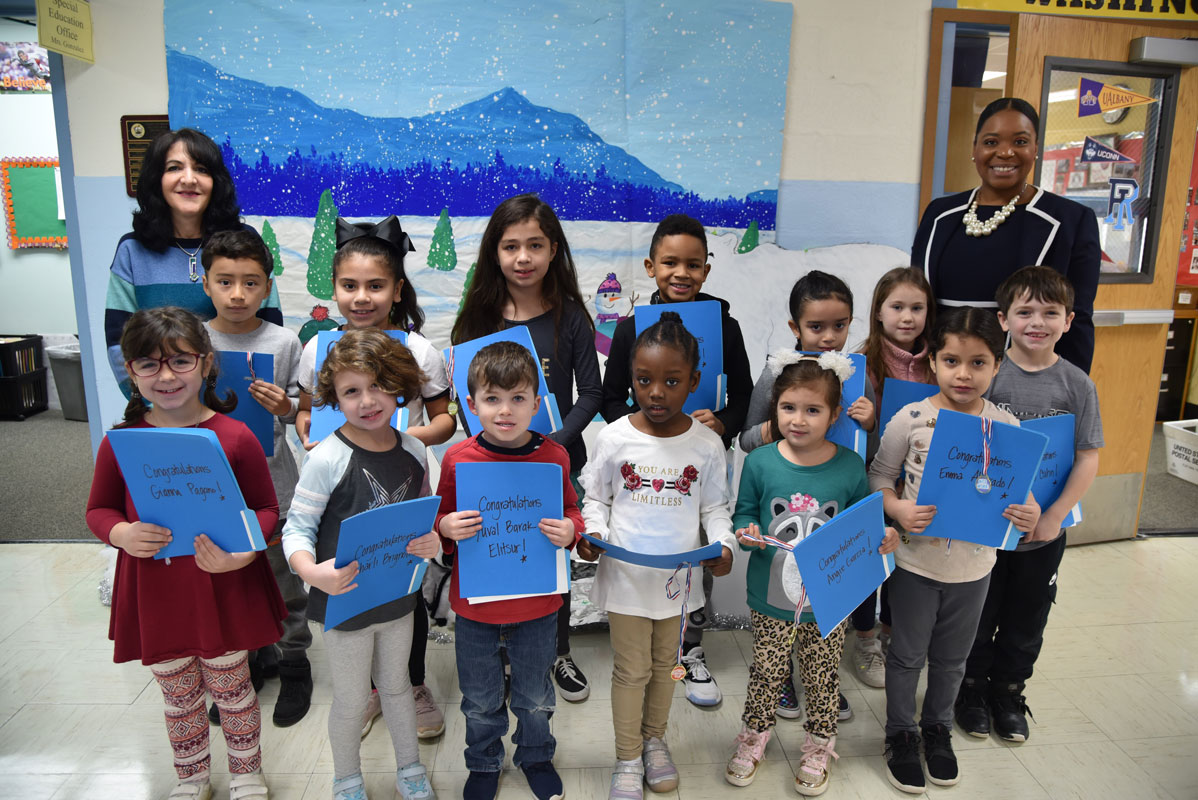 Art teacher Maria Mazzola and Principal Michelle Richards with the Featured Artists of the Month
January's Featured Artists of the Month include a very creative bunch. The youngsters are working with veteran art teacher Maria Mazzola, who has been impressed with their exceptional work. The top pieces are now on display in the main hallway opposite the cafeteria.
January's Featured Artists include:
Kindergarten: Ava Henry, Charli Brignoli, Yuval Barak Elitsur, Angie Garcia
First grade: Aliana Moalawi, Emma Alvarado, Tillie England, Gianna Pagano
Second grade: Rylan Hook, Andrew Cahn, Ethan Kim
Third grade: Andy Alvarez Zelaya, Tyanna Oliver, Samantha Jimenez Acosta, Camila Guardado Jandres
"We are so proud of all these award winners and all of our students here at Washington Primary School," Dr. Richards said.