January 10, 2020
Huntington High School's chapter of Mu Alpha Theta, the national Math Honor Society inducted 44 new members during a Thursday night ceremony filled with time-honored traditions in the school auditorium.
To be eligible for membership in the Society students must be enrolled in a math class higher than Algebra 2 (such as pre-Calculus, AP Calculus or AP Statistics) and have a minimum average of 85 in all high school math courses.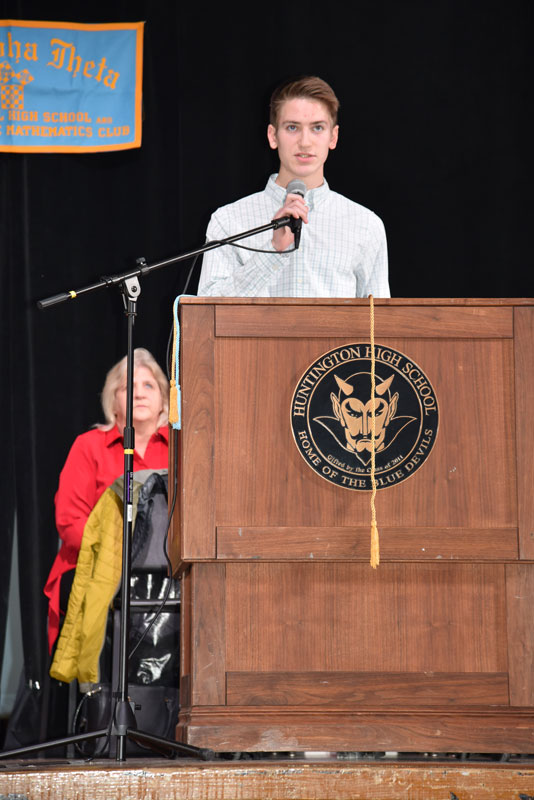 Math Honor Society President Andrew Knowles.
The new inductees include Brenden Abedin, Ryan Aguirre, Isabella Algieri, Alexa Amorison, Alexander Bellissimo, Mia Brown, Matthew Colavecchio, Kyle Colleluori, Eduardo Consuegra-Linares, Isabella DiBenedetto, Nina Drakulich, Marina Durand, Katherine Eichenberger, Charles Forte, Jordan Forte, Alex Gonzalez, Britney Guardado-Valle, Aidan Heller, Rebecca Hoffmann, Jaden Italiano, Molly Kessler, Timmeree Koepele, John Krisch and Samuel Levine.
The Math Honor Society's newest members also include Ainsley Lumpe, Mackenzie Madison, Charlotte Maggio, Andrew McKenzie, Eliana Ng, Jeffrey Ochoa-Alvarez, Jessica Quintanilla, Samir Rathore, Alexa Rind, Julie Rogel, Valerie Rogel, Joseph Rombaldi, Andreas Seferian, Christopher Segreti, Kate Sheran, Ella Siepel, Julia Steinberg, Nicholas Tudisco, Grace Wildermuth and Daniel Williamson.
"Congratulations to a distinguished group, members of which have worked exceptionally hard in math and all other disciplines," Superintendent James W. Polansky said. "They exemplify the fact that math is a subject that can be interesting and enjoyable for all!"
The ceremony marked the 23rd annual induction since the founding of Huntington's Nathan Hale chapter of Mu Alpha Theta. Huntington math teachers Monica Racz and Jordan Schessler are the organization's faculty advisors.
The group is led by executive board officers Andrew Knowles (president), Lily Stein (vice-president), Gabriel Medina-Jaudes (treasurer), Bryan Wong (secretary) and Lia Shechter (tutoring coordinator). Each of the student leaders attended to various duties during the induction ceremony.
Huntington High School Class of 2017 remember Jacob Strieb, who is studying math at Carnegie Mellon University in Pittsburgh was the evening's guest speaker. As captain of the high school's robotics team as a senior, he helped lead Huntington to the world championships.
Huntington UFSD Chairman of Math Kathleen Aufiero also spoke during the ceremony.
The evening included performances by the Quadrilaterals, a group of four talented Huntington High School strings musicians, including Gabriel Medina-Jaudes, Allison Quinn, Ella Siepel and Grace Wildermuth. Bryan Wong performed a lovely rendition of the "Star Spangled Banner" on trumpet.
The ceremony was followed by a reception in the auditorium lobby for students, parents and other family members, who casually socialized with one another and posed for photos.