January 9, 2020
Molly Kessler wants to make a difference in the world and she's off to a great start. The Huntington High School senior is headed to Clark University in Massachusetts where she intends to pursue her goals and interests with the same determination and enthusiasm that has earned her the respect and admiration of her classmates and teachers through the years.
"I chose Clark because I want to 'Change Our World,' said Ms. Kessler in a nod to the college's motto. "Pushing myself while impacting the lives of others was always a passion of mine. Knowing that every 'Clarkie' shares this passion made me feel at home as soon as I stepped foot on campus. I knew that I wanted to attend a school in a city that revolves around culture and diversity. With a small and diverse group of undergraduates, Clark was the perfect fit for me to be able to meet new people of all different backgrounds, while also being able to go out and do volunteer work in the bustling city of Worcester."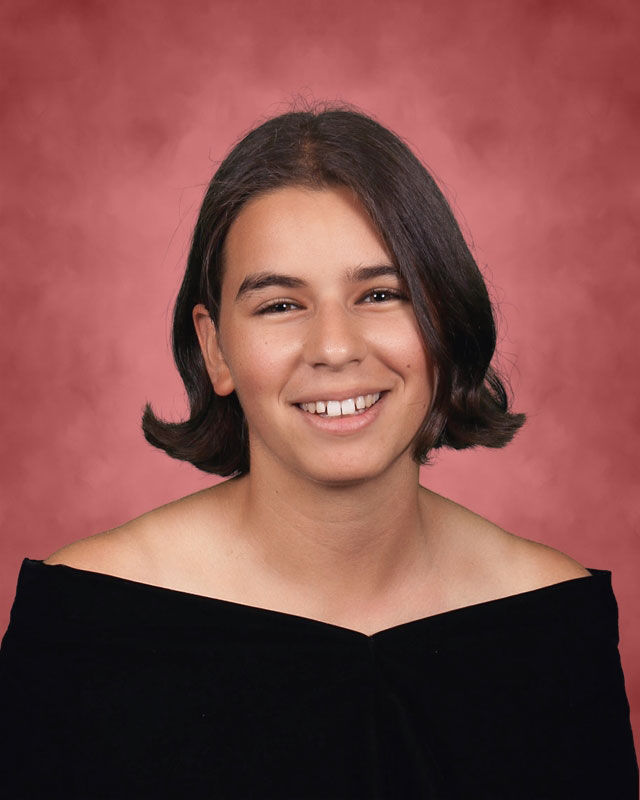 Huntington High School senior Molly Kessler.
"At Clark, I want to study human development, community studies and international development," Ms. Kessler said. "After listening to life changing stories from my peers about the obstacles that they have faced, I know that these focuses of study will provide the skills I need to advocate and create change for those in need around the world. Although I do not have any particular career in mind, I do know that I want to enter a field that allows me to help people of all different backgrounds, and make sure that everyone has the quality of live that they deserve."
Founded in 1887, Clark is a private liberal arts-based research university. Robert Goddard invented the modern rocket at the school and Sigmund Freud delivered his only lectures in the US there.
"I set a goal for myself before I started my freshman year at Huntington to get involved," Ms. Kessler said. She has done just that. President of the high school's Key Club chapter and the Blue Devil marching band's co-flute section leader, the teenager is also historian of the Spanish Honor Society and an administrative assistant with the National Honor Society. She's also a member of the English, Art, Tri-M Music, Social Studies and Math Honor Societies.
"I have made so many friends in the community who have impacted my life, but my closest friends are Natalie Ciccone, Keenan Lyons, Julia Segal, Carrie Kilgour, Livia D'Anna, Ryan Aguirre, Baylie Larsen, Zubair Ali and Emily Cheshire," Ms. Kessler said. "Seeing their faces in the hallway makes my entire day."
Ms. Kessler is a Natural Helper, assisting classmates as they work through personal issues. She performs with the high school's wind ensemble. The senior is interning with the Huntington Breast Cancer Action Coalition, participating in the organization's community outreach initiatives by spreading awareness of cancer's lesser known causes.
"All of my teachers at Huntington have allowed me to grow and become the person I am today," Ms. Kessler said. "My favorite teachers are Mrs. [Gina] Colica, Mrs. [Kelly] Krycinski, and Mr. [Brian] Stellato. Mrs. Colica and Mrs. Krycinski work together as the co- faculty advisors of Key Club and I have been fortunate enough to have them as teachers. They have both taught me knowledge that I will never forget, while also allowing me to realize that giving back is important and is what I want to do for the rest of my life. Mr. Stellato has been my band teacher and marching band director since I was in eighth grade. He has pushed me to join honors ensembles and to step outside my comfort zone while being a leader in marching band."
The teenager urges incoming freshmen to get involved in life at the high school. "If you don't like an activity, move on and choose a different one," Ms. Kessler said. "It doesn't hurt to try a new thing or two. Also, always seek help when you need it. I guarantee that there will always be a student or faculty member who has your back."
Always ready for something new, a spring trip to Greece will help Ms. Kessler learn more about Greek culture. "In the future, I would like to study abroad in a Spanish-speaking country in order to test my Spanish skills," she said.
Clark University asks its students to "Challenge convention; change our world." Ms. Kessler strives to do that every day.
"Overall, my experience at Huntington has been nothing but positive," Ms. Kessler said. "I have been able to make friends across all four grades and become closer with the faculty as well. Being a student at Huntington has allowed me to become a strong leader and a person who will go out of their way to help anyone in need. There will always be a special place in my heart for Huntington and the community within it."