August 24 , 2020
Beanna Cumella is fortunate to have already identified her career passion. The Huntington High School Class of 2020 member has been granted dual undergraduate and graduate admission at Nova Southeastern University in Florida. She plans to be an orthodontist.
"I chose Nova Southeastern University because I've always wanted to go to college somewhere warm and close to the beach," Ms. Cumella said. "They offer a really good dental program, which I had to interview for and was granted dual admission into their graduate program. I hope to one day become an orthodontist."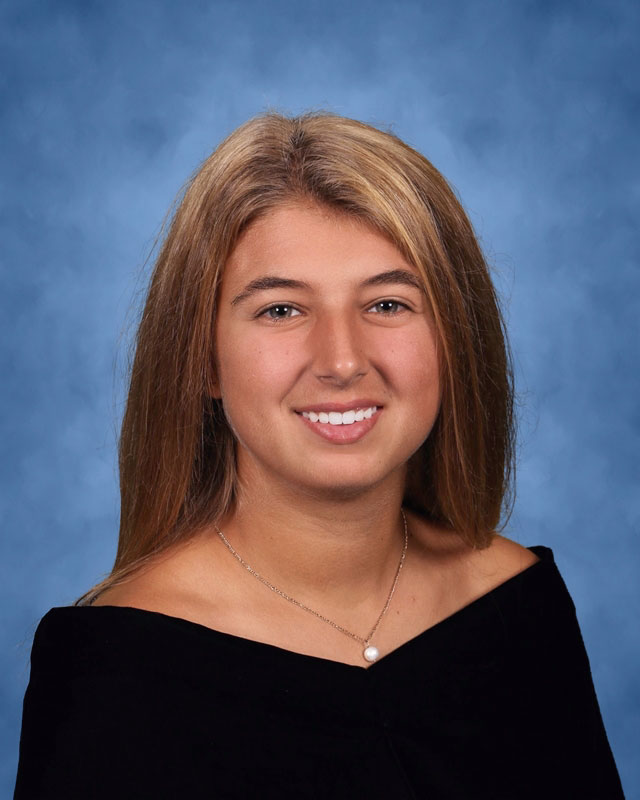 Huntington Class of 2020 member Beanna Cumella is headed to Nova Southeastern University in Florida.
Named a Distinguished Senior, Ms. Cumella was inducted into Huntington's Art Honor Society and Italian Honor Society chapters. Academically, she is one of the best in the graduating class.
"Huntington has more than prepared me for a college experience," Ms. Cumella said. "I feel like the relationships I have with my classmates and teachers will help me develop close bonds with my professors in the future. My teachers and guidance counselors have given me the strength and perseverance for me to able to achieve my future goals."
The teenager has enjoyed a great high school experience, playing on the Blue Devil varsity girls' soccer team, building a house with Huntington's Habitat for Humanity chapter and raising cancer awareness and funds at Relay For Life.
"Although the Advanced Placement classes I've taken over the years are valuable and I have learned a lot of skills that will help me in the future, photography was definitely the most interesting course I've taken," Ms. Cumella said. "I've always had a passion for taking photos and the program at Huntington really helped me advance from learning in the darkroom to editing on a computer. Mrs. [Pamela] Piffard-Williams is a terrific mentor."
Ms. Cumella said she believes that the right attitude, passion to succeed, discipline and drive are the keys to success. She said her knowledge of these qualities is attributable to her upbringing and family environment.
"My favorite activity over the past four years would definitely have to be soccer," Ms. Cumella said. "I feel like there is nothing like being on a team and having your teammates cheer you on and support you no matter what. Coach [John] Walsh, Coach [Vincent] Tannazzo and Coach [Maria] Canino have instilled in me the importance of teamwork, dedication and drive to become a valuable member to the team."
Ms. Cumella's advice to incoming freshmen? "Just enjoy every moment of high school because you never know when something like this (the COVID-19 pandemic) is going to happen and take all of it away," she said. "Make new friends, join a club or sport you thought you'd never do, go to football games and enjoy your high school experience while it lasts."
Several high school faculty members have been especially supportive, including Ms. Canino, Mrs. [Joann] Ferazi and Mr. [Robert] Gilmor. "They are all so kind, understanding and easy to talk to that I feel like I could always go to any one of them with a problem," Ms. Cumella said. "I'm going to miss all my teachers so much and am honored to have been a student at Huntington High School."
Ms. Cumella has a lot to accomplish at Nova Southeastern University, but she will never forget her alma mater. She said she has enjoyed growing and learning with her peers, maintaining long lasting friendships, creating bonds with inspirational teachers and participating in school spirit events.
"Huntington High School will always have a special spot in my heart," Ms. Cumella said. "The amazing faculty and resilience of our student body make Huntington unique and a great place to go to school. I'm sad that I won't get to walk the halls of Huntington one last time, but I will never forget the friendships that I made and the countless memories of the Class of 2020."