April 29, 2020
One of the greatest stage performers in Huntington High School's long history, Abby Semelsberger is only getting started. The senior is headed to Marymount Manhattan College to study musical theater.
"I chose Marymount Manhattan because of the world class musical theater program at the school," Ms. Semelsberger said. "I also love the location of Manhattan, especially for a musical theater degree, where the epicenter of that business is based in the city."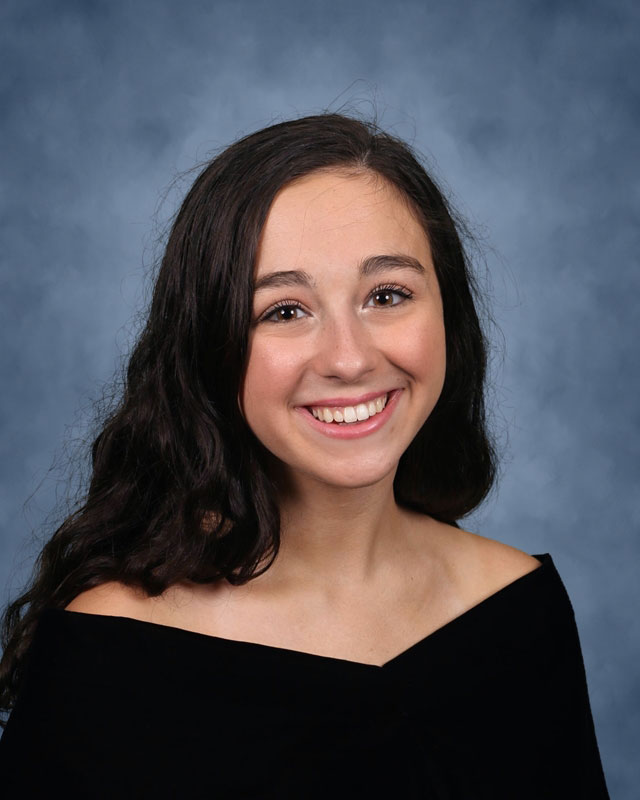 Huntington senior Abby Semelsberger plans to study musical theater at Marymount Manhattan College.
The teenager is also interested in pursuing a double major or a minor in public relations or business. She intends to obtain a bachelor in fine arts degree.
Located on Manhattan's Upper East Side along 71st and 72nd Streets between Second and Third Avenues, Marymount Manhattan College enrolls about 2,100 students from nearly all 50 states and three dozen countries. Founded in 1936, the college offers 30 programs of study. It is one of the top colleges for where Broadway and Tony Award nominees have studied.
"Huntington has definitely prepared me well for college," Ms. Semelsberger said. "From my Advanced Placement classes to all of my amazing teachers, I feel very well prepared for the challenge of college."
Ms. Semelsberger has starred in fall drama and spring musical productions for many years. She has also been one of the top vocalists in the high school choir. She has a commanding stage presence and is an all-around exceptional performer.
"It's so hard to name just a few valuable classes I have taken at Huntington High School, but some that come to mind are Chamber Choir and my internship for helping me grow as a singer, a teacher and a person and also AP Seminar and Research for teaching me to research a topic in depth and present it and so many others," Ms. Semelsberger said.
The senior's favorite activity over the past four years has been the high school drama club. "I have been involved in eight productions at the high school and each one has taught me something about myself, about performing and about the world around me," Ms. Semelsberger said. "I met some of my best friends in the whole world there and it was the absolute highlight of my high school experience."
The teenager is highly regarded by her fellow performers and the faculty members who work with the students to produce the twice yearly plays. She takes her craft seriously and devotes enormous time and effort to it and it shows in her remarkable performances.
"In theater language a triple threat performer is a person who sings well, dances well and acts well and feels confident on stage," said Michael Schwendemann, a Huntington English teacher who serves as the drama club's faculty advisor. "That might sum up who Abby is as part of the drama club. She has done everything asked of her on stage including comedy or drama and singing, acting, dancing and even choreographing dance numbers all to the best of her ability as well as bringing out the best in those around her. More than that, she is a triple threat as a human being; caring, compassionate and empathetic. She has time for everyone and everything; a tireless champion for what she believes in. She wants to see the world be the best it can be; for everyone. I see nothing and nobody having the ability to keep her down. Look out world here she comes!"
Ms. Semelsberger's advice to incoming Huntington freshmen? "Get involved," she says matter-of-factly. "There are so many clubs and electives you can take; there is really something for everybody," she said. "Go in with an open mind and don't be afraid to try new things."
The senior has earned stellar grades across all academic areas and she is deeply respected and highly regarded by the high school's faculty as well as her classmates.
"Mr. Schwendemann has been a mentor throughout my high school career," Ms. Semelsberger said. "As the director of the drama club I have worked with him extensively and this year I am taking his theater arts class. He has always been there to offer guidance, support or a laugh."
Ms. Semelsberger's friends simply adore her. "Abby is such an incredibly talented person and is very hardworking and for those reasons and many others she inspires those around her," senior Brooke Biernacki said. "She is also a very positive and upbeat person who can always cheer you up. I'm going to miss her so much when we go to college."
While the COVID-19 pandemic interrupted rehearsals and scheduled performances of the high school spring musical, Ms. Semelsberger and her fellow actors had no choice but to accept the sudden turn of events. She is an eternal optimist who likes keeping her thoughts positive at all times.
"Huntington High School is truly a special place," Ms. Semelsberger said. "It is a supportive environment that allows you to grow to your full potential and I am definitely going to miss everything about it. I'm going to miss my teachers and my friends and all the clubs I was a part of, but I will always remember the four years I spent here and the memories I have made. I will always be a Blue Devil."