April 20, 2020
Sophie Bradford takes her academic studies seriously. So seriously that when the Huntington High School freshman settled on her topic for this year's National History Day initiative, she traveled to Bletchley Park in Buckinghamshire, England for a closer look at her subject and the famed site where he worked.
The 2020 National History Day theme is 'breaking barriers." Ms. Bradford developed an award winning project titled Alan Turing: Breaking the Enigma Code. Vying in the individual exhibit category, judges found the teenager's work to be spectacular. It was deemed thorough, historically accurate and engaging and displaying exquisite analysis and context.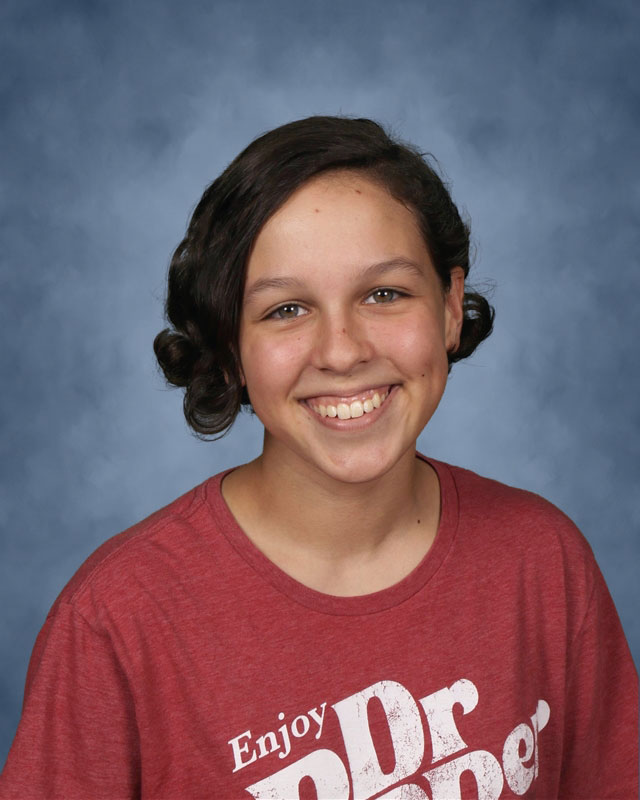 Huntington freshman Sophie Bradford.
"When I learned of the theme for National History Day last June, I was both excited and nervous," Ms. Bradford recalled. "I promptly started researching and asking around for topic ideas that might be interesting. I then remembered a movie called 'The Imitation Game' that I had seen in which Alan Turing broke the German Enigma Code during World War II. I decided to do more research and the topic turned out to be very fascinating."
Ms. Bradford has been running with Huntington's cross country and track and field teams since she was in seventh grade. She's a member of the high school's Key Club chapter and she especially enjoys math and science, especially biology and genetics. The teenager hopes to study math or science in college.
"Alan Turing was a mathematician and cryptographer who was hired by the British government to help break the Enigma Code," Ms. Bradford explained. "When I told my parents about this idea, they loved it. So my dad and I decided to go to Bletchley Park in Buckinghamshire, England, where Alan Turing worked to break the code."
The Bletchley Park site is now a museum and when Ms. Bradford visited she was given a guided tour. "When I was there I saw the hut that Alan Turing worked in and the other huts that people like the Wren's (Women's Royal Naval Service) worked in," she said. "A few days later we also went to the Churchill war rooms in London. The war rooms were extensive and had a great amount of information on World War II and Churchill himself during the war. This gave me great insight on the historical context around the Enigma Code and World War II."
Ms. Bradford enjoys traveling. She's been all across Europe and has even visited Morocco. Her family is British so they visit there often.
"Everything went as planned when I put my exhibit together," Ms. Bradford said. "It was several long nights, but I got it done. I decided to go on the bigger side of the limits for size, making my exhibit about six feet tall. After seeing it all together, I was excited to see my grade, but never believed I would move on to the regionals. I was upset when we found out that regionals were cancelled, but I am happy that they are holding a virtual state competition, which I can compete in. I look forward to finding out what the theme will be next year."