April 10, 2019
It never gets old. The Huntington UFSD's music program was recently named one of the finest in the country and while it has earned that designation before, it remains an exceptional honor and one that the district and community takes a great deal of pride in receiving.
The NAMM Foundation named Huntington UFSD as one of the "Best Communities for Music Education" in the country. The award program recognizes outstanding efforts by teachers, administrators, parents, students and community leaders who have made music education part of a well-rounded education. Designations are made to districts and schools that demonstrate an exceptionally high community and access to music education.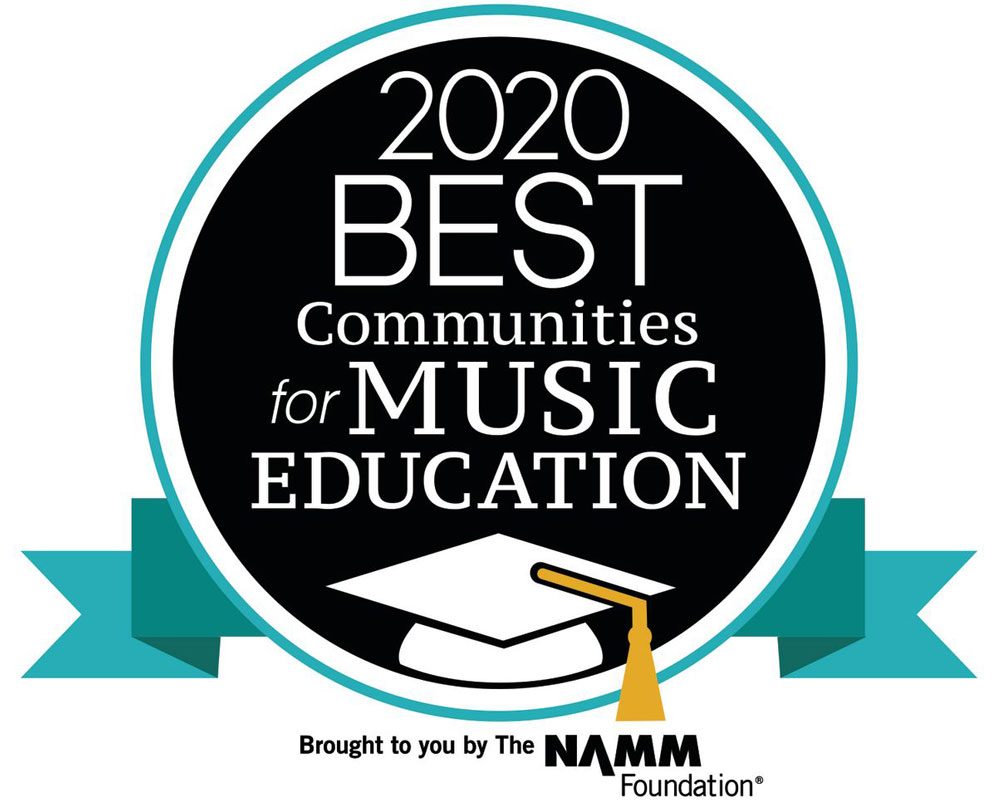 Huntington UFSD's music program was recognized as one of the finest in the United States
Instruction in the performing arts and an appreciation for music dates back to the earliest beginnings of public education in the district in February 1657. Today's Huntington UFSD continues to offer a comprehensive program of music instruction and education along with performing opportunities in band, orchestra and chorus. The district's musicians and vocalists have long been second to none.
"I remain so incredibly proud of our music students and staff and all that they produce each year," Huntington Superintendent James W. Polansky said. "They are the best of the best. This award but touches the surface."
Now in its 21st year, the Best Communities for Music Education designation is awarded to districts that demonstrate outstanding achievement in efforts to provide music access and education to all students.
To qualify for the Best Communities designation, Huntington answered detailed questions about funding, graduation requirements, music class participation, instructional time, facilities and support for the music program. Responses were verified with school officials and reviewed by the Music Research Institute at the University of Kansas.
This marks the eighth consecutive year that Huntington UFSD's music program has been nationally recognized.
"On behalf of the K-12 music teachers, I thank the administration, Board of Education members and school faculty and staff for their steadfast support of our programs and ensembles," said Eric Reynolds, district director of fine and performing arts. "Huntington is a special place for many reasons, including how music education is valued and considered to be an important aspect of a child's education. We appreciate our music families maintaining a strong school-home partnership, whether assisting our students in home practice or serving in volunteer capacities at our numerous events to name a few ways. We could not receive this award without the extraordinary work, energy, and pride that our student musicians across all grades show which allow our music department to continue to grow and develop new and exciting musical opportunities and experiences."
Huntington UFSD is among 754 school districts spread across dozens of states that were honored. There are about 14,000 public school districts in the United States.
"I am proud to work alongside my colleagues in the music department and grateful for their dedication, personalities and professionalism that they pass along to students and infuse into their lessons and rehearsals," Mr. Reynolds said. "During these last few weeks, witnessing the flexibility, collaboration, understanding and focus displayed by our music teachers to create meaningful musical experiences for our students has been inspiring and is appreciated beyond measure."