September 20, 2019
Pat Sclafani is a lucky guy. Yes, the Huntington High School senior works hard, sets high goals and is committed to accomplishing them, but the sun always seems to be shining on the teenager.
Mr. Sclafani is one of those very rare individuals who has experienced the utter joy of having notched a hole-in-one on a golf course. He did it as a Huntington freshman. Today he's one of the top Blue Devil golfers. But his luck – or should we say good fortune? – transcends sports and includes every phase of his life.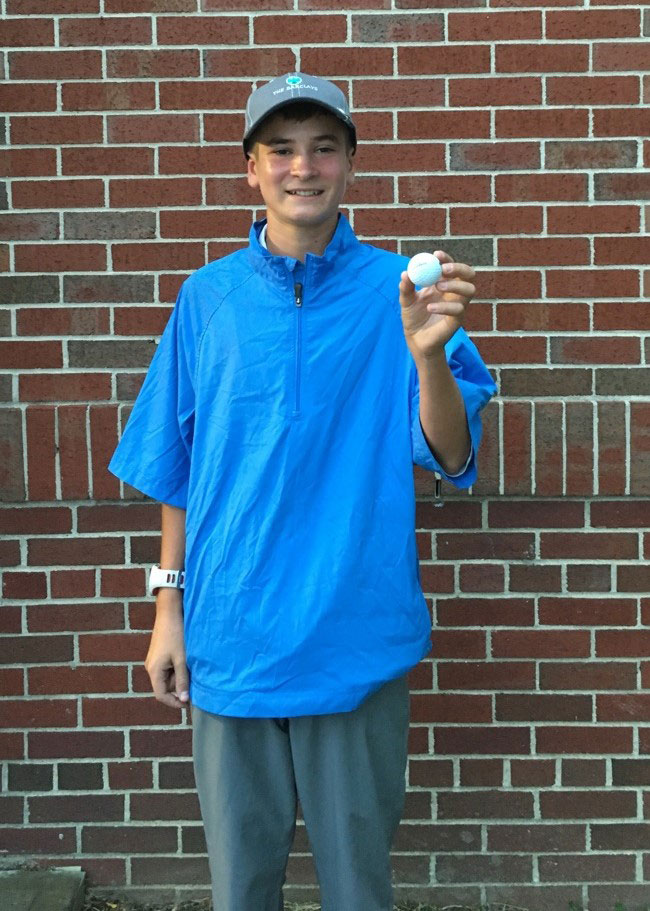 Patrick Sclafani, as a 2016 Huntington freshman holds the hole in one ball.
The teenager's closest friends include Jon Koumas, Billy Burton, John Lourenso, Cole Pillion, Matt Girimonti, Mackenzie Eccles, Marissa Stafford, Sarah Giarraputo and Mary Warren.
It's a long list, but this is the shortened version. Hey, Mr. Sclafani is a popular guy. He's amiable, well-spoken and funny. He's smart, too. He gets along well with everyone. What's not to like?
Mr. Sclafani began his tour through Huntington UFSD in a Flower Hill Primary School kindergarten room. He's come a long way since then. Today he's considering Penn State, Clemson, Coastal Carolina, Virginia Tech and James Madison for the next phase of his educational journey.
"I have a few choices when it comes to what I'd like to study," the senior said. "I'm thinking about majoring in business, entrepreneurship or golf management. Depending on where Mr. Sclafani ultimately ends up, he also would like to play college golf.
The senior is a Natural Helper, assisting classmates at the high school as they work through personal issues. He's been a mainstay on the golf team for many years. He earlier played baseball, but gave it up to concentrate on his golf game.
The teenager's all-time favorite teacher is Woodhull School's Jason Suarez. "He made learning fun and easy in sixth grade," Mr. Sclafani said. "We still keep in touch and are still close to this day."
As he makes his way around the halls at Huntington High School it seems as if Mr. Sclafani knows just about everyone. He is usually wearing a smile and always has a wave or something friendly to say.
"Huntington is great," Mr. Sclafani said. "With all the diversity throughout the school you can just be yourself and make new friends. I couldn't imagine going to any other school."