October 4, 2019
The J. Taylor Finley Middle School football team is in the midst of another successful season. The squad is led by head coach Ronald Wilson and assistant coaches Jordan Ioviero, Billy Harris and Kevin Thorbourne.
The Finley roster is filled with more than 50 players. The team is playing a six game schedule this fall. "We have a great group of young men who are all working hard and excited to compete," Wilson said.
Finley football seventh graders include Joseph Boeckmann, Jayden Brown, Geovanny Castillo, Richard Davis, William Fallon, Dylan Heller, Geovanny Iglesias-Soriano, Thomas Kline, Jonathan Kraft, James Masler, Timothy McDonald, Ethan Naima, Sean Posillico, Henry Santos, DeAndre Simmons, Thomas Smith, Jamaar Spratley, James Taylor, Jordan Thorbourne, Jonathan Vigil-Campos, Adrian White and Nile Williams.
Finley's eighth grade football players include Gabriel Abreau, Cristian Alfaro-Bueso, Francisco Alfaro-Ramirez, Fredy Alvarez-Lawrence, Carmine Carusone, Max Casiano, Jayson Colato, Theodore Dannhauser, Jayden Davis, Cristian Delgado, Jasper Elgart, Jahmar Francis, John Genova, Thomas Girimonti, Jonathan Granito, Patrick Knieriem, Ramon Lyons, Daniel McNulty, Kei Shan Miller, Anthony Molina-Gomez, Christian Normoyle, Navado Petro-Young, Za'Khie Ramos, Jaxhliel Rodriquez, Roberto Rodridquez Bolanos, Damien Santos, Gradon Sosnowski, Shamaar Spratley, Christian St. John, Jayden Taylor, Jose Villatoro and Joseph Zink.
Huntington Swift at Six Flags Meet
Huntington junior Aidan Heller was Huntington's top runner at the Six Flags Invitational.
The Huntington varsity boys' cross country team posted some nice results at the Six Flags Wild Safari Invitational at Jackson, New Jersey.
Junior Aidan Heller covered the 5 K/3.1 mile course in 17:30 to finish 16th in a field of 166. Senior Jason Verville placed 43rd in a time of 18:25.
Freshman Matt Armstrong opted to run in the varsity race rather than possibly win the freshman 3200m race. Armstrong finished 70th in 18:59. "He did a nice job," head coach Mark Jackson said.
Junior Carlos Martinez placed 73rd in 19:04 and senior Craig Haas was 79th in 19:13.
Huntington took seventh out of 24 squads in the team standings.
In the freshman race Huntington ninth grader Nick Seitz finished 15th in 11:42 in a field of 198. Ryan Curran placed 64th in 12:53.
Regan Sansiviero & Alyson Baker Carry Blue Devils
The Huntington girls' tennis team improved its record to 6-4 by nipping visiting Smithtown West at Coach Cupp Tennis Complex, 4-3.
Huntington's No. 2 doubles partners Regan Sansiviero and Alyson Baker won the key match in a three-set thriller, 5-7, 7-5, 7-6 (8-6) to save the day for the Blue Devils.
Huntington Alum Stars in College Football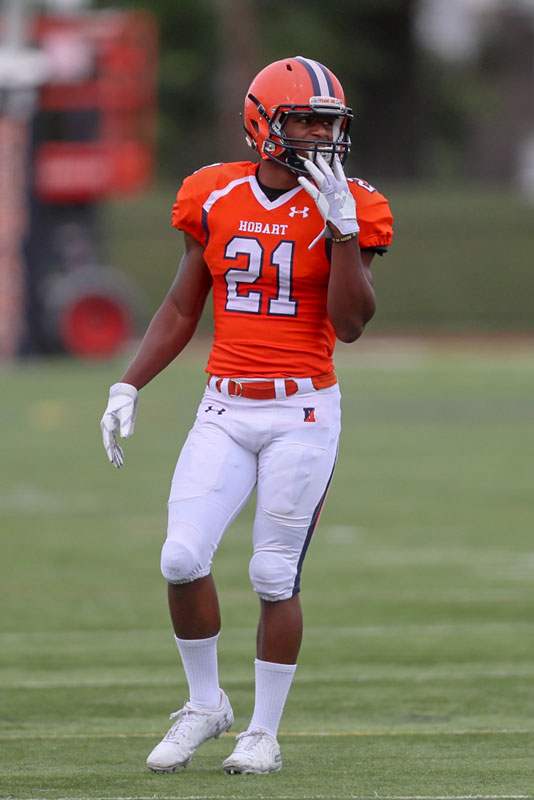 Huntington alum Jared Leake in action for Hobart College
Jared Leake is starring for the nationally ranked Hobart College football team. The Huntington High School Class of 2017 member was named the Liberty League's Defensive Performer of the Week after helping Hobart top Montclair State last Saturday, 16-3 and climb to No. 21 in the national rankings.
The Huntington alum accounted for half of the Hobart defense's takeaways on Saturday and also logged five solo tackles as the Statesmen limited the Red Hawks to just a single first-quarter field goal. He ended back-to-back Montclair State drives deep in Hobart territory in the second half.
In the final minute of the third quarter on a first down play from the 18, Leake picked off an Montclair State pass at the 5 yard line and was credited with a 26-yard return. On Montclair State's next possession, he picked off the Red Hawks' quarterback again, this time in the back of the end zone for a touchback.
Leake is tied for the Liberty League lead with three interceptions. He is third on the team in tackles with 24. In 21 career games, Leake has 65 tackles, 11 pass break-ups, four interceptions, two tackles for loss, two fumble recoveries and a forced fumble.
Leake was simply splendid with the Huntington High School athletic program. He won varsity letters with the Blue Devil football, wrestling, indoor track and field and lacrosse teams. Coaches valued him for his durability and reliability. He was a great teammate in all four sports and his quiet determination and strong work ethic made him a key component with every team.
Winter Sports Season in Huntington
The winter sports season at Huntington High School will officially begin on Tuesday, November 12. The regular season runs through February 7. Post-season playoffs and tournaments will then commence.
The high school winter seasons featured boys' and girls' basketball, boys' and girls' fencing, boys' and girls' indoor track and field, boys' swimming and wrestling.
Interested students should visit the nurse's office to complete the qualification process. Parental permission slips can be obtained at the athletic office or by downloading them from the district website at www.hufsd.edu.
J. Taylor Finley Middle School offers two winter seasons; early and late. The early season will begin on November 4 and run through January 17. It features girls' volleyball and two boys' basketball teams. The late season begins January 21. It offers wrestling and two girls' basketball teams.
Finley students should sign-up in the nurse's office. Permission forms are available on the district website, in the gym offices and main office and from coaches.
Contact Director of Athletics Georgia McCarthy (gmccarthy@hufsd.edu) for more information.
Finley Girls' Tennis Looks Great
The J. Taylor Finley Middle School girls' tennis team entered this week with a 2-1 record. A fourth match was cut short by turbulent weather. The squad is coached by physical education teacher Eric Triolo.
Finley's top three players in order have been eighth graders Kiera Coulter, Jane Callery and Rachel Learned. Everyone on the team has been contributing in one way or another.
The roster also includes seventh graders Liva Camarata, Madeline Eriksen, Adriana Flores Matute, Vincenza Garofalo, Emily Kustera, Tess Markotsis, Elizabeth Michaelson and Erika Reyes and eighth graders Grace Carmody, Jackeline Guevara-Medina, Ellie Kaufman, Maya Sakellarios and Miladys Vila-Saz.
Exceptional Interest in Finley Girls' Soccer
The J. Taylor Finley Middle School girls' soccer team has an exceptional amount of student interest. The squad has nearly four dozen members and head coach Linda Costello Roth and Ysrael Gonzalez are doing everything they can to get everyone playing time during every game.
The team features seventh graders Ashley Alay, Gabriela Amaya, Cynthia Argueta Fuentes, Daisy Campos, Sophie Carlson, Kimberly Castro Perdomo, Aylin Davila Chiltay, Lauren Donaghy, Anibella Fazin, Ashley Garcia Alvarez, Jamie Garcia Sorto, Isabelle Gregorio, Lily Hotine, Jenna Italiano, Molly O'Brien, Maggie O'Toole, Melanie Rodriquez Valdez, Gricelle Rojas, Asly Santos Campos, Kaylee Smalling, Devon St. John, Xiomara Ticas-Chavez, Hannah Valenzuela-Ayala and Briana Velasquez Vasquez.
Finley also boasts eighth graders Angie Amador Martinez, Emma Bellew, Kayleigh Bender, Tess Calabria, Jeiry Chavez Merlos, Veronica Cocoman, Lea DeVoe, Casey DiGioia, Katherine Estrada-Morales, Emerson Evans, Stephanie Flores, Jacqueline Gutierrez, Julia Henderson, Marley Joseph, Jada Joseph, Samantha Koepele, Sophie Lange, Jessica Maixner, Carlone McGreevy, Riley Murtagh, Reese Rinaldi and Yosary Turcios.
The explosion of interest in girls' soccer at Finley is sure to pay dividends down the road for the Huntington High School junior varsity and varsity programs.