May 30, 2019
The Huntington junior varsity boys' lacrosse team compiled a very strong season, finishing the spring campaign with an overall record of 11-5.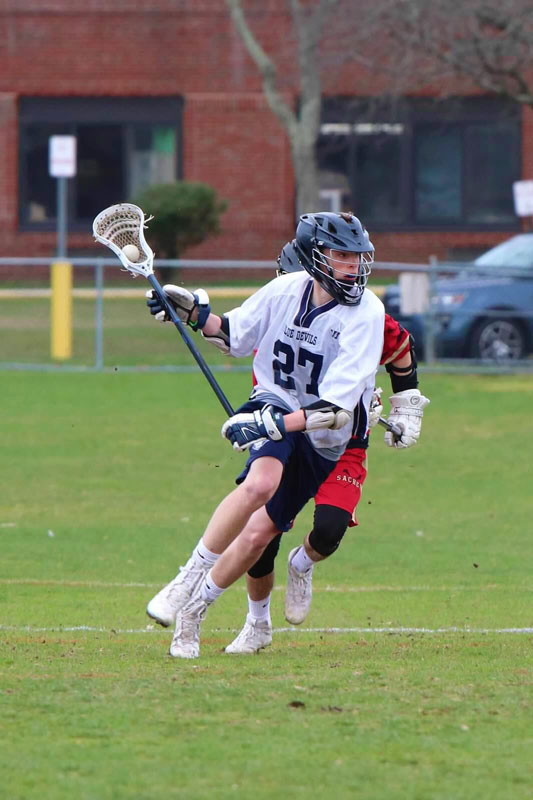 Freshman Chris Maichin tallied 35 goals and 12 assists for Huntington.
Coached by Anthony Troffa and Timothy Witt, the Blue Devil squad featured many talented players. The team was captained by Chris Maichin, Aidan McNulty, Carl Pulizotto and Ryan Porzio.
"This year's team continued to improve every game and really highlighted the strong potential the program has for the future," Troffa said. "Every year the bar is raised higher and higher and this year's team worked extremely hard for an 11-5 record in the county's toughest league.
The Huntington JV could never be counted out of a game. A pair of accomplishments were particularly impressive.
"Our 'man down' play was effective all year and this was displayed every game, particularly against Riverhead where the 'man down' squad held the opposing team scoreless on their 'man up' opportunities including a three minute penalty," Troffa said. "Losing to Cold Spring Harbor was tough, but it was an incredibly well-played game against an entire starting line of sophomores and a tough goalie who also plays backup for their varsity. Holding them to a 4-3 score felt great and next year we look to win."
The Blue Devil JV's top players included:
Chris Maichin (35 goals; 12 assists) and Jack O'Brien (22 goals; 12 assists)
"Chris and Jack did a fantastic job on attack," Troffa said. "They are both very smart players that have a deeper understanding of the offense, create plays and consistently find the open man."
Aidan McNulty (19 goals; 29 assists) and Liam Lennon (17 goals; 19 assists)
"Liam and Aidan, both natural lefties, were dangerous at midfield," Troffa said. ""Both players were explosive and were able to very often beat their opponents from the top and score. Their leadership on offense often sparked the team when we needed it most."
Tyriek Mays-McCoy (18 goals; 7 assists; 25 ground balls)
The freshman scooped up the most ground balls of any offensive player from his midfield position.
SammyMac Arner (44 saves), Carl Pulizzotto (33 saves) and Matt Mead
"Our goalies, SammyMac, Carl and Matt all played very well this season," Witt said.
Ryan Porzio (20 ground balls), Aidan Carrello (22 ground balls) and Harrison Krywak (26 ground balls)
"They all played top-notch defense for our team throughout the season," Witt said. "They are very tough on defense. Harrison was routinely called on as a playmaker to cause turnovers and create offense. He has a strong ability to throw checks and has the athleticism to pick up the ball and play offense with a long stick. He will has an immediate impact on varsity with his versatility."
Jahiem Hawkins (76 ground balls) and Lucas Petrizzi (39 ground balls)
"Jahiem was an incredible addition to the defense this year," Witt said. "In his first year on the JV, he was a go-to player as a long-stick defensive middie. He was called upon to do it all and he always answered that call. Jahiem would defend the other team's best middie and consistently held them to minimal points. He was a ground ball vacuum and helped create dozens of additional possessions for the offense. He played hard every day and showed great toughness throughout the season."
Petrizzi also shined. "Lucas was a short-stick defensive middie who contributed to every facet of the defense," Witt said. "He was a strong wing player on face-offs and a shutdown defender on the crease for 'man down.' Lucas could also clear the ball with high levels of success."
Anthony Annunziata (198 face-off wins)
"Anthony was unbeatable on face-offs," Troffa said. "He dominated the top face-off guys from almost every team we played."
Michael Kline (nine goals; eight assists)
The eighth grader turned in a fine season from his midfield position, displaying an ability to find the back of the net and to set teammates up for scoring opportunities, too.
Defense plays tough
Huntington's defense held opponents to six goals or less in nine games, including a shutout against Copiague and surrendering only one goal in three other games.
"Our defense was led by team captain Ryan Porzio," Witt said. "His leadership was integral to the team's success. He was one of the team leaders in ground balls and routine shut down the opposing team's top attackman. Ryan was also strong on clears. He will be a tremendous addition the varsity defense for the next three years."
The team was also inspired by the play of Rashiem Sexton. "Coach Witt and I were extremely proud of Rashiem," Troffa said. "He was a player who brought out the best in everyone and always brought a positive energy to our team. He challenged himself every day during workouts and scored five goals. He was also there to help out in any way possible. Truly selfless, when he wasn't on the field, he helped on the sidelines with states and the face-off stick"
Looking ahead to next year, the coaching staff is excited. "We expect great things from all of our returning players," Troffa said. "Anthony Annunziata, Mikey Kline, SammyMac Arner, Matthew Armstrong and Aidan Carello were brought up as eighth graders and played very well. They are expected to have an outstanding freshman year next season. We look forward to their return as they will have large roles on our team."
Liam McDonald, Paul Knieriem and Brian Sosnowski will be coming back as sophomore defenders "and will be expected to play very tough for our team next year," Troffa said.
Ethan Evans, John Marziliano, Joseph Sclafani, Pablo Aparicio-Ruiz and Robert Eriksen are expected to contribute to the Blue Devil offense next spring as sophomores.
The Blue Devils claimed victories over Longwood (17-6), Middle Country (19-1), Brentwood (14-2), Copiague (17-0), Riverhead (8-3), Sachem East (13-8), Hills West (18-11), Lindenhurst (14-3), Commack (7-1), Southampton (13-4) and North Babylon (15-1).
Huntington dropped games to Smithtown West (12-3), Ward Melville (12-3), Cold Spring Harbor (4-3), Sachem North (13-4) and Northport (11-3).