May 6, 2019
The "employees" of Huntington High School's Virtual Enterprise ABODE company team enjoyed a great experience at Virtual Enterprise International's recent Youth Business Summit.
"The Youth Business Summit was an incredible experience," said junior Ethan Mulroy, who is ABODE's chief executive officer. "It was great to be able to share my Virtual Enterprise experience with fellow firms and learn from a plethora of prominent business executives and professors. The event simulated a true trade show environment and the skills I learned through the experience will be essential in the future"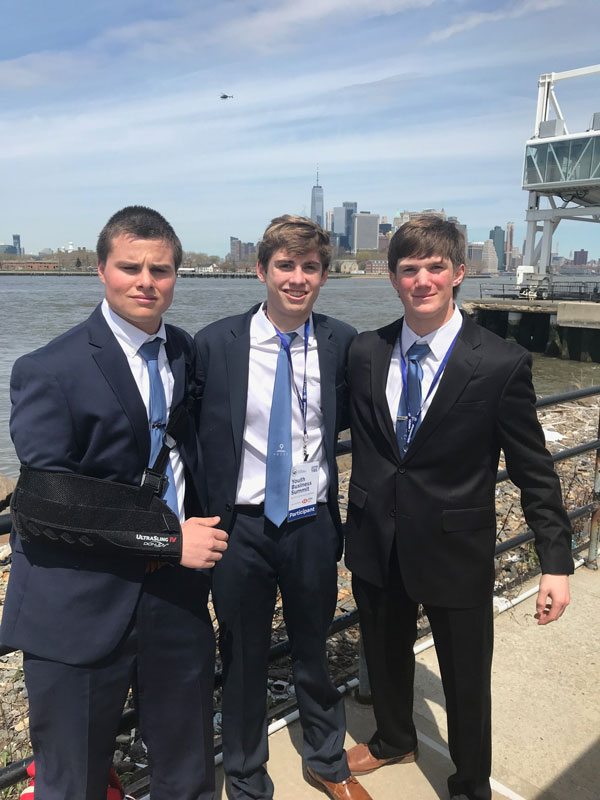 ABODE company executives Chas Forte, Ethan Mulroy and Anthony Martin
at the Brooklyn Cruise Terminal.
ABODE's mission "is to create a brand that reminds people of home and all of its importance." The firm is committed to giving back "to the place that have provided us with so much," so it plans to donate a portion of its profits to local organizations.
"We are a company that manufactures clothing that is designed and catered to local destinations throughout the world," states ABODE's company website. "Whether you are a student starting the next chapter of your life, a family starting a new adventure or just somebody that loves where they live, our company gives you the opportunity to take a little piece of home with you wherever you go."
Huntington business teachers Paige Tyree Furman and Suzi Biagi are leading the high school's two Virtual Enterprise classes during the program's first year.
The VE International Youth Business Summit also included a competitive segment along with a trade show involved more than 300 virtual firms from across the world.
"It was great learning experience at the Youth Business Summit," junior Chas Forte said. "We met people from across the country and around the world. We have been preparing for this all year and it was great to see all of our hard work paying off. A big thank you to Mrs. Biagi and Mrs. Tyree for organizing this trip."
Junior Tyler Rund said his time at the Youth Business Summit was a "fun, amazing and extremely successful experience that I will take with me forever." He admits that "while preparing for the trade show was arduous and tedious, the payoff was well worth it."
ABODE and Poppy, its sister firm from Huntington High School were among the 312 virtual companies trading and networking around the Brooklyn Cruise Terminal floor at the event.
"Virtual Enterprise is and continues to be one of the greatest opportunities I've had at Huntington High School," said junior Lena Annunziata, ABODE's chief operating officer. "Today's trade show, the preparation for it and everything in between has truly provided us with an immense new knowledge and experience that will never be forgotten."
The teenagers really seemed to thrive in their roles as young business executives. "It was a lot of fun," senior Cameron Mills said. "Everyone gained a lot from their experiences this year. I really enjoy how the VE firms were very comfortable with each other and looked forward to catching up with each other."
The trade show kept ABODE's team members on their toes. "It was yet another fun day to be a part of ABODE," junior Holly Wright said. "We have been getting ready for today since the first day of class. I'm so, so happy and proud of ABODE! Next year's class will have a lot to live up to, but we know that with these great teachers, they will go far."
The students have grown in their business knowledge by leaps and bounds and the trade show was an important step in their education.
"My enthusiasm when making sales and meeting new people was really beneficial to spreading the word on what Huntington High School is doing with ABODE," junior Joey Senia said.
At the end of the day, the teenagers understood clearly that the international trade show provided them with a forum that simply couldn't be duplicated in a classroom.
"It was such an amazing real world and learning experience," junior Lia Shechter said. "We all had a great time and it was very satisfying to be able to show off what we have worked on all year. It was also cool to be able to do the kinds of things real businessmen and women do."