March 26, 2019
J. Taylor Finley Middle School recently hosted the parents of current sixth graders who will begin classes in the building next September. Finley first opened its doors to the community's young people in September 1965 and it hasn't missed a beat since.
The recent evening session included an overview of the academic and co-curricular programs available to students and an introduction to some of the individuals who work behind the scenes to provide a first rate education for the 700 seventh and eighth graders that study annually at Finley.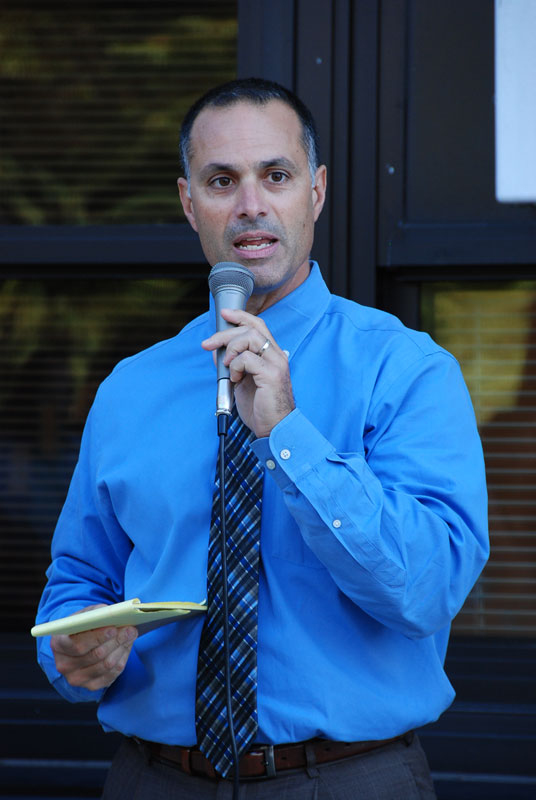 Finley Principal John Amato.
Principal John Amato provided sixth grade parents with various facts and figures related to what awaits the incoming seventh graders. Finley's faculty includes 75 teachers and its support staff totals 35. Students are assigned across six different academic teams, which allows each of them to receive the instructional support they need to succeed.
All Finley students take required courses in mathematics, English, social studies, science, foreign language, health and physical education, music and art, family and consumer sciences and technology/computer applications. Students are also welcomed into the building's well-equipped library, which is staffed by a state certified library media specialist.
Academic acceleration is offered in math and science and in Finley's Studio in Art course. Completion of these classes allows for high school credit to be earned.
During the recent evening session, Mr. Amato provided insight into Huntington UFSD's middle school philosophy, which includes a focus on academic growth through the use of developmentally appropriate activities as well as a focus on the social and emotional growth of students, character education and relationship building through strong adult guidance and modeling.
Finley's academic teaming structure allows teachers to get to know students' strengths and possible areas in need of improvement. Students are also provided with whatever emotional support they might need through the school's team framework. All students are provided with a Chromebook to enhance their classroom education.
A complete athletic program is also available to all Finley students. Among the boys' sports available are football, golf, soccer, cross country, basketball, swimming and diving, wrestling, fencing, volleyball, baseball, tennis, lacrosse and track and field. Girls can choose among field hockey, soccer, cross country, tennis, swimming and diving, volleyball, fencing, basketball, softball, lacrosse and track and field.
Finley boasts a Junior National Honor Society chapter along with many clubs, including art club, drama club, show choir, jazz ensemble, stage crew, student government, community club, yearbook club, newspaper club, robotics team, school store, Mathletes, Math Counts, friendship club and ukulele club.
Mr. Amato described some of the "fun stuff" available to students, including dances, field trips, spirit week, fall pep rally, PTA sponsored academic programs, arts in education programs, student recognition initiatives and the annual student council fundraiser.
Mr. Amato is retiring at the end of the school year in June. Huntington School Board members recently appointed current Woodhull School Principal Traci Roethel as Finley's new educational leader, effective July 1. Kenneth Parham will continue in his position as the building's assistant principal.
The parents of the incoming seventh graders were told of the expectations that Finley has for all of its students, including to respect each other and the adults in the building, complete homework, be on time for classes, maintain a positive attitude, keep cell phones turned off, get involved in after school activities and do everything to the best of their ability.
The incoming seventh graders will be able to choose which foreign language they would like to study with the options including instruction in French, Spanish, Latin and Italian. Music instruction choices include band, chorus, orchestra or general music.
The incoming seventh graders will visit Finley in June and participate in a tour of the facility. Student scheduling will occur in July. Schedule and lockers/combinations will be posted to the online parent portal in August. A student orientation will also be held in late August.
Contact Mr. Amato (jamato@hufsd.edu) for more information.