July 29, 2019
She's only officially been in the post for a few weeks, but newly minted J. Taylor Finley Middle School Principal Traci Roethel has hit the ground running, working to make the 2019/20 school year an exceptional one in every respect.
Mrs. Roethel is Finley's fifth principal since the building opened in September 1965. She had been serving as principal of Woodhull Intermediate School. John Amato, the middle school's longtime educational leader retired at the end of the school year.
Mrs. Roethel has been working with Assistant Principal Kenneth Parham on the creation of Finley's master schedule for 2019/20. She has been walking around the building, looking over the size of rooms and seeing how they are currently being utilized, fielding phone calls and tweaking various building practices. Students are in for an exciting year.
Plans are in motion to reconfigure Finley's library in order open it up more and generate additional accessible space for meetings and for studying. Ideas are also being kicked around concerning the building's foyer (the original name used for what is now referred to as the Blue Zone) and how to make more student use of it.
Finley is in the midst of various capital upgrades this summer, including new flooring in 30 rooms and the complete renovation of the building's large group instruction (LGI) room, which doubles as an auditorium. The LGI is getting new flooring, new seating and new handicapped accessible areas at the top of each second floor wing of the facility. The stage is also being refinished and there will be some painting done as well.
New pieces of instructional technology are being added to many classrooms to enhance teaching and learning. Finley's existing hallway student lockers are slated to be replaced next summer.
The interior doors off the main lobby have been moved about 15 feet to create a security vestibule as part of the district's efforts to enhance building safety.
"We are working hard to make this a great year for our 700 seventh and eighth graders," Mrs. Roethel said. "We believe that our academic and co-curricular programs will be very well received by students and their parents."
Principal Traci Roethel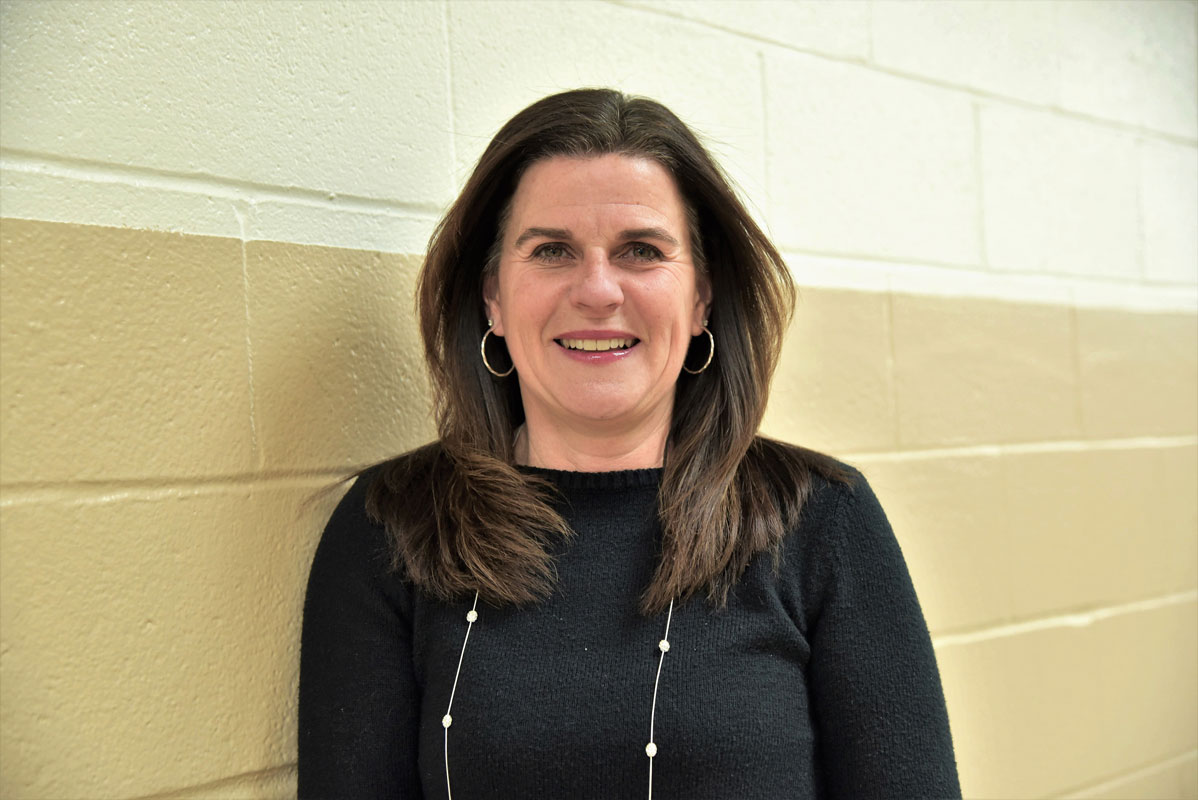 Traci Roethel is J. Taylor Finley Middle School's new principal.
Ms. Roethel became Finley's principal on July 1, 2019. She had been Woodhull's principal for 5½ years after coming to Huntington from Candlewood Middle School in Dix Hills, where she was also an assistant principal.
Mrs. Roethel earned a Bachelor of Arts degree in elementary education at Stetson University in Florida in 1992. She obtained a Master of Science degree in education with a specialization in math at Queens College in 2003 and completed an advanced graduate certificate in educational leadership at Stony Brook University in 2009.
Mrs. Roethel has completed numerous educational workshops related to curriculum and improving instruction, including Columbia University Teacher's College seminars.
Prior to embarking on an administrative career, Mrs. Roethel worked as a sixth grade math teacher and fourth grade classroom teacher in Oyster Bay and as a math consultant to the Oyster Bay-East Norwich, Shoreham-Wading River and Hicksville school districts. She was a fourth grade teacher in Volusia County, Florida for seven years before moving to New York.
Mrs. Roethel and her husband, Guenther, a captain with JetBlue Airways, are the parents of three children; Kirsten, a freshman at Worchester Polytechnic Institute, Hailey, a sophomore and Tyler, a seventh grader.
Finley's Long History of Service
J. Taylor Finley Middle School remains as vital to the Huntington School District today as it was when it opened on Thursday, September 30, 1965.
Named after a former district superintendent, Finley was erected during 1964/65 at a cost of $3.048 million. The bonds used to finance the building's construction were retired during the 1993/94 school year.
The structure originally contained 42 regular sized classrooms, 17 smaller classrooms, six "extra-large" classrooms, a gymnasium, cafeteria and large group instruction room, which is now used exclusively as an auditorium. Some modifications have been made to the initial floor plan. The site includes 20 acres of land, including athletic fields, three tennis courts, asphalt outdoor basketball courts and several parking areas.
"September 30th as just another day for 535 students in the 7th, 8th and 9th grades, except for one important change: classes were in the new J. Taylor Finley Junior High School," stated the October 1965 issue of District 3 News and Views, a newsletter mailed to district residents.
Finley's first students were greeted by founding Principal Anthony Quintilian and Assistant Principal Frank DeGraff. Cameramen were on hand that first day to record the arrival of buses at about 7:45 a.m. along with an assortment of other activities, including students eating lunch in classrooms because the cafeteria wasn't ready for use.
"The move into the district's newest building was made smoothly that morning," the newsletter reported. "Shortly after 8:00 a.m. the students went on a tour of the school and grounds. Then the schedule of classes began, with students armed with mimeographed floor plans to help them find their way."
The students that initially filled Finley were drawn from R.L Simpson and Robert K. Toaz junior high schools, which were jammed at the time. A few days later, hundreds of sixth graders also moved into Finley, occupying a wing of the school to relieve overcrowding in six district elementary schools.
When Finley opened its doors in late September 1965 it was out of necessity. The district desperately needed the additional space the new school offered, despite ongoing construction of the building.
Finley actually consists of two separate buildings that sit side-by-side and are connected by two corridors with a courtyard in between. The north building houses academic classrooms, offices and the auditorium. The south or auxiliary building includes a cafeteria, gymnasium, locker rooms, music rooms and the original wood and metal shops.
"Workmen were still busy in several areas, but the main academic building was completed and functioning well," the district newsletter stated in its coverage of the September 30 opening. "The auxiliary building housing shops, gymnasium stations and music rooms is not fully completed, but is expected to be ready for use very shortly. Also, bag lunches are expected to end soon and full cafeteria service [will] begin."
Sixth graders moved into Finley on Monday, October 4, 1965. "Thirteen classes from six elementary schools are attending Finley to relieve overcrowding in those schools," stated the district newsletter.
Finley's sixth grade program became the district's tenth elementary school with Flower Hill, Jefferson, Lincoln, Nathan Hale, Roosevelt, Southdown, Village Green, Washington and Woodbury Road also housing elementary grades.
Mr. Quintilian was followed as principal by John E. "Jack" Whitney, Craig T. Springer and John Amato and Traci Roethel. With just five principals in the past 54 years, the school has enjoyed remarkable consistency.
School named for longtime district educator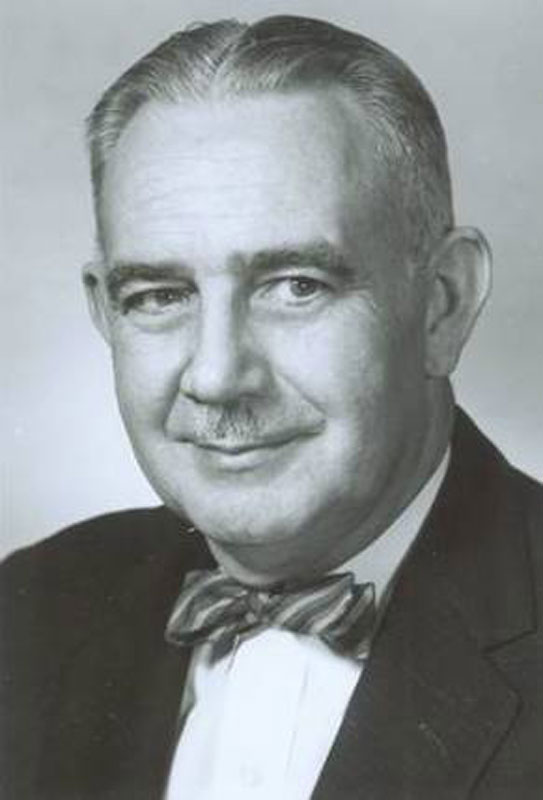 J. Taylor Finley was a Huntington teacher, principal and superintendent.
After teaching math and physics at Huntington High School for one year, J. Taylor Finley was named principal of Woodbury Avenue Elementary School (which is now a condominium complex) for the 1930 school year. In 1939, he became principal of Lincoln Elementary School (now an apartment complex) on East 9th Street in Huntington Station, across the street from St. Hugh of Lincoln Church. He worked as principal of both schools until October 15, 1943 when he was named principal of Robert K. Toaz Junior High School.
Mr. Finley stayed on as principal of Toaz through the 1954 school year. At that time he was elevated to assistant superintendent of schools and was named superintendent of schools in 1957, a position he held until his retirement on June 30, 1963.
The Huntington Board of Education voted December 8, 1964 to officially name the district's new junior high school on Greenlawn Road after Mr. Finley in recognition of his 34 years of service to the schools and community. "The Board of Education and all of your friends here in Huntington send their best regards," Superintendent Charles T. St. Clair wrote in a December 9 letter to Mr. Finley informing him of the school board's action.
Mr. Finley passed away October 3, 1975. He is buried in the family plot at Pompton Plains Reform Church Cemetery in New Jersey.