December 12, 2019
Huntington High School's highly regarded chamber choir and a select group of guest instrumentalists entertained the crowd at Monday night's public meeting of the Huntington School Board in Adam Spector Auditorium at Jack Abrams STEM Magnet School.
The vocalists and musicians performed three songs, including "Mi Zeh Y'Maleil," "Stille Nacht" and "Feliz Navidad." The chamber choir annually performs a holiday selection at the trustees' December meeting. Victoria Garbarino is the choir's director.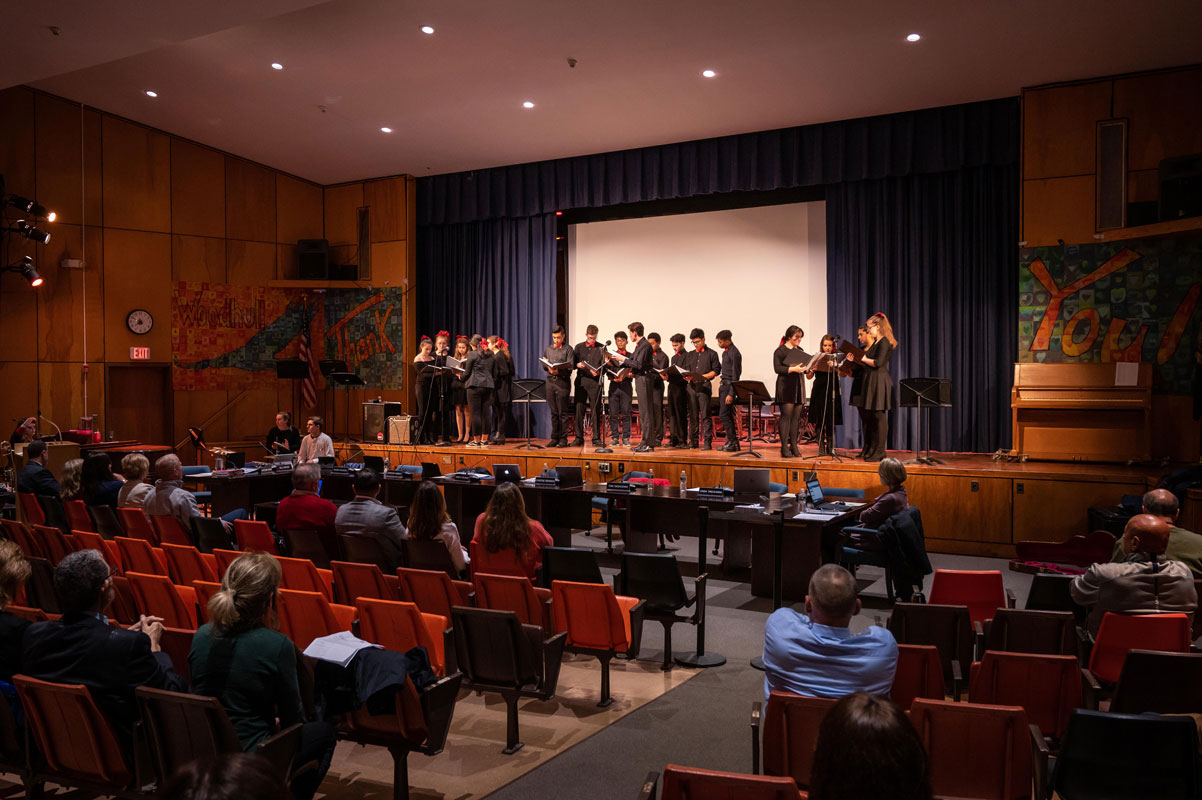 The Huntington musicians performing on stage at the Board of Education meeting.
The group included: Soprano I: Chloe Buffone, Lauren Holly and Abby Semelsberger; Alto I: Sarah Biernacki, Sydney Cordeiro and Ally Kustera; Tenor I: Joshua Avidor, Andrew Florvil and Keenan Lyons; Bass I: Zubair Ali, Brenden Garcia and Carlos Reyes; Soprano II: Mia Brown, Ashley Genao and Julia Segal; Alto II: Katherine Eichenberger and Kyra DeSalvo; Tenor II: Jaiden Erickson, Ryan Gibson-Dunne and Saahil Kapoor; Bass II: Cobin Black, Robert Jean-Gilles and Manuel Reyes.
Guest instrumentalists included Christopher Bavaro, Rory Dara, Emerson Forbes, Peyton Kalb, Michael Mathews, Michael Reed, Jose Suarez and Miles Tierney.
Huntington High School has one of the best choral programs on Long Island. The student-vocalists who comprise the two choirs have impressed audiences in the district and throughout the community.
The high school program features two choirs. The concert choir is open to anyone who loves to sing while the chamber choir is an elite, audition-only group.
A Huntington music teachers since 2016, Ms. Garbarino obtained a Bachelor of Music degree in music education at Five Towns College in Dix Hills and a master's degree at the University of Florida. She plans to pursue a Ph.D.