May 8, 2018
Alexandra Heuwetter came through in the clutch for the Blue Devil basketball team game after game and now the Huntington High School senior is set to do the same thing for Ithaca College after committing to the upstate New York school.
"I first became aware of Ithaca during the summer going into my senior year," Ms. Heuwetter said. "I was playing in several basketball tournaments with my travel team and the Ithaca coaches began recruiting me to join their program. I knew that they had a great team, but I didn't know much about the school. After visiting multiple times and conducting long hours of research, I learned that Ithaca has one of the top physical therapy programs in the country. The combination of playing the sport I love, a highly accredited PT program, and not to mention a beautiful campus, made all the sense to make Ithaca my new home."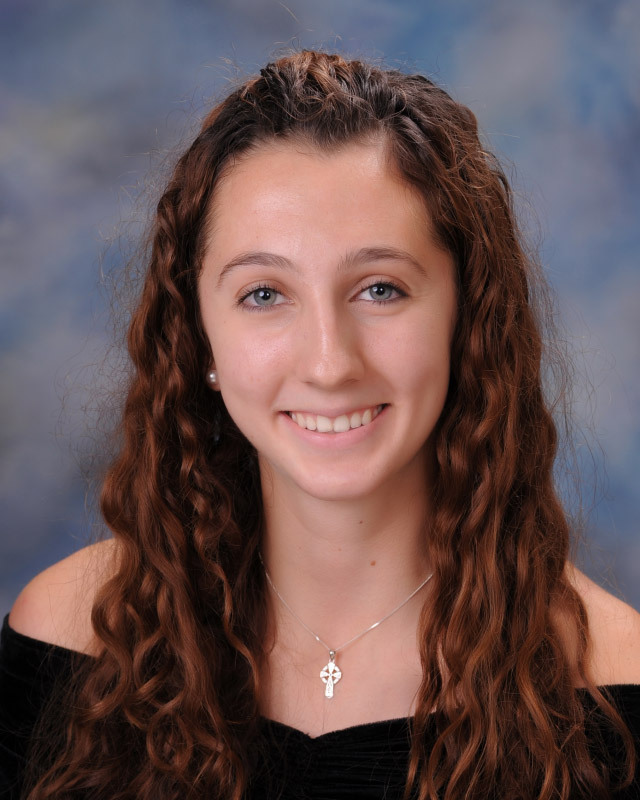 Huntington High School senior Alexandra Heuwetter.
The teenager considered Stony Brook, Loyola University and Clarkson University before finalizing her plans to attend and play basketball for Ithaca.
"I hope to pursue a career in physical therapy," Ms. Heuwetter said. "Throughout my life, I have experienced countless injuries and thus have had many encounters with physical therapists. Through these encounters I have developed an interest in the functions of human body and the rehabilitation of injuries."
Sports have always loomed large in Ms. Heuwetter's life. She played on the Blue Devil varsity volleyball team for three years and was a two-time All-County star for Huntington's girls' basketball team, serving as team captain as a senior and earning four varsity letters along the way.
Ms. Heuwetter has been playing travel league basketball with the Long Island Lightning organization since fifth grade, trekking to tournaments as far away as Illinois, Kentucky and Tennessee.
"Alex has been a key member of our team for many years," said Michael Kaplan, the Huntington girls' basketball team's head coach. "She plays very hard and has always been a wonderful role model for her teammates. Alex sets high goals and works very hard to achieve them. There is nothing she can't accomplish if she sets her mind to it. She's going to be a star in college."
Ms. Heuwetter's current year academic schedule includes classes in Advanced Placement Calculus AB, AP Micro/Macroeconomics, AP Literature and Composition, Spanish V Honors and Regents Physics.
The senior and her closest friends are intensely loyal to one another. "Since our first class together in kindergarten at Southdown, Alex has been my best friend," fellow senior Lindsay Saginaw said. "She has a drive and determination unparalleled to most and her passion for academics and athletics has allowed her to prosper at Huntington. Alex is always willing to lend a helping hand, whether it be in basketball or biology and her considerate and generous personality is loved by both teachers and classmates. Though I'll miss her next year, big things are in store for Alex and I know she will thrive at Ithaca."
A member of the high school Key Club and Habitat for Humanity club, Ms. Heuwetter is the vice president of Huntington High School's National Science Honor Society chapter. The teenager has also been inducted into the National Honor Society as well as the Math, English and Social Studies Honor Societies. She has even found time to volunteer at Huntington Hospital.
The easygoing senior has developed many good relationships with high school faculty members over the past four years.
"One of my favorite teachers has been Mrs. [Deborah] Beck," Ms. Heuwetter said. "I took her AP Biology course during my junior year. Not only did I enjoy the information she taught us, but it is her passion and drive to teach us everything we can possibly know on a topic that makes her a great teacher. I've also grown close with Mr. [Robert] Gilmor throughout my years at Huntington. Not only is he a great advisor for Habitat, but he has also helped in comforting me in times of distress and has guided me in the right direction when faced with conflict. He is one of the kindest people I have ever met."
Recognized as a Distinguished Senior after compiling an academic grade point average of 90 or above during every semester of high school, Ms. Heuwetter has excelled in the classroom and on the athletic court, too.
"There is not one specific moment in high school that I have enjoyed the most, but meeting new people and making new friends through sports and my classes have been a highlight of my Huntington experience," Ms. Heuwetter said. "Traveling with Habitat to New Orleans during my sophomore year was also definitely a memorable experience."
As she sets her sights on achieving success at Ithaca College, Ms. Heuwetter will always be able to take comfort in the outstanding run she enjoyed at Huntington High School.
"My overall experience at Huntington has been great," Ms. Heuwetter said. "The high school presents its students with so many different opportunities to not only succeed, but enjoy themselves along the way. I will always remember the close-knit, caring and spirited community that Huntington High School creates."