February 27, 2018
Huntington High School senior Quinn Blackburn has captured the President's Volunteer Service Award, which recognizes Americans of all ages who have volunteered significant amounts of their time to serve their communities and their country.
The award was presented by The Prudential Spirit of Community Awards program in cooperation with the Corporation for National and Community Service.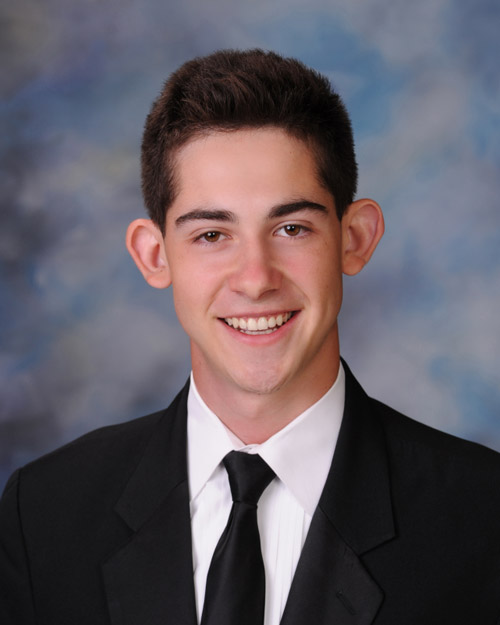 Huntington High School senior Quinn Blackburn.
"On behalf of a grateful nation, I thank you for your service to your fellow Americans and those most in need," wrote President Donald Trump in a letter to Mr. Blackburn. "Through your dedicated service, you have ensured the continuation of America's unparalleled commitment to improving the lives of others. Over this past year, you have served as a model of the American spirit. Your many hours of service have strengthened the bonds of cooperation and trust that bring people together, while helping to address some of the greatest challenges of our time."
The senior is headed to Syracuse University next fall. He has been accepted into the Bandier Program in the S.I. Newhouse School of Public Communications. He will pursue a Bachelor of Science degree in recording and allied entertainment industries.
Mr. Blackburn was honored by the president for his work with Huntington High School's Habitat for Humanity chapter. He serves as the organization's president. "I decided to join because I have always loved lending a helping hand," he said. "Although I was too young to build in ninth and tenth grade, I participated in many events to raise money for Habitat. I was so excited to become a junior so that I could be an eligible builder and help in so many ways. I went on as many builds as I could that were [within] driving distance] and couldn't wait for our New Orleans trip last year. I think what has touched me the most is learning even just a little bit about the families we help."
Mr. Blackburn is planning a music festival for May at the high school. It will help raise money for Huntington's Habitat for Humanity chapter. He is also president of the Interact Club and the Art Honor Society and is vice president of the stage crew club and the club known as AWOD (an acronym for A World of Difference).
"One of our nation's greatest strengths remains the compassion of our everyday citizens, who give so willingly of themselves and their lives for the benefit of others," wrote Mr. Trump in his letter. "Each generation of hardworking and kindhearted volunteers helps to write a new chapter of American greatness and our nation is proud for your commitment to this honorable tradition. As we reflect on your many acts of kindness and charity over this past year, our nation draws inspiration from those who answer the call to help their communities and our nation. With your continued efforts to build on our nation's culture of service, America will proudly remain a land of freedom and opportunity for all."
The Prudential Spirit of Community Awards, sponsored by Prudential Financial in partnership with the National Association of Secondary School Principals (NASSP), recognizes middle level and high school students across America for outstanding volunteer service.
"The recipients of these awards demonstrate that young people across America are making remarkable contributions to the health and vitality of their communities," said John Strangfeld, chairman and CEO of Prudential Financial. "By recognizing these students and placing a spotlight on their volunteer activities, we hope to motivate others to consider how they can also contribute to their community."