August 27, 2018
Diya Rai-Gersappe wants to be a medical doctor one day and she's willing to put in the work to make her dream come true. The Huntington High School junior recently completed a summer research internship at Stony Brook University.
Ms. Rai-Gersappe participated in Stony Brook's highly regarded Garcia summer research program. "It started out with around two weeks of what they called 'boot camp,' where we received lectures from professors who work at Stony Brook and were in need of high school students to participate in their projects," the teenager said. "These lectures were for the students to be able to decide which project they would like to work on throughout the summer."
Ms. Rai-Gersappe is the kind of young woman who leaves no stone unturned so she researched projects in advance of the summer program and went there knowing what she wanted to spend her time working on.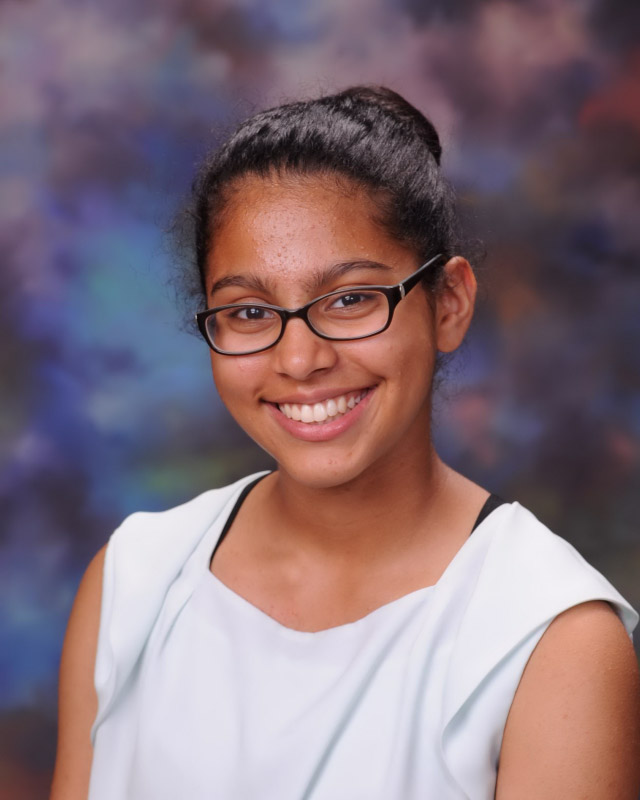 Huntington junior Diya Rai-Gersappe.
"It was one of the few projects that worked with the Stony Brook University Hospital and it was a topic I was genuinely interested about," Ms. Rai-Gersappe said. "I was able to work with an amazing professor, Dr. Miriam Rafailovich and a graduate student by the name of Fan Yang."
Dr. Rafailovich, who holds the rank of distinguished professor is the director of the Garcia Center for Polymers at Engineered Interfaces at Stony Brook.
"The Garcia Center for Polymers at Engineered Interfaces consists of an interdisciplinary research group," according to its website. "The focus of the center is the design of polymer thin film properties through precise control of interfacial structure. The uniqueness of the investigations is the synthesis and study of engineered interfaces. At these interfaces, molecular-level control of surface energy via chemical functionalities, symmetry and order is accomplished. This is a significant departure from existing experiments on semiconductor, metal and metal oxide surfaces, with little or no control of surface interactions."
The Huntington junior and two other Long Island high school students worked on a project that utilized a program that is able to detect the progress of a benign type of tumor known as an acoustic neuroma.
"This type of tumor lies on the auditory nerve in the brain, but since its symptoms seem to be similar to ones that appear as a result of old age, many of the people who have it don't get it checked out," Ms. Rai-Gersappe explained. "This results in the tumor growing to the point where it hits the facial nerve which controls the muscle movement and tension on the face."
Ms. Rai-Gersappe is one of the top students in Huntington's Class of 2020 and she was up to the challenges posed during this time at Stony Brook.
"The project I worked on used software known as DISC (Digital Image Speckle Correlation) as a way to track the severity of these types of tumors," Ms. Rai-Gersappe said. "The program was able to create contours which marked where the muscle tension was the greatest and was also able to let the viewers see the symmetricity of the subject's face. We were able to get controls for our experiment and use this program and an overlaying program to be able to map these contours onto these subject's faces."
The Garcia summer program might have concluded, but Ms. Rai-Gersappe isn't quite finished with her work at Stony Brook, which she considers very important. "I hope to be able to continue with this project throughout the school year and hopefully be able to use this research to become a new form of early detection for this type of tumor," she said. "This program is able to see differences in the facial musculature before it becomes visible to the naked eye."
Ms. Rai-Gersappe will once again be participating in Huntington High School's science research program class and entering competitions during 2018/19. "I would love to go to a college that has a good life sciences department and I would ideally want to pursue a career in medicine," she said. "My top college is probably Columbia University, but that is a very competitive school [to get into]."
A member of the high school Key Club's executive board, Ms. Rai-Gersappe also runs on the Blue Devil varsity cross country team and plays cello in the chamber of pit orchestras. The teenager plays piano and has received special recognition from the National Guild of Piano Teachers Assn.
"I've had a really good time these past two years at Huntington High School," Ms. Rai-Gersappe said. "I've had amazing teachers guiding me along the way!"