September 12, 2017
It's been 50 years since Woodhull School first opened its doors to students from the Huntington community. Since then many of Suffolk's top scholars, artists, musicians and athletes have moved through the building's classrooms. It remains one of the best places in the state for youngsters to get an education.
Woodhull's instructional practices have always among the finest in the county and state. The school has long featured a mix of veteran educators and recent additions to the faculty ranks who have brought with them valuable new ideas.
The school bears a remarkable physical resemblance to how it looked when it went on line on January 30, 1967. Some interior alternations have been made to increase instructional space, a pair of classrooms were added to the south side of the building and a modular complex of rooms was placed on the north side of the grounds. A stage was added to the gymnasium. The building looks identical to how it appeared 50 years ago.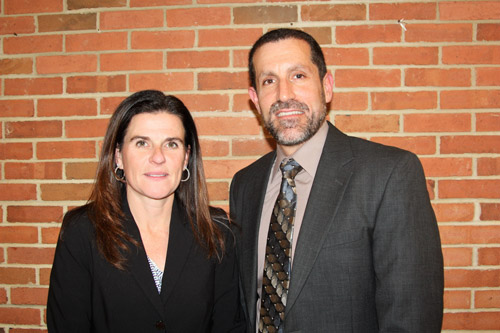 Woodhull Principal Traci Roethel with Superintendent
James W. Polansky. (Rhoma Abbas photo.)
Teachers devote a stunning amount of time to getting to know their students, many of whom maintain the relationships long after they move on from Woodhull. Youngsters in the school receive a top notch and well-rounded education, unsurpassed by any other school on Long Island. Instruction is delivered with enthusiasm and attention to detail.
Woodhull's faculty corps routinely pulls out all the stops to motivate and inspire its 466 students spread across the fifth and sixth grades. Teachers take delight in mentoring, guiding and advising the youngsters they work with.
The smooth start to the new school year has Woodhull already humming along. Walk around the hallways and peak inside classrooms, the library, cafeteria or gymnasium and you will see happy kids.
"We had a great opening last week and students were all smiles entering the building," Principal Traci Roethel said. "We are excited to start offering the world language class once a week to both our fifth and sixth graders. Teachers are excited over the new year with a new reading series and science curriculum in fifth grade that they are excited to implement."
Woodhull's students are a proud bunch. Years after they have moved on to another school or even graduated from high school and college they remain loyal to the school and grateful to the teachers and support staff members that took an interest in them.
Woodhull's principal since February 2014, Ms. Rothel previously spent 3½ years as assistant principal at Candlewood Middle School in Dix Hills. She earned a Bachelor of Arts degree in elementary education at Stetson University in Florida in 1992 and obtained a Master of Science degree in education with a specialization in math at Queens College in 2003. She completed an advanced graduate certificate in educational leadership at Stony Brook University in 2009.
Prior to embarking on an administrative career, Mrs. Roethel worked as a sixth grade math teacher and fourth grade classroom teacher in Oyster Bay and as a math consultant to the Oyster Bay-East Norwich, Shoreham-Wading River and Hicksville school districts. She was a fourth grade teacher in Volusia County, Florida for seven years before moving to New York.
Mrs. Roethel and her husband, Guenther, a captain with JetBlue Airways, are the parents of three children; Kirsten, an eleventh grader, Hailey, an eighth grader and Tyler, a fifth grader. Kirsten is a starter on the Northport varsity field hockey team. Hailey plays on Northport's JV field hockey team and also competes with Gold Medal Gymnastics on its Level Gold team. Tyler plays baseball with the BEAST team based out of Commack.
Jarrett Stein has been Woodhull's assistant principal since July 2011. He was the district's director of school safety and alternative educational programs during the 2010/11 school year and was acting principal of Woodhull in 2009/10. The longtime educator earlier served as an assistant principal of Huntington High School for nine years.
Prior to coming to the district, Mr. Stein worked as an administrative assistant in the Hicksville school district, as a school psychologist in the Massapequa and Sachem school districts and in the BOCES system, as a teacher assistant in Massapequa, Commack, Half Hollow Hills. He was also employed by BOCES as a group leader and director of several summer camps. He served as the Amagansett school district's director of student support services.
Mr. Stein earned a Bachelor of Arts degree in psychology at Fairleigh Dickinson University and obtained a Master of Science degree in school psychology at Long Island University's Brooklyn campus in 1996. He studied for his state administrative certification at Dowling College.
Mrs. Roethel, Mr. Stein and Woodhull's faculty and support staff members have helped make the school a very special place. Just ask the students who love going there every day.