September 8, 2017
The new school year got underway at Jack Abrams STEM Magnet School with plenty of enthusiasm as more than 300 students spread across grades four, five and six filled the building's classrooms.
"Our first day was exciting and busy," Principal Donna Moro said. "It was wonderful to see our hallways alive with happy smiling faces ready to take on the challenges of a new school year."  The building also houses a "bridge" program class as well as a pre-kindergarten class.
Teachers explained their policies and procedures and then quickly began the first lessons of the school year. Classrooms were ready to go, with all the equipment, supplies, books and pieces of technology students need for a well-rounded education.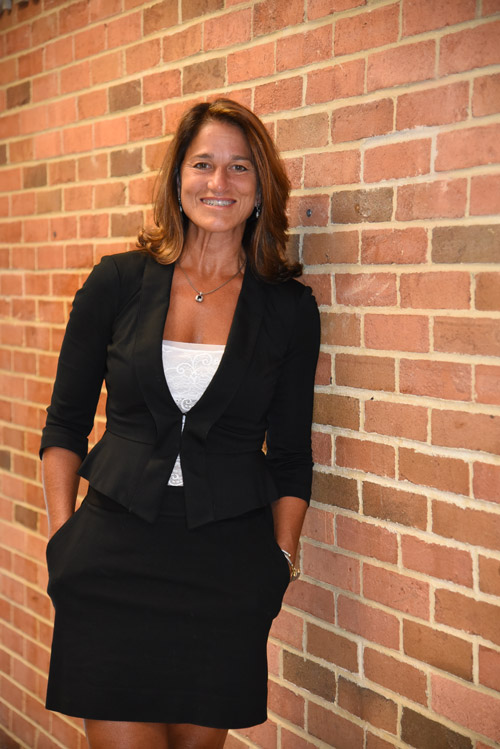 Donna Moro is principal of
Jack Abrams STEM Magnet School.
After the long summer vacation, students easily transitioned back into full learning mode. "It was a fun filled day where old friends reconnected and new friends were made," Ms. Moro said. "There is no doubt we have a great year ahead!"
There are lots of initiatives and activities planned for 2017/18. "We are looking forward to the continued expansion of our STEM infused project based learning environment," Ms. Moro said. "Our students began the year with a visit to our makerspace where they learned about how they will have an opportunity to compete in the First Lego League Robotic Challenge." 
Jack Abrams STEM Magnet School's Meet the Teacher Night is set for Thursday, September 14 at 7 p.m. Sixth grade parents are invited to come that same night at 6 p.m. for a meeting related to the annual trip to the Greenkill outdoor education center in Huguenot, New York.
The school's PTA will hold its first meeting of the year on Tuesday, September 19 at 7 p.m. in the auditorium. All parents are invited to attend the gathering and learn more about what the organization has planned for 2017/18.
The PTA's leadership consists of Sara Baliber (president), Katie Dopico (co-vice president), Colleen Perfetto (co-vice president), Rosaria Pepe (recording secretary), Christian Waters (corresponding secretary) and Gregory Parks (treasurer) and PTA Council delegates Christiane Flewelling and Allison Schirripa.
Thrilled the new school year is underway, Ms. Moro has been a constant presence in hallways and classrooms, the cafeteria and even on the playground. She has been principal of the building since August 2016 after serving for two years as the district's STEM coach and elementary science coordinator.
A member of the J. Taylor Finley Middle School faculty for many years, Ms. Moro taught Earth Science from 2005 through June 2014. She also spent time during the 2013/14 school year working as an instructional coach in the science department, including facilitating staff development, making a presentation on Huntington's teacher leadership coaching model at a state conference, presenting to the Board of Regents on the structure and sustainability of the district's teacher leadership coaching model and representing New York State in a leadership summit in Washington, DC.
Ms. Moro obtained a Bachelor of Science degree at the University of Hartford and Master of Business Administration and Master of Science in education degrees at Long Island University-C.W. Post. She obtained an advanced graduate certificate in school administration at Stony Brook University.
As the district's STEM coach and elementary science coordinator for two years, Ms. Moro modeled inquiry based hands-on lessons for teachers in grades K-8, designed interdisciplinary curriculum to engage students in innovative activities geared toward inspiring the next generation of STEM leaders, coordinated all aspects of an after school STEM enrichment program, developed a summer STEM enrichment program in collaboration with Farmingdale State College, helped initiate family STEM nights, technology night, Rube Goldberg invention convention, rollercoaster engineering exploration and race car adventure night.
Prior to embarking on a career as an educator, Ms. Moro was employed by Publishers Clearing House from 1986-2004. She worked as a program analyst, studying direct marketing initiatives; as director of customer service, managing a staff of 200 in three locations; as merchandising director of the UK division, overseeing a program budget in excess of $5 million.
Ms. Moro holds state certificates in Earth Science (grades 7-12) and educational administration/school building leader. She completed Harvard's new and aspiring leadership program in March 2015.