October 16, 2017
Sarah Agrillo was nervous and who could blame her? The Huntington High School senior took hold of the microphone and stood on the Blue Devil Stadium turf as she prepared to start singing a song that has tripped up many famous professionals over the years.
Ms. Agrillo plays on the Blue Devil varsity field hockey team. She was honored along with Lianna DeChiaro and Lindsay McKenna by coaches Kathy Wright and Allison Conlon and the team's underclassmen on Senior Day prior to the start of a game against visiting Newfield.
Such games usually don't include the singing or playing of the "Star Spangled Banner," but this was a special day. About a week before the game, Ms. Agrillo had informed Mrs. Wright that she wanted to perform the national anthem a capella and the coach "was all for it," the teenager said.
The "Star Spangled Banner" is a notoriously tough song to sing because of its wide ranges and a melody that "skips around" a lot. Even seasoned performers such as Christina Aguilera and Cyndi Lauper have encountered difficulties. But, Ms. Agrillo was flawless.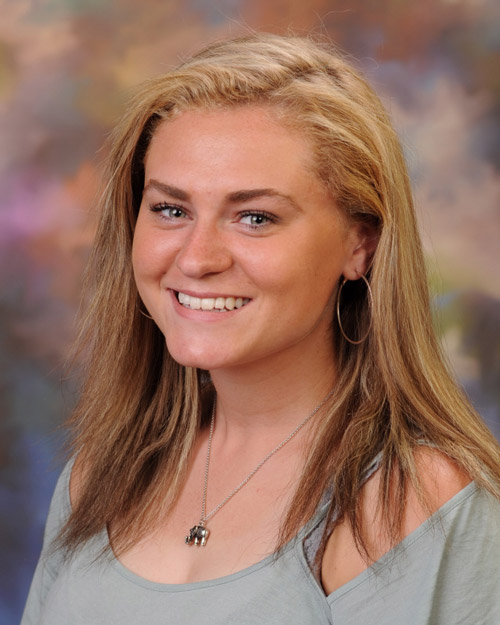 Huntington senior Sarah Agrillo.
"Sarah has a beautiful voice and I've watched her confidence grow over the past two years," said Victoria Garbarino, who leads the high school choral program. "She came to me and expressed that she wanted to rehearse with me before singing at the game, so we spent time together during her lunch periods. She put in the time and effort necessary to give an outstanding performance and I couldn't be more proud of her for doing it. It's certainly not easy to sing in front of your peers before a game."
Following the Senior Day ceremonies at Blue Devil Stadium, public address announcer Ilene Messina introduced the Huntington and Newfield starting lineups. Then both team's players and coaches, the officials and game day personnel and a crowd of about 150 stood while Ms. Agrillo gave a stirring rendition of the national anthem.
When the teenager finished her performance, Blue Devil Stadium swallowed her in applause. Even soccer players warming up for a game on an adjoining field and those on nearby JV soccer and varsity and JV football fields cheered for Ms. Agrillo.
"I was definitely nervous that I would mess up, but once I started, I was comfortable," said Ms. Agrillo, who has been singing for about seven years and who is a member of the high school concert choir.
The senior plans to attend Duquesne University in Pittsburgh, where she intends to study criminal justice and play on the college's NCAA Division I lacrosse team.
Ms. Agrillo has captured varsity letters with the Blue Devil field hockey, indoor track and field and lacrosse teams. She has been recovering from a torn ACL and she plans to be ready for Huntington's spring lacrosse season.
It took almost everyone by surprise when it was announced to the crowd that Ms. Agrillo would be singing the "Star Spangled Banner" prior to the recent game. It's an afternoon she will never forget.
"She has been my best friend for so long and I am one of the few people that have heard her sing and seeing everyone else taken back by her voice made me so proud of her," Bella Annunziata said. "She's always there for anyone who needs it and I can count on her to make my day."