May 31, 2017
The screen just got considerably larger for a talented team of five Huntington High School filmmakers who have reached the national finals of the 10 Day Film Challenge.
Soundbite is one of just 15 films nationwide to advance to the championship round, which will be held on Sunday, June 4 at the F.M. Kirby Auditorium in the National Constitution Center in Philadelphia. The festival begins at 2 p.m. followed by an awards ceremony.
The 10 Day Film Challenge requires teams of participants to write, shoot, edit and score a movie in just 10 school days during their film class period only.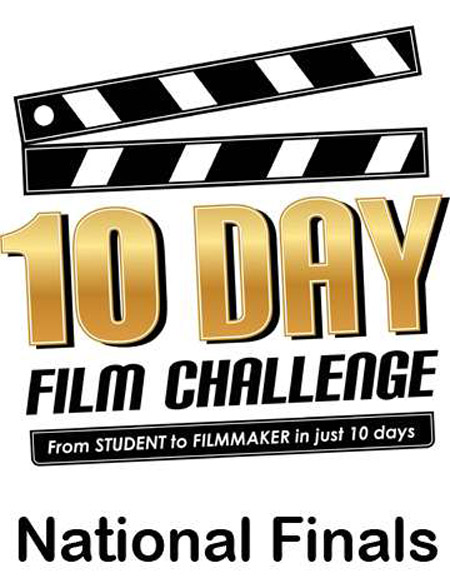 Huntington filmmakers have reached
the national finals of the 10 Day Film Challenge.
The Soundbite team includes seniors Charlie Ehrman, Emma Pipolo and Jack Glicker and juniors Jackie Caravetto and Lindsay Martin. This year's 10 Day Film Challenge drew more than 450 entries. Among the 15 films that have reached the finals are four each from New York, New Jersey and Pennsylvania and one each from New Hampshire, Ohio and Texas.
"We are honored to be one of the four New York teams invited to the nationals, said art teacher Heather Swan, who leads Huntington High School's video arts program. "This competition is extremely rigorous yet all of the students worked incredibly hard to produce solid films. These five students collaborated so well together and brought out the best in each other. They embody the true meaning of the word team and I am so proud of them."
Soundbite is billed as a "high school slice of life" film. In the short story, a student named Mac wants to win a competition for making an original beat. When he realizes that he's not talented he steals a song from a fellow classmate. In the end, instead of gaining popularity he gained a lot of enemies.
"There is a feeling of accomplishment in making it to the nationals this year," Mr. Ehrman said. "I have participated in 10 day Film Challenge for the past three years and have progressed each year. This being my last year, I am looking forward to the new experience of attending the nationals with my team."
The 10 Day Film Challenge began with three New Jersey high schools in 2011. It has now grown to include more than 4,500 student filmmakers participating from 25 states. It's anticipated the initiative will spread from coast to coast in coming years.
"I thought it was exciting to get picked for the top 30 in New York, but top 15 in the nation is even crazier," Ms. Caravetto said. "I'm so glad we're getting to experience this."