March 31, 2017
Senior Anna Gulizio won three individual events to propel the Huntington girls' track and field team to a 100-40 victory over host Bellport on Wednesday afternoon.
Gulizio won the triple jump (32-07.25 feet), high jump (4-06.00 feet) and 400m dash (64 seconds) to pace the Blue Devils. Senior Rebecca Caballero captured the long jump (14-04.25 feet) and the 400m hurdles (77.2 seconds) and was second in the 100m hurdles (18.2 seconds).
"Overall, it was a fine start to the season," head coach Shawn Anderson said. "While there are a few kinks to work out in the technical aspect of the sport, the girls showed some solid early season performances."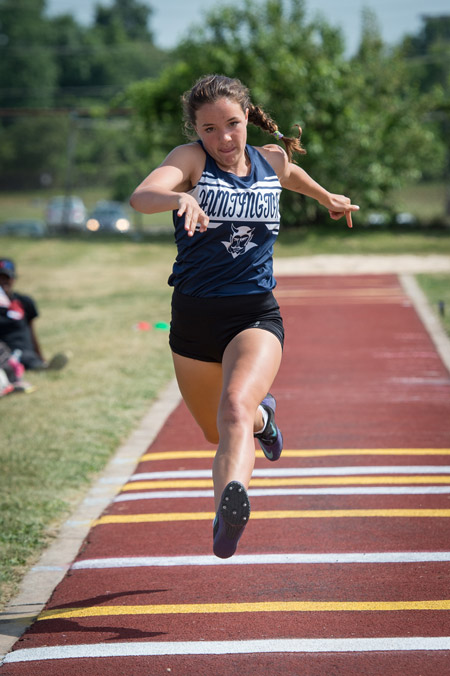 Anna Gulizio takes off in the triple jump.
(Darin Reed photo.)
Huntington swept the 3000m run behind Nicole Abbondandelo, Alexis Pastorelli and Hadley Clayton. The Blue Devils also took the top three places in the 1500m race-walk with Erika Varady (8:26), Keily Rivas (9:17) and Nicole Arenth (9:44) finishing 1-3.
Huntington was unbeatable in the 800m run, too, with Clayton, Niamh Condon and Katie Seccafico finishing in the top three spots with all running times of around three minutes.
The Blue Devils swept the discus event with Nephar Durand grabbing first place with a toss of 81-06 feet for a personal best. Jolena Smith was second (70-07 feet) and Jenna Yabroudy finished third with a throw of 68-01 feet.
The 1500m run saw still another Blue Devil sweep behind Abbondandelo (5:21), Louise Koepele (5:22) and Pastorelli (5:25).
"It was a meet to shake off some rust," Anderson said. Huntington features a mix of veterans and newcomers. The Blue Devils are optimistic about the spring season.
In other highlights:
• Shot put: Durand kicked off the season with a personal best, tossing 31-01 feet to claim first place. Smith was second with a toss of 30-09 feet.
• Triple jump: Caballero (31-05 feet) and Sophie Dellecave (29-06.50 feet) finished second and third. Freshman Isabella Thompson hit 27-07.50 feet in her first competition. "What was even more impressive was that these jumps were into the wind," Anderson said.
• Pole vault: Mackenzie Joseph won by clearing 7-06 feet.
• Long jump: Joseph finished third with a leap of 13-01.50 feet.
• 100m hurdles: Mardnie Mentor (18.6 seconds) finished third.
• 400m dash: Seccafico (66.3) and Marina Ruzic (67.6) took second and third place, respectively. Karley Mathews ran a personal best time of 72.5 seconds.
• 100m dash: Joseph crossed the line second in 13.6 seconds.
• 200m dash: Ruzic took second place in a time of 27.6 seconds.
• 400m hurdles: Koepele finished second in a time of 77.9 seconds