March 27, 2017
Eli Mollineaux would have loved it. A capacity crowd turned out last Friday night to watch faculty and staff teams from Huntington High School and Woodhull Intermediate School battle each other in the annual March Madness basketball game.
With high school Principal Brenden Cusack and Woodhull Principal Traci Roethel leading their respect squads, the cheering reached deafening levels as the two teams vied for supremacy on the hard court.
After keeping the score close during the opening minutes, the high school team eventually pulled away, toppling their Woodhull counterparts, 40-25. Seeing the number 40 illuminated on the high school scoreboard wasn't lost on Mr. Cusack, who noted it was Mr. Mollineaux's jersey number when he took the field last fall and scored a 50 yard touchdown in his wheelchair during an exhibition play at halftime of the Huntington-Smithtown West football game.
Mr. Mollineaux's presence has loomed so large at the annual basketball game that it was formally named Eli's March Madness in his honor. The Huntington High School sophomore lost his very public and inspiring battle with Pearson Syndrome, a rare mitochondrial disease late last October, passing away while surrounded by his loved ones.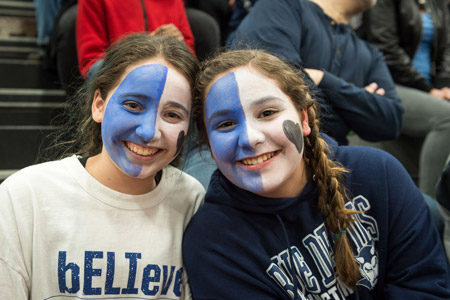 Fans got into the spirit of the game. (Darin Reed photo.)
Proceeds from last Friday's game are dedicated to the Eli Mollineaux Scholarship Fund. A crowd of about 1,000 filled the bleachers in an impressive tribute to the popular teenager. Fans snapped up hundreds of raffle chances and also purchased refreshments and snacks to aid the fundraising efforts.
Woodhull students Katie Balm, Julia Danseglio, Cristina Fazin, Isabella Lanfranco, Neha Rathore and Sophia Segal sang a lovely version of the Star Spangled Banner. The high school and Woodhull PTA organizations worked overtime to produce a successful evening.
Superintendent James W. Polansky and Huntington School Board President Thomas DiGiacomo were on hand for the game, reacting to the swings in momentum with the rest of the crowd.
"I want to thank everyone for coming out to support our children," said Woodhull Assistant Principal Jarrett Stein, who enjoyed a special relationship with Mr. Mollineaux. "This is such a special community. Your presence here tonight and donations are just overwhelming. It's so difficult to stand up here and look over at the bleachers and not see Eli smiling back at me. But his family is here keeping his legacy alive."
Finley Principal John Amato was the game's referee with physical education teacher Travis Smith serving as the scoreboard operator. "Tonight's attendance, all the raffle baskets that were donated and the love in this gymnasium demonstrates how this community supports its own," Mr. Stein told the crowd.
The high school "ready step" team performed at halftime. Perspiration poured off players as they ran up and down the court during the 10 minute periods. Woodhull teacher Jason Suarez and high school Assistant Principal Gamal Smith were among the leaders of their respective squads.
Once the final buzzer sounded fans headed down to the court and players gathered for a commemorative photo. Mr. Mollineaux was undoubtedly smiling while watching it all unfold.