March 15, 2017
Leanne Daly has followed a somewhat circuitous path that is set to end in June at the Huntington High School commencement. A few days later she will step onto the Penn State University campus and begin life as a Nittany Lion.
One of the most popular members of the Class of 2017, Ms. Daly's academic experience has been enhanced by Huntington's club and athletic programs and through numerous community service activities.
"Overall, my experience at Huntington High School was the best I could ask for," Ms. Daly said. "I had so many wonderful teachers and I found the few close friends that I will keep for life." 
An essential part of the school community for many years, Ms. Daly spent a sophomore semester at St. Anthony's, before returning to Huntington High School and finding her groove.
"After completing ninth grade at Huntington High School, I wasn't really satisfied with the work I had done and knew something had to change," Ms. Daly said. "Over the summer I had looked into St. Anthony's and applied as a transfer student. The school came to my attention because my dad had gone to St. Anthony's when it was an all-boys school back in Smithtown. He believed it would be a good choice for me to attend a Catholic school with high academic and athletic standards."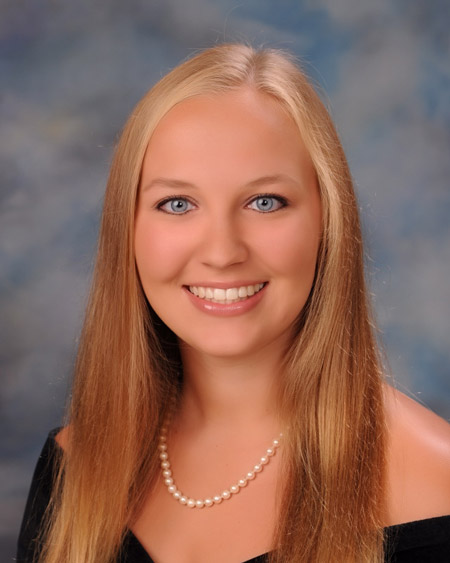 Huntington senior Leanne Daly.
The move from a large public high school to a large parochial school obviously required an adjustment. "It was a very big change for me since this was my first time in a Catholic school," Ms. Daly said. "I admit I did like wearing a uniform because it was so simple in the mornings not having to pick out an outfit. Joining the girls' swim team was such a great decision because it was such a close knit group of girls who were dedicated to swimming, but also keeping their grades up and I immediately had so many new friends. My 'big sister' Lee Ann was a senior and helped me out in so many ways and then I went on to diving in the winter with her as well! Both teams were so great and I had amazing experiences. If I hadn't gone to St. Anthony's, I wouldn't have met my best friend Maddie. Coincidentally we are back yard neighbors and never knew each other until we met on the bus ride home from school on the first day. She made the transition a little easier because I knew there was always at least one familiar face in the hallway. I think I had to at least try the school because if I hadn't, I would've always wondered 'what if.' It just wasn't the right place for me and I'm glad I came back to Huntington." 
Accepted by seven colleges
Ms. Daly was accepted by Penn State University, University of Alabama, University of Tampa, St. John's University, Iona College, Keystone College and the College of Saint Rose. 
"I will be attending Penn State starting in the summer, just two days after graduation," Ms. Daly said. "The summer program offers me a head start in many aspects. I will be majoring in special education and will be taking Education 100 and English 15 in the summer for six weeks. I am so excited for this new journey in my life."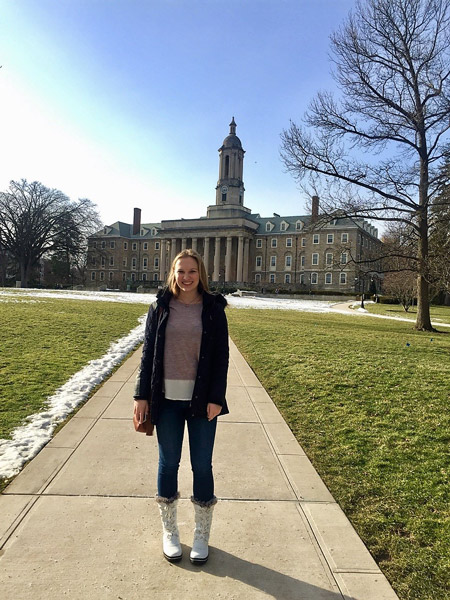 Leanne Daly on the Penn State campus.
Ms. Daly weighed all the pros and cons of each college before making her final decision, but it wasn't surprising since three family members have graduated from Penn State.
"Penn State has the largest alumni network in the world with 172,000 association members worldwide," she said. "There are so many opportunities after college with the help of alumni members. My grandfather, mom and uncle all graduated from University Park and my dad is currently enrolled in the World Campus program earning his second master's degree. The tradition continues! State College is such an amazing energetic town and I can't wait to witness all the school spirit. I was lucky enough to watch a wrestling match back in February when I visited for accepted student's weekend and boy was it something else. The energy throughout Rec Hall was incredible and the place was absolutely packed. I am so excited to be a part of the Penn State family and, of course, cheer on the Nittany Lions!" 
So many memorable moments
There have been so many memorable moments and highlights over the years that it's hard for Ms. Daly to list them all. Still, a few stand apart from the others.
"My favorite memory would have to be 2016 Homecoming," Ms. Daly said. "Being crowned Homecoming Queen was an honor and spending the day with all my friends and the entire grade was amazing. I also loved going to prom junior year. Everyone should experience their high school prom and I'm glad I got to with all my friends." 
Volunteering and working with others have been hallmarks of Ms. Daly's scholastic experience. She has generously given of her time.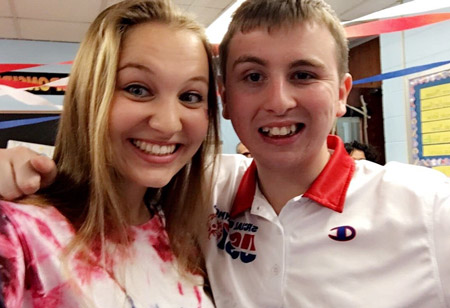 Leanne Daly and Special Olympian World Games athlete Liam Mrotzek.
"My freshman year I was introduced to our Huntington Special Olympics team and have since been working with the athletes with Linda Roth as a junior coach," Ms. Daly said. "The team is very special to me because of the connections I have made with each individual athlete. After each practice I always come home with so much joy and pride because I know I'm making an impact in someone's life. Interacting with these students has all the more helped me in deciding to major in special ed. I am so proud of Liam Mrotzek for qualifying for the Special Olympic World Winter Games in Austria this year. I, along with everyone else in Huntington will be cheering him on. The whole school came down to the lobby cheered for him and wished him good luck as he left the building for the last time before he goes to Europe. It was so amazing to see all the support and enthusiasm as he walked through the hallway."
Senior year schedule and academic interests
Ms. Daly's senior year schedule includes Bible as Literature, Participation in Government, Humanities, Economics, Forensics and Advanced Placement Statistics.
"I especially liked PIG because it wasn't like any class I had ever taken," the teenager said. "I had never really been interested in government or politics, but with this class you had to be involved and I was eager to learn. Mr. [Erik] Bruckbauer made the class interesting and certainly lively. We were always laughing in class. If I could take that class again, I would. AP Stat has been a difficult class, but it makes me work hard and is certainly preparing me for college. I'm looking forward to visiting the Met with my humanities class and Mrs. [Kelly] Quintero in the spring." 
Community service has also played a part in Ms. Daly's experience in Huntington. "I have participated in Relay For Life since eighth grade, but last June's event was especially meaningful to me because my dad had been diagnosed with cancer," she said. "He was able to attend and walk the survivors lap hand in hand with my mom and I. Relay For Life is such an amazing fundraiser that I am proud to be part of it. Seeing the entire community come together for such a great cause is a wonderful thing to witness. I am so excited for this year's event!"
Participated in high school internship program
Ms. Daly has participated in the high school internship program and it helped confirm what she wants to do with her life. She was able to observe many special education teachers in the district, including Lisa Caporusso, Peri Alfano and Ashley Williams.
"Every quarter I was at a different school with a different teacher," she said. "The first quarter started at Finley Middle School with Lisa Caporusso in a Life Skills class with 12 spectacular students that I bonded with instantly. I was able to teach mini-lessons and that experience has certainly prepared me for college and beyond. I learned an incredible amount from Mrs. Caporusso and I admire her teaching skills and the way she interacts with each student."
During the second quarter, Ms. Daly spent time at Washington Primary School with teacher Peri Alfano's class. "I learned that 'tough love' is crucial and helps many students to believe in themselves and work to their highest potential," the teenager said. "Currently I am with Mrs. Ashely Williams' class at Woodhull Intermediate School and I have already learned an incredible amount. There are four boys in the class, all at different academic and social levels and that allows me to interact in specific and different ways with each of them. Mrs. Williams is a lively and encouraging teacher and I have taken many things away from her teaching style. I'm looking forward to being at the high school during the fourth quarter and working with students around my age. I know most of them from Special Olympics and seeing them in the hallways and always saying hi."
 The internship experience has been invaluable as Ms. Daly turns her sights toward the future. "This opportunity has given me a huge advantage for the field of study I wish to go into," she said. "Not many college education students can say they've interned for every different grade level of special education students. I am so lucky and have benefited immensely. I'd like to thank Mrs. [Bernadette] Walsh and Mrs. [Camille] DeCanio for providing me with this opportunity and guiding me through all the steps necessary to be successful."
Senior lead very busy life
The senior leads an extremely busy life. "During this school year I have worked as a nanny for a family, caring for two children after school; a kindergartener and a fifth grader," Ms. Daly said. "After my internship, I head right to work to get the kids off the bus, help them with homework and feed them dinner. I love working with kids so this is a dream job for me. Watching them grow and learn is so incredible it makes me want to become a teacher even more!" 
The teenager has worked closely with many staff members and captured their respect along the way. "I wouldn't have been able to make it through my high school career without the help and guidance of Mr. Steve Lashin," Ms. Daly said. "He's been there for me through it all. Meeting him in ninth grade was such a blessing because he has helped me with so many things. The support and encouragement he has given has been extremely helpful and I am so grateful." 
Ms. Daly's interest in working with young people began to bubble to the surface many years ago.
"I think I first started to become interested in teaching after having Mr. Jason Suarez as my fifth grade teacher at Jack Abrams School," Ms. Daly said. "He was such an awesome teacher and definitely made learning fun. We had such a fun class and I certainly have many memories. It's so great seeing Mr. Suarez at Woodhull where I am currently interning. Seeing how far I've come is absolutely spectacular and I'm grateful to all the teachers I've had throughout my education."
Many extracurricular activities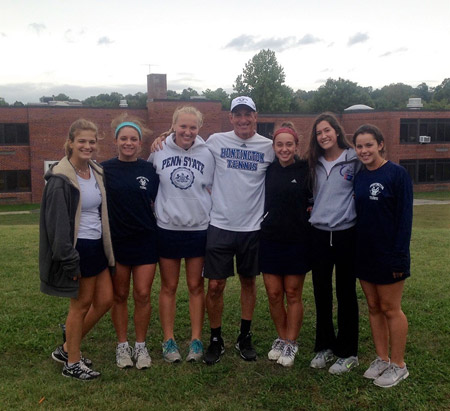 Leanne Daly (third from left) with Coach Jamie Fishlow and fellow tennis seniors.
Ms. Daly participated with the Huntington Highsteppers competitive dance team as a freshman, as well as being in the student government, Key Club and Habitat for Humanity. As a sophomore at St. Anthony's she was on the girls' swim team that won the league championship. She joined the boys' team during the winter and tried diving, which she found easy since she had a gymnastics background.
Upon her return to Huntington, Ms. Daly joined the Blue Devil swimming team as a junior, competing in the 100 freestyle and 4x100 relay for coach Chris Helmke and diving for coach Meg McConnell. "I honestly learned so much from her and my teammate Trish Arceri," the teenager said. "Even though she was a grade below me, I still admired her and she influenced me to be better and work harder." I also swam for coach Chris Helmke; the 100 free and 4x100 relay. 
"This year I decided to try out for the girls' varsity tennis team coached by Jaimie Fishlow and it was the best decision of my life," Ms. Daly said. "I had many friends on the team and everyone was so encouraging and supportive. Emma Pipolo and I played third doubles and we went 6-3 and had an awesome time playing together." The duo won the league and Ms. Daly was Huntington's recipient of the Suffolk Sportsmanship Award at the county dinner.
"Mr. Fishlow encouraged me to be my best and he taught me many tennis techniques as well as life lessons," Ms. Daly said. "I'm sad to see him retire this year, but he will still be coaching and that is a wonderful thing."
Ms. Daly even squeezed out enough time in her scheduled to serve as the wrestling team's manager this year.  
"Some advice I would offer to an incoming freshmen is don't limit yourself to the usual opportunities that are out there," Ms. Daly said. "Try something new if you're not happy. Things will always work out in the long run."