July 7, 2017
Alan Kuver will always be remembered around Huntington High School. He gave everyone he worked with everything he had for as long as he could even while he was very ill.
The longtime district teacher passed away on July 1, 2014 after a 10 month battle with esophageal cancer, leaving behind admiring colleagues and a legion of Blue Devil fencers who will always remember their coach. He was 47 years old.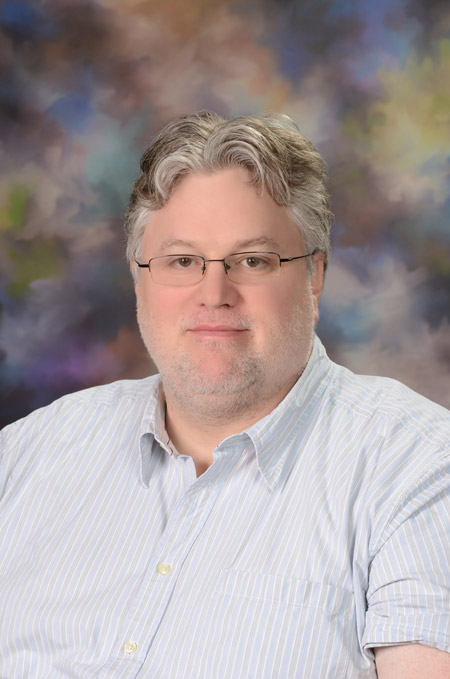 Huntington teacher and fencing coach
Alan Kuver passed away in June 2014.
Even after Mr. Kuver received his terrifying diagnosis he continued to teach and coach while undergoing treatment. He was in his classroom until the final week of the 2013/14 school year, when he just couldn't make it to work any longer. He passed away just two weeks later.
A Huntington High School alum, Mr. Kuver was so closely associated with the Blue Devil boys' and girls' fencing teams that it is still difficult to follow the sport without seeing him involved in it, even three years following his passing.
During the senior academic awards ceremony in the high school auditorium last month, the Associated Teachers of Huntington, the professional organization of the district's teaching corps presented a $1,000 scholarship in Mr. Kuver's honor to graduating senior Lydia Witt.
Guidance counselor Diana Bonilla also presented a pair of $1,000 scholarships on behalf of Mr. Kuver's family in his memory to Class of 2017 members Tateana Khokhar and Dawson Wallace.
All three Kuver scholarship recipients have been longtime Blue Devil varsity fencing team members. Mr. Kuver not only coached the Huntington squad, but he had a national reputation in the sport.
ATH President James Graber presented his organization's award to Ms. Witt, who intends to study human biology/physical therapy at the University at Albany. Named a Distinguished Senior last spring after compiling a minimum academic average of 90 during every semester of high school, she excelled academically and athletically. She even served as president of the school orchestra.
Ms. Khokhar is headed to SUNY Fashion Institute of Technology in Manhattan in the fall to study communication arts. An award winning artist, she was an essential member of the high school community and fencing team. The teenager joked that "hard work, procrastination and lots of tea" defined her success, but the truth is she is a very talented young woman. She, too, was named a Distinguished Senior.
Mr. Wallace is equally gifted. He plans to study mathematics, business or computer science at Lehigh University. The third Kuver scholarship winner to claim Distinguished Senior honors, the teenager utilized a combination of "hard work, perseverance and passion for achievement" to realize remarkable academic success. Drum captain of the marching band, foil squad captain of the fencing team and a member of the National Honor Society, the teenager leaves behind a sparkling classroom legacy.
Alan Drew Kuver was a member of Huntington High School's Class of 1984. An articulate, soft-spoken man with a wonderful sense of humor, he was also a great conversationalist. He could hold court on almost any topic. His colleagues found him fascinating.
At the 46th annual Blue Devil senior athletic awards dinner in Louis D. Giani Gymnasium in June 2014, just weeks before he would succumb to his illness, Mr. Kuver spoke eloquently about the Huntington fencing program, its triumphs and some of its finest moments and about each of the senior athletes he worked with during what was his final season.
Mr. Kuver was a Blue Devil fan, frequently attending home and away games of sport teams as his schedule would allow. A dedicated coach, he devoted countless hours to working with his athletes year-round and maintaining their delicate equipment. He always had time to offer wise counsel and valuable advice to someone seeking it.
In addition to his long association with the Huntington fencing program, Mr. Kuver served a stint as the Blue Devil varsity girls' track and field coach. He taught industrial arts and technology at Huntington High School and J. Taylor Finley Middle School and had an easy way of working with his students.
A resident of the Huntington School District, Mr. Kuver was often be seen around town, darting in and out of stores. A consummate professional, he helped guide many of his athletes into the college ranks, with several reaching the NCAA Division I fencing championships. He maintained relationships with a long list of Blue Devil alums, who he continued to mentor and encourage, years after they had graduated.