January 26, 2017
Huntington High School student musicians sparkled at the Suffolk County Music Educators' Association's 12th annual Day of Horn.
 "For a young horn player, who is usually one of just a few in their building, it's a real eye-opener to see over 175 horns on the same stage," Huntington music teacher Tara Adams said. "The massed horn ensemble includes fourth graders through adults, all playing together. It is such a unique and amazing experience that many of our students return year after year. In fact, alumnus Brianna Kirkland returned from college just to participate."
The Huntington contingent included fourth grader James Nottingham, fifth grader Aidan Geller, sixth graders Allison Malone and Jillian Panos, sophomore Katie Riley and junior Adina Kirkland.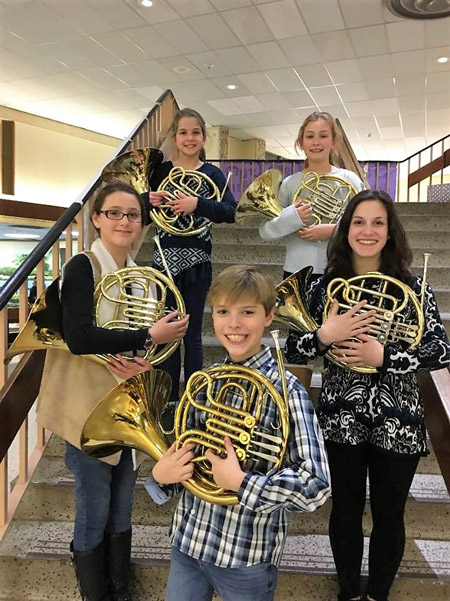 Five of the Huntington musicians at SCMEA's Day of Horn.
"This is my sixth year participating in SCMEA Day of Horn," Ms. Riley said. "It's a great opportunity to play with hornists of all levels, from beginners, to educators to professionals. This year was especially exciting for me because I played in the All-County horn ensemble. First, I participated in a horn clinic led by guest artist, Eric Davis and in the evening we performed two pieces under his direction. It was very inspiring. Day of Horn reminds me how much I love my instrument."
A Hofstra University professor of horn, Mr. Davis has been a freelance artist for many Broadway shows. "His jaw-dropping performance at Day of Horn showcased different solos that students may choose to perform themselves for the NYSSMA (New York State School Music Association) solo festival," Ms. Adams said.  
Past year's guest artists have included some of the world's greatest horn players, including Jeff Nelsen, professor of horn at Indiana University and hornist of the world renowned Canadian Brass, Gail Williams, the Chicago Symphony's associate principal horn and Julie Landsman, former principal horn of the Metropolitan Opera and a professor of horn at The Juilliard School.  
Adina Kirkland joined Ms. Riley and their fellow All-County honor ensemble members on stage for the concluding concert, which also included a performance by the Suffolk Horn Club, which counts Ms. Adams as one of its own.