August 30, 2017
Thomas Edgar-McNerney has every reason to walk around Huntington High School with his head held high after compiling a sterling record over the past three years. The incoming senior has just been named a Long Island Arts Alliance Scholar Artist of Merit for media arts, one of an elite group in all of Nassau and Suffolk counties.
The Long Island Arts Alliance commended the Huntington teenager for his "hard work, excellent scholarship and accomplishments." The organization recognized that Mr. Edgar-McNerney is "dedicated to your art and a very valuable asset to your school district."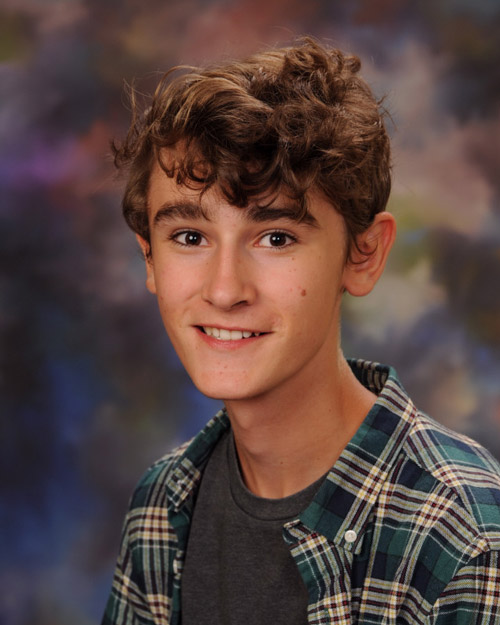 Huntington senior
Thomas Edgar-McNerney.
A member of numerous academic honor societies, Mr. Edgar-McNerney's record speaks for itself. He has also shined in athletics and as an award winning artist, with his work dazzling the crowd at the Suffolk County Art Leaders Association's All-County and Scholarship Show at the Old Town Hall on West Main Street in Babylon.
One of Long Island's best young trendsetting digital artists, Mr. Edgar-McNerney has been working closely for many years with Huntington art teacher Kasmira Mohanty, who leads the high school's digital arts program.
"Congratulations to Thomas on this significant accomplishment," Huntington Superintendent James W. Polansky said. Scholar Artist awards are reserved for the most creative and talented of Long Island student-artists. Thomas is to be commended for continuing to pursue his passion and for his commitment to further developing his artistic skills. Additional congratulations to his teacher Kasmira Mohanty for helping to cultivate his talent and interest in the media arts."
Mr. Edgar-McNerney's senior year class lineup includes Advanced Placement Psychology, AP English Literature, AP Microeconomics, AP Government and Politics, AP Chemistry, AP Calculus BC, French V Honors and a credit bearing career internship.
Long Island Arts Alliance award nominees must meet the following minimum criteria:
• Be a graduating senior.
• Represent the highest level of artist excellence and superior academic achievement with an unweighted grade point average of 90 or above.
• Submit a performance recording or portfolio of their work, and an essay. Final selections are made by panels of artists and arts educators.
This marks the program's eleventh year. Schools are limited to only one nomination in each of five categories: music, visual arts, dance and theater and media arts. Only ten Scholar Artists of Merit are recognized in each of the two counties.
A group photo of Mr. Edgar-McNerney and his fellow 2018 Scholar Artist honorees will appear in Newsday. Each member of the group will also be profiled in the newspaper over the course of the school year.
The honorees will be feted at the LIAA's annual gala at the Tilles Center for the Performing Arts on the campus of LIU Post. Scholar Artists receive a $250 stipend and a framed copy of their Newsday profile.