August 16, 2017
Huntington Rotary Club officials enthusiastically awarded $14,000 worth of scholarships to five exceptional members of Huntington High School's Class of 2017.
The scholarship recipients include Grace Curran, Amanda LoScalzo, Klibensky Petit-Frere, Emma Pipolo and Kayla Ryan. Rotary officials Ford Spilsbury, Robert Bishop, Frank Plesche and Maryann DeSimone presented the awards and spoke about the honorees during this year's senior academic awards ceremony in the high school auditorium.
The Huntington Rotary Club was founded in the 1920s. It is a chapter of Rotary International, a 1.2 million member worldwide service organization. The Huntington Rotary Club has awarded scholarships to remarkable Huntington High School seniors for decades. This year's recipients are held in high esteem by members of the school's administration and faculty as well as by their classmates.
Grace Curran
Grace Curran was presented with a $2,000 check. She will be attending Syracuse University where she plans to study public relations.
A sensational field hockey player for the Blue Devil varsity, the teenager completed a credit bearing internship with the Huntington Booster Club. She traveled to New Orleans with the Habitat for Humanity club during a vacation week to help rebuild a hurricane ravaged section of the city.
Ms. Curran said the key to her success has been the motivation and support provided by her family, friends and teachers. A member of five different academic honor societies, she especially loved classes in biology and women's studies. An event chair for the high school's Relay For Life and secretary of Huntington's Habitat for Humanity chapter, she was a leader among her classmates.
Amanda LoScalzo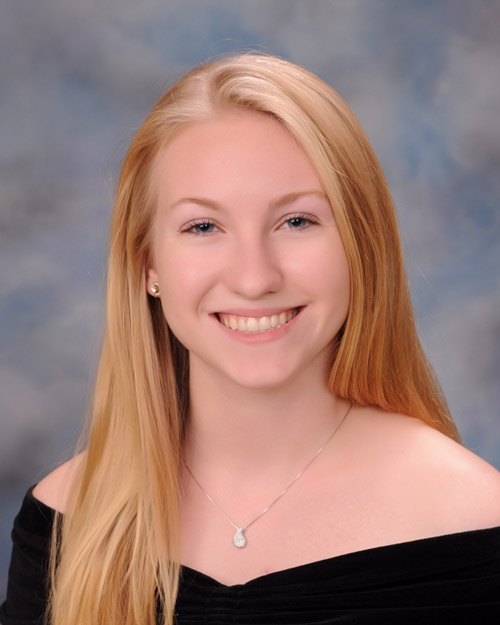 Amanda LoScalzo was a Rotary scholarship recipient.
Amanda LoScalzo garnered a $4,000 Rotary scholarship. She intends to study in Gettysburg College's Eisenhower Institute. Her determination to succeed and a love for learning have been integral to her stunning achievements over the past four years.
Ms. LoScalzo played a key role in reinstituting Huntington High School's Interact Club and served as the organization's president for the past two years. She completed a credit bearing internship with English teacher Victoria Lombardi.
President of the National Honor Society and vice president of the Spanish Honor Society, Ms. Lombardi was very involved in life around the high school building.
Klibensky Petit-Frere
The Rotary Club awarded Klibensky Petit-Frere a $2,000 scholarship. He will be attending SUNY Old Westbury and plans to study criminal justice/criminology.
Mr. Petit-Frere developed many friendships during high school and enjoyed getting to know the high school's faculty corps. He has sketched out a variety of short-term and long-term academic, career and personal goals and intends to do everything he can to accomplish each one of them.

Emma Pipolo
Emma Pipolo earned a $2,000 scholarship. She is headed to SUNY Geneseo where she is considering studying psychology. She said the key to her success has been the "strong sense of community at Huntington High School."
Ms. Pipolo is an award winning filmmaker and she thrived in art classes taught by Kristin Singer and Heather Swan. The teenager played on the Blue Devil varsity tennis team, participated in Habitat for Humanity, Relay For Life, student government and the high school's Art Honor Society.

Kayla Ryan
Kayla Ryan captured a $4,000 Rotary scholarship. She plans to study global studies in the LIU Global academic program. The teenager will spend her freshman year in Costa Rica with side excursions to Nicaragua and Panama. She said the key to her success "has been having teachers that truly care about my education as well as being encouraged by them to try harder."
Co-founder and vice president of the high school's resurrected Interact Club, she participated in a service learning trip to Tanzania last summer. A longtime member of Huntington's student government, she played key roles in numerous activities that strived to make the community and world better places.
The five Huntington seniors formally received their scholarships during a Rotary Club luncheon at Mac's Steakhouse in Huntington village.