September 19, 2016
When it opened in 1965 it was the Huntington School District's third junior high school and even housed a wing filled with elementary grade level students. Today J. Taylor Finley Middle School houses about 700 seventh and eighth graders. A ceremony to commemorate the building's 50th anniversary of service is slated for Thursday, September 29 at 9:30 a.m.
Finley's eighth graders will be assembled on the grassy island in front of the building during the ceremony. Students and staff will have an opportunity to sign a large birthday card. Principal John Amato will speak about the school and its anniversary of service to the community.
Huntington School Board President Thomas DiGiacomo and several current longtime and retired faculty members will also speak during the ceremony. The group will sing Happy Birthday before a time capsule containing various relevant items will be buried. It is to be excavated on the occasion of Finley's 100th anniversary.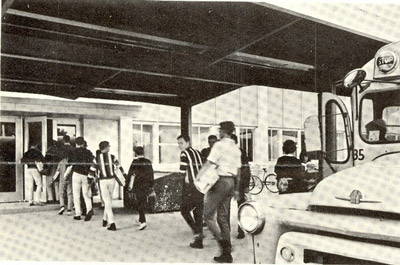 Finley's first students disembark
the bus and enter the building.
Named after a former district superintendent, Finley was erected during 1964/65 at a cost of $3.048 million. The bonds used to finance the building's construction were retired during the 1993/94 school year.
J. Taylor Finley Junior High School opened on Thursday, September 30, 1965. The structure originally contained 42 regular sized classrooms, 17 smaller classrooms, six "extra-large" classrooms, a gymnasium, cafeteria and large group instruction room, which is now used exclusively as an auditorium. Some modifications have been made to the initial floor plan. The site includes 20 acres of land, including athletic fields, three tennis courts, asphalt outdoor basketball courts and several parking areas.
"September 30th was just another day for 535 students in the 7th, 8th and 9th grades, except for one important change: classes were in the new J. Taylor Finley Junior High School," stated the October 1965 issue of District 3 News and Views, a newsletter mailed to district residents.
Finley's first students were greeted by founding Principal Anthony Quintilian and Assistant Principal Frank DeGraff. Cameramen were on hand that first day to record the arrival of buses at about 7:45 a.m. along with an assortment of other activities, including students eating lunch in classrooms because the cafeteria wasn't ready for use.
"The move into the district's newest building was made smoothly that morning," the newsletter reported. "Shortly after 8:00 a.m. the students went on a tour of the school and grounds. Then the schedule of classes began, with students armed with mimeographed floor plans to help them find their way."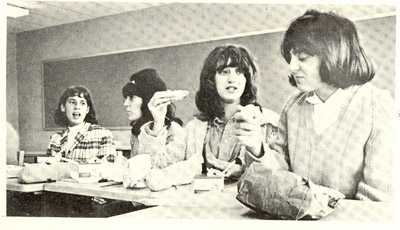 The first Finley students had to eat
bag lunches in classrooms.
The students that initially filled Finley's classrooms were drawn from R.L Simpson and Robert K. Toaz junior high schools, which were jammed at the time. A few days later, hundreds of sixth graders also moved into Finley, occupying a wing of the school to relieve overcrowding in the district's elementary schools. Finley Elementary School operated for several years until the enrollment boom subsided.
When Finley opened its doors in late September 1965 it was out of necessity. The district desperately needed the additional space the new school offered, despite ongoing construction of the building.
Finley actually consists of two separate buildings that sit side-by-side and are connected by two corridors with a courtyard in between. The north building houses academic classrooms and offices and the auditorium. The south or auxiliary building includes a cafeteria, gymnasium, locker rooms, music rooms and the original wood and metal shops.
"Workmen were still busy in several areas, but the main academic building was completed and functioning well," the district newsletter stated in its coverage of the September 30 opening. "The auxiliary building housing shops, gymnasium stations and music rooms is not fully completed, but is expected to be ready for use very shortly. Also, bag lunches are expected to end soon and full cafeteria service [will] begin."
Sixth graders moved into Finley on Monday, October 4. "Thirteen classes from six elementary schools are attending Finley to relieve overcrowding in those schools," stated the district newsletter.
Finley's sixth grade program became the district's tenth elementary school with Flower Hill, Jefferson, Lincoln, Nathan Hale, Roosevelt, Southdown, Village Green, Washington and Woodbury Road also housing elementary grades.
Mr. Quintilian was followed as principal by John E. Whitney, Craig T. Springer and John Amato, who is the school's current educational leader. With just four principals in the past 51 years, Finley has enjoyed remarkable consistency.
Scenes from opening day at
J. Taylor Finley Junior High School.
During a recent interview from his home in Saratoga Springs, Dr. Whitney recalled his transition from principal of Village Green Elementary School to J. Taylor Finley Junior High School for the school year beginning in September 1971.
"During those early years I had 1,000 students in the building," Dr. Whitney recalled. At the time, Finley serviced students in grades 7-9. Its enrollment swelled again when the district closed Robert L. Simpson Junior High School in June 1976 and then Robert K. Toaz Junior High School in June 1982. Eventually, ninth graders were moved to Huntington High School to free space at Finley.
School named for longtime district educator
After teaching math and physics at Huntington High School for one year, J. Taylor Finley was named principal of Woodbury Avenue Elementary School (which is now a condominium complex) for the 1930 school year. In 1939, he became principal of Lincoln Elementary School (now an apartment complex) on East 9th Street in Huntington Station, across the street from St. Hugh of Lincoln Church. He worked as principal of both schools until October 15, 1943 when he was named principal of Robert K. Toaz Junior High School.
Mr. Finley stayed on as principal of Toaz through the 1954 school year. At that time he was elevated to assistant superintendent of schools and was named superintendent of schools in 1957, a position he held until his retirement on June 30, 1963.
The Huntington Board of Education voted December 8, 1964 to officially name the district's new junior high school on Greenlawn Road after Mr. Finley in recognition of his 34 years of service to the schools and community. "The Board of Education and all of your friends here in Huntington send their best regards," Superintendent Charles T. St. Clair wrote in a December 9 letter to Mr. Finley informing him of the school board's action.
Mr. Finley passed away October 3, 1975. He is buried in the family plot at Pompton Plains Reform Church Cemetery in New Jersey.