September 15, 2016
Alexa Cassar might be all grown up from the little girl that walked through the doors at Washington Primary School for her first day of kindergarten, but the Huntington High School senior has that same giggle and smile that she did as a five year old.
Ms. Cassar is in the final year of a wonderful run through the Huntington School District. She's already thinking about possible colleges and laying the groundwork for a future career in environmental engineering.
As she goes through her daily routine without calling much attention to herself, Ms. Cassar is a confident young woman. "I'm on the varsity field hockey team, which I've been doing all four years of high school and I hope to get more involved with Habitat for Humanity this year and get an internship with the HFEE board," she said.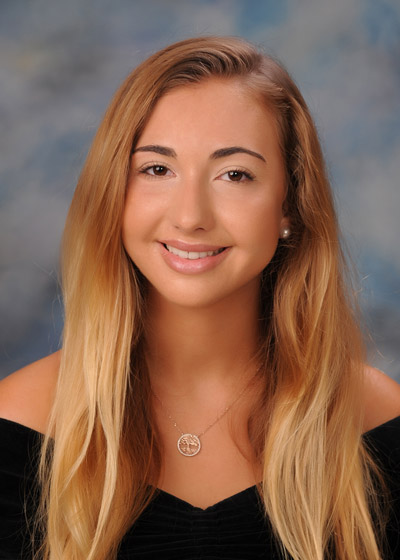 Huntington High School senior Alexa Cassar.
Keeping busy is something that Ms. Cassar likes to do. Between school work, her friends and family and a long list of activities, just about every minute of her day is accounted for.
"I hope to get more involved with school events this year like helping out with the homecoming float, as well as to just really enjoying my senior year," Ms. Cassar said. 
The senior is taking an assortment of classes, including Italian, multicultural and Holocaust literature, Advanced Placement physics and honors pre-calculus, among other courses.
"I loved all of my teachers that I had at Huntington, but last year my math teacher, Mrs. [Joann] Ferazi was really great and helped get through trig, which was definitely not an easy task," Ms. Cassar said.
The teenager recently visited Lehigh, Lafayette and Hartford as she investigates possible colleges. "I hope to pursue a career in environmental engineering," Ms. Cassar said.
The senior is the last of three children in her family to be graduating from Huntington High School. Her mom, Maria is a longtime executive board member of the Huntington Foundation and a former president of the organization.
Ms. Cassar likes to laugh and she has a sensational sense of humor. She has enough confidence to poke fun at herself and she keeps a positive frame of mind.
"I loved going to Huntington because I felt like I learned more than just basic school stuff; I learned a lot of important skills that I know I'm going to need in the future," Ms. Cassar said. "It was such a diverse and loving environment. I hope that whatever school I attend next has somewhat of that same atmosphere."