September 14, 2016
Don't count the Huntington High School varsity football team out just yet. Sure the Blue Devils dropped their first two games of the season, but there is still plenty of time to compile enough wins to qualify for post-season play.
Huntington fell to defending Long Island champion Newfield in the opening game, 33-14 and then lost to Suffolk Division II No. 1 seeded Half Hollow Hills West last Saturday, 39-6. The two games were both played on the road making it even more difficult for the young Blue Devil squad.
Mistakes are expected this early in the season, especially from a team with new players at many important positions. Unfortunately, the errors were magnified by the quality of the competition and the Blue Devils found it hard to recover from them.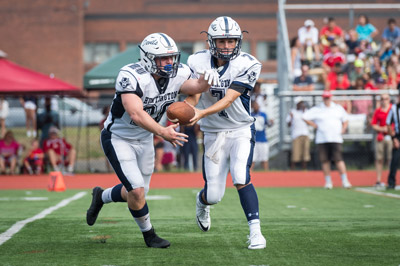 Sam Bergman takes the handoff from
John Paci last weekend. (Darin Reed photo.)
Head coach Steve Muller is not one to wave the proverbial white flag and give up. It has nothing to do with it being so early in the season, the football veteran just never stops trying to improve his team and win games. The current situation is no different. Huntington knew its first two games would be challenging ever since the draft schedule was released last spring.
The Blue Devils will attempt to gain their first victory of the season on Saturday when they host Smithtown West on Saturday at 1:30 p.m. The Bulls dropped a 14-7 verdict to Centereach in their opening game. They had a bye last week.
Huntington is captained by seniors Kei'Ron Byrams, Nick Lanzisero and Eddie Daly. Sophomore John Paci is the team's quarterback. The Blue Devils have been working through their offensive and defensive packages this week and striving to reduce their physical and mental mistakes.
A bye week will follow the game with Smithtown West. Huntington will take the field again on Saturday, October 1 on Homecoming Day when the team battles visiting Centereach at 2 p.m.
The second half of the season will see the Blue Devils traveling to Half Hollow Hills East on Saturday, October 8 at 2:15 p.m. before hosting Copiague (Saturday, October 15 at 1:30 p.m.) and West Islip (Saturday, October 22 at 2:30 p.m.). The final game of the regular season will be played at Smithtown East on Saturday, October 29 at 2 p.m.
The Blue Devil coaches are looking for sharper play on both sides of the ball this weekend. Players have high expectations, too. A team dinner is planned for Friday night in the school cafeteria. Parents will bring hot dishes to share with team members.