October 05, 2016
It didn't always look especially graceful, but the Huntington football team did enough things right to claim a 14-9 victory over Suffolk Division II foe Centereach on Homecoming Day at Blue Devil Stadium.
Huntington (2-2) established its offense early in the game, capitalizing on mistakes by the Cougars and moving the ball into scoring position. Sam Bergman's three yard touchdown run and a Jose Veliz extra point kick gave the Blue Devils a 7-0 first quarter lead.
"It felt good to put the first points on the board, but there was a lot of game left and we needed our players to keep going hard," said Steve Muller, Huntington's head coach. "The last thing any of us wanted was for anyone to let up."
A late arriving near capacity crowd kept Huntington fired up as the game played out on the turf field. While the dark sky had fans bracing for a downpour at any moment, the rain held off for the entire game.
The Blue Devils scored again in the second quarter when quarterback John Paci fired a missile to Taqwan Gooden-Hill for a 30 yard touchdown pass. Veliz followed with a kick that split the uprights and Huntington had a 14-0 lead.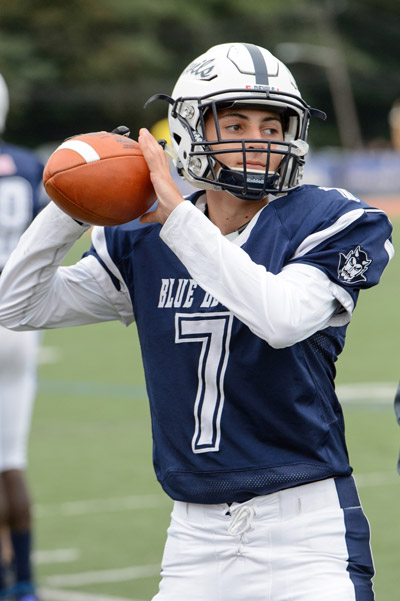 Huntington quarterback John Paci
completed a touchdown pass. (Darin Reed photo)
Centereach (3-2) finally broke through with a 23 yard field goal by Rob Montgomery in the second quarter. The Cougars found the end zone in the fourth quarter on a seven yard touchdown pass from Jay Morwood to Montgomery as the clock ticked down.
Jared Leake led Huntington's ground game with 17 rushes for 103 yards. Bergman carried the ball nine times for 42 yards. Paci and Kei'Ron Byrams combined to complete three-of-eight passes at quarterback for 58 yards.
Anthony McDonald once again led the Blue Devil defense, tallying 10 tackles and a quarterback sack. Josh Hallman added five tackles and a fumble recovery.
"I would say that the keys to winning the game was our aggressive offensive line play, our great backfield blocking and the well-played 'outside contain' on our defense along with our amazing 'man play,'" Bergman said. "The team hopes to keep working and winning from here. As long as we work hard and play hard we will be rewarded with a spot in the playoffs."
The Blue Devils will play again on Saturday at Half Hollow Hills East at 2:15 p.m. The Thunderbirds are 2-3 this season with wins over Copiague (15-14) and Smithtown West (41-14) and losses to Newfield (39-26), Centereach (7-0) and Half Hollow Hills West (28-14).