November 23, 2016
An amazing desire to help others has catapulted Huntington High School's Interact club through the first three months of the 2016/17 school year and energized members for a series of upcoming initiatives.
After disappearing from the Huntington scene for many years, the high school's Interact club is back in a big way. Now in its second year since the organization was reconstituted under faculty advisor Camille Tedeschi and a group of indefatigable teenagers, Interact is a juggernaut as it strives to make the community and world a better place.
The club's executive board includes Amanda LoScalzo (president), Kayla Ryan (vice president), Gabriella DeLuca (treasurer), Camille Stafford (corresponding secretary), Noah Morris (recording secretary), Katie Riley (historian) and administrative assistants Theresa Moreno, Maddie Haughwout, Christiana DeLuca, Haley Mortell and Natalie McCann.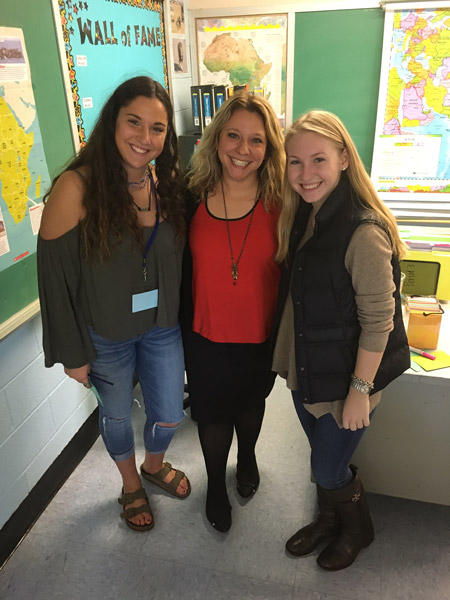 Camille Tedeschi (center) with Interact officers
Kayla Ryan and Amanda LoScalzo.
"Interact has gotten off to a great start," Ms. LoScalzo said. "We have already participated in Rotary sponsored Feed Long Island. This past weekend some members of the club helped Rotary collect non-perishable goods for those in need. We are also hoping that our next bake sale brings in much money. We want to make a donation to Save the Rain, which collects rain in order to provide a cleaner water source for those in underdeveloped areas. I am excited to continue furthering our efforts that will ultimately help others in need."
A Rotary International program for teenagers, Interact strives to carry out hands-on projects and offers members a chance to make international connections, develop leadership skills and have fun while making a positive difference in the world.
The Huntington club is open to any student in the building. There are more than 12,300 Interact chapters in 133 countries. Supported by the local Rotary Club, the high school chapter's goal is to carry out at least two service projects a year, one local and the other aiding an international organization providing assistance to those in need.
"I got involved last year as treasurer because my friends Amanda, Kayla and Camille wanted to start the club with me and then Ms. Tedeschi, one of my favorite teachers, wanted to be our advisor," Gabriella DeLuca said. "This year, the club is doing very well as we continue to do fundraisers and get involved with the Rotary Club of Huntington. Just last weekend I participated in Feed Long Island at the high school where we prepared non-perishable meals for people less fortunate than us. I'm looking forward to more events like that the rest of the year as well."
Huntington High School's Interact club is an active group. "We love to have fun and help people at the same time," Ms. Tedeschi said. "Our most recent activities included making cards for homeless veterans to receive on Veterans Day with a new pair of boots. Over 700 cards were made by Interact kids to be distributed by the non-profit organization General Needs with each pair of boots."
Club members feel good about the work they are doing and are always looking forward to the next opportunity to perform a good deed. Where the teenagers get their energy from no one knows, but they always seem ready to help others when the call goes out.
"This year we have participated in multiple local community service projects with Interact, such as Feed LI and volunteering at Washington Primary School with the fourth grade leadership team," Ms. Ryan said. "Our next fundraiser is a bake sale and all the profits are going to go to Save the Rain, an organization that assists in providing clean and usable water in Tanzania and other countries in Africa. Together with my fellow officers, I hope to contribute to putting in place a strong foundation so this this club can continue to thrive after we all graduate."
The recent effort to combat hunger through Feed LI showed again how Huntington's Interact members are attuned to the needs of the community. "We collaborated with Rotary and outreach organizations to make meals to feed local homeless people," Ms. Tedeschi said. "We raised $400 to donate to the cause. The event was very successful at Huntington High School as 106 volunteers, including 20 from our club prepared meals for 9,889 of our less fortunate neighbors. Better yet, over 32,000 more meals were packaged at the same time at similar events sponsored by Rotary clubs from Queens to Riverhead. We are eager to raise more money and do it again."
Contact Ms. Tedeschi (ctedeschi@hufsd.edu) for more information about the Huntington High School Interact club chapter.