December 05, 2016
The Huntington High School girls' tennis team collected multiple honors at the Suffolk County Tennis Coaches Assn. annual awards dinner at Villa Lombardi's in Holbrook.
Abby Bellistri, Gabriella DeLuca and Theresa Moreno each garnered All-League honors. Leanne Daly captured the League II Sportsmanship Award. Jamie Fishlow won the Coach of the Year Award after guiding the Blue Devils to a 10-0 record in league play (11-2 overall).
Blue Devil Wrestlers Ranked
Two Blue Devil wrestlers are ranked in the top six in Suffolk in their respective weight class. Ryan Mock is No. 4 at 113 lbs. and Khari McNeill is No. 5 at 285 lbs.
The Huntington wrestling team is coached by Travis Smith, Kieran Mock and Peter Fusco.
Huntington Teams Win Sportsmanship Awards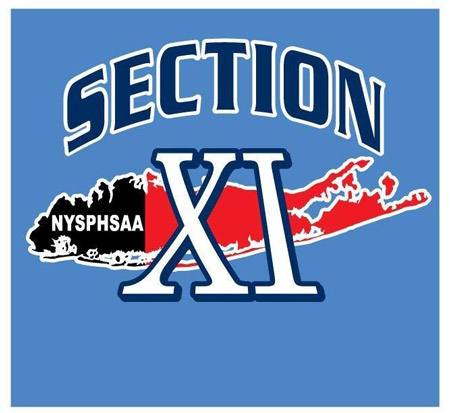 Two Huntington teams won Section XI
Sportsmanship Awards.
Two Huntington School District fall season athletic teams have earned Section XI sportsmanship awards. Coaches file sportsmanship ratings of opposing teams following each athletic contest. The results are tabulated and announced after the season.
The honored Huntington teams include junior varsity girls' tennis team coached by Eric Mininni and the J. Taylor Finley Middle School girls' "blue" soccer team coached by Linda Costello-Roth.
Georgia D. McCarthy, Huntington's district director of health, physical education and interscholastic athletics made a point of saluting the team's coaches "whose leadership has been essential in the achievement of these honors."
H-ton Boys' Swimming Looks to Make Splash
The Huntington boys' swimming and diving team is hoping to make a big splash this winter. The roster consists of seventh graders Jonathan Larice, William Spada and William Weber; eighth graders Kyle Kennelly and Thomas Rosselli; freshmen Daniel Maier, Jack Stewart, Javier Vias and Christopher Weber and sophomores Henry Cartwright, Nathaniel Gamboa, Max Gordo and Thomas Peer. There are no juniors or seniors on the team.
Head coach Meg McConnell and assistant coach Jeremy Cuebas will guide the Blue Devils.
Brian Carey Molding Boys' B-ball Squad
Huntington varsity boys' basketball coach Brian Carey is in his fifth decade of leading hardcourt squads. He's been working hard to mold the Blue Devils into a winner this winter.
The team consists of Michael Abbondandelo, Max Angstadt, Ian Ardell, Keegan Dunne, Gerard Federici, Tyler Gerbavsits, Taqwan Gooden-Hill, Ryan Gorecki, Mekhi Harvey, Alejandro Hinds, Nicholas Inman and Kevin Lawrence.
The 2015/16 Blue Devil team compiled a 7-7 mark in league play, finishing the season in a tie for fourth place. Huntington went 7-12 overall. Last winter's highlights included an 87-85 overtime win at home against North Babylon, a 62-57 victory at Smithtown West and a narrow three-overtime late year loss to that same Bulls team.
Carey will be assisted by Frank Mantesta. Veteran Fred Grasso, who has coached on the high school, college and professional levels, will once again consult with the team.

Blue Devil Girls' Look for Fourth Straight League Crown
The Blue Devil varsity girls' basketball team is taking aim at its fourth consecutive league title this winter. Coached by Michael Kaplan and Marissa Bergmann, Huntington's roster features a mix of returning veterans and new varsity players.
The squad includes eighth graders Jordan Forte and Charlotte Maggio, freshmen Megan Byrnes and Abigail Maichin, sophomore Paige Lennon, juniors Alexandra Heuwetter, Nicole Leslie and Katie Seccafico and seniors Anna Gulizio, Shannon Maloney, Torre Palmer, Emma Petrizzi and Tara Wilson.
In what was expected to be a rebuilding year last winter, especially after moving into a higher league, the Blue Devils surprised many basketball prognosticators by compiling a 13-1 league mark and going 16-4 overall, including a first round playoff victory over Half Hollow Hills West.
Kaplan's first six seasons in Huntington have produced three league titles and a pair of trips to the Suffolk Final Four, including a loss in the 2015 Class AA final to Commack. The Blue Devils are 86-33 over that span for a winning percentage of .723.
Huntington went 9-10 in Kaplan's first season, losing in the Suffolk playoff outbracket. The team finished 7-11 the following year and failed to reach the postseason. Since then the Blue Devils have reeled off records of 13-6, 20-1, 21-1 and 16-4 and won a pair of League IV crowns and the League III co-championship last winter.