August 24, 2016
Anna Gulizio is refreshed. The Huntington High School senior spent 16 days in Italy this summer and came home invigorated. Now the teenager is ready for the best year of her life.
Ms. Gulizio has a lot on her proverbial plate. She plans to play three sports, intern in the athletic director's office and participate in various clubs and other activities. She's still looking into possible colleges, but she knows she wants to pursue undergraduate and graduate degrees in social work.
The teenager is set to be the soccer team's goalie, a guard on the basketball team and both a runner and jumper on the track and field team. Ms. Gulizio will be a key player on all three teams and her leadership will be counted on by coaches in every sport. She's contemplating running track in college.
"I'm really hoping to qualify for the high honor roll every quarter and be league champs in basketball for the fourth straight season," said Ms. Gulizio about some of her goals for the new school year. "I'm looking forward to that season for sure. Getting a chance to go to nationals again for track would be great as well."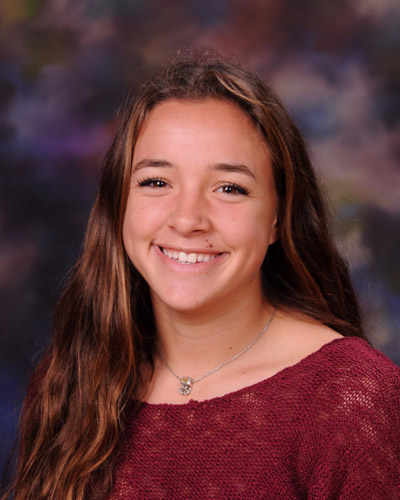 Huntington senior Anna Gulizio.
Ms. Gulizio will be involved in a credit bearing internship with Georgia D. McCarthy, the district director of health, physical education and athletics. The teenager will be spending one period each day in Mrs. McCarthy's office working on various projects that will be assigned to her.
Enrolled in typical senior year courses, such as AP English Literature and Composition, Physics and Honors Spanish, Ms. Gulizio also plans to be a Natural Helper, helping classmates solve their personal problems and working closely with faculty advisor Robert Gilmor III.
"I'm going to be very involved with Mrs. McCarthy, the Life Skills room upstairs and coordinating and involving them with Natural Helpers," said Ms. Gulizio about some of the activities she plans to pursue this year.
The teenager is one of the best athletes in the Class of 2017 and she loves being a Blue Devil. She developed productive relationships with soccer coaches John Walsh and Vincent Tannazzo, basketball coaches Mike Kaplan and Marissa Bergmann and track and field coaches Shawn Anderson and Kevin Thorbourne.
"Coach Kaplan is the best I've had and probably my favorite coach in the high school," Ms. Gulizio said. "I'm very close with Mr. Gilmor and Mrs. Mac and consider them both mentors. Teaching wise Mrs. [Deborah] Beck was one of the best teachers I've ever had even though I wasn't very good at biology. I'm really looking forward to have Mrs. [Stacey] Byrnes for physics. "Mrs. [Jessica] Mammone (a foreign language teacher) and I were also very close. Although he was never my coach, Todd Jamison and I have been very close since I was a freshman."
Sports have produced a lifetime of memories for the teenager. Ms. Gulizio will always remember exciting games and performances and value her friendships with teammates. She's worked hard in all three sports she plays and has made contributions in all of them.
"Being a part of the varsity basketball program has been my favorite part of high school and getting to go to track and field nationals two straight years was really amazing," Ms. Gulizio said.
"Anna has been on varsity since ninth grade," Kaplan said. "Throughout the years she has improved tremendously in her game and skill. She is a driven, hardworking athlete. Anna has a motivating presence and leads by example. She is a pleasure to coach and is a great kid and teammate."
The senior is the first to admit she has a "goofy" side to her personality. She likes to laugh and have fun. But, she's a thoughtful person, too, and she's known for her kindness.
"I'm extremely grateful to have been given an opportunity to be a member of Natural Helpers," Ms. Gulizio said. "It's helped me figure out what I want to do in the future."
Ms. Gulizio's attention has increasingly been turning to where she will go to college. The senior is currently considering Stony Brook University, Boston University, Tulane University and Loyola University Maryland. "I'm planning on getting my Master of Social Work degree, so that has shaped which schools I'm considering," she said
Once thing is for sure, the teenager plans to be very active in college. "I'm considering running track in college if possible, but if not I'll definitely be playing club basketball," Ms. Gulizio said. 
As her high school years near their end, the teenager has grown reflective. "I've loved every minute of being in Huntington High School,"Ms. Gulizio said. "It's crazy that I'll be graduating this year. It's an amazing school and the relationships I've made with teachers and mentors in the building are all ones that I'm extremely grateful to have and will be very sad about having to go away from when it's time to graduate. I wouldn't have wanted to go to any other school or grow up in any other town."