August 8, 2016
The goal always remains the same for John Walsh and Vincent Tannazzo. Huntington High School's varsity girls' soccer coaches want to push as far into the playoffs as they can. The coming season will be no different as the Blue Devils prep for the start of practice next Monday.
Huntington finished 8-6-2 last fall, losing in the Suffolk Class AA playoffs to eventual county champion West Islip. The Blue Devils were stung by graduation, losing All-County players Taylor Moreno and Katie Reilly and All-Conference veteran Alexandra Koumas to graduation along with fellow seniors Brooke Baade, Alexandra Berwick, Cassandra Berwick, Cindy Lopez, Ripley Mars, Alexandra Mills and Sabrina Palacios.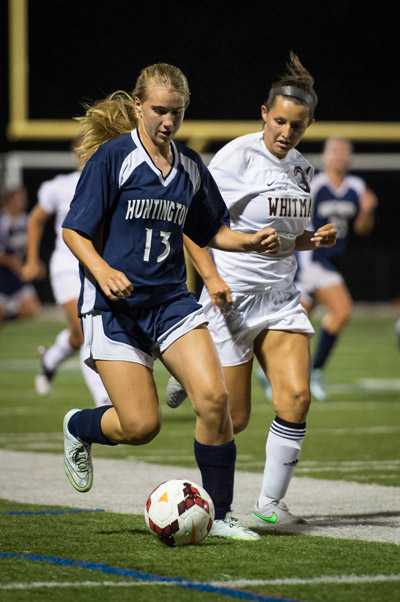 Katie Seccafico
Moreno was named Suffolk Large School Goalkeeper of the Year and earned All-State honors after recording eight shutouts. Reilly was the team's standout forward and Koumas anchored the defense at sweeper. With the trio of captains moving on to college, Huntington's returning players will need to step up their respective game.
When Walsh steps on the field on Monday, August 22 at 8 a.m., he won't see some of the faces he has come to depend upon in recent years, but the longtime head coach knows that's the normal cycle of things. Instead, he'll work with a group of energetic returning veterans and several newcomers who are expected to keep Huntington competitive this fall.
All-League junior Nicole Abbondandelo will lead the returning Blue Devils along with forward Ryann Gaffney, goalie Anna Gulizio, Tara Wilson, Shannon Maloney, Lauren McGlone, Erin Morrisroe, Emma Petrizzi, Katie Seccafico, Alyssa Sorensen and Molly Warren.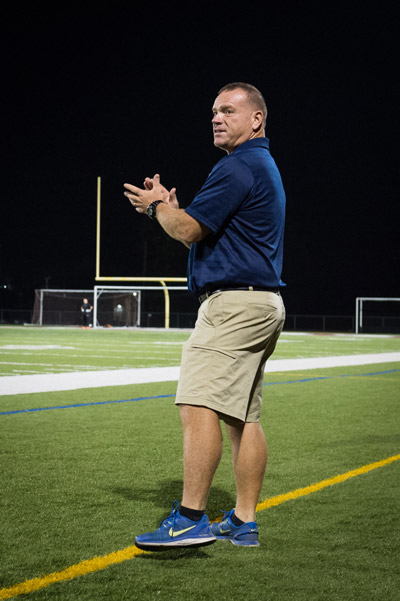 Head coach John Walsh
Abbondandelo is a very fast and aggressive defender and her skills will be counted on by Walsh to keep the Blue Devils in the game against powerful opponents. "I'm looking forward to a great season this year and another strong performance by the Huntington girls," the teenager said. "Although we lost a lot of talented seniors, I'm excited about the new talent."
The Blue Devils will need Gaffney to put the ball in the net often if the team is going to accomplish all of its goals. "I have a great feeling about this upcoming season," the senior said. "It's going to be difficult to begin without some key players from last year, but I feel confident that our team still has enough talent to go far. I'm looking forward to what this season holds and can't wait to play soon."
Huntington will scrimmage at John H. Glenn High School on August 31 and then play a non-league game at Walt Whitman on September 2 at 7 p.m. The league schedule opens at West Islip on September 7 at 4:30. A series of home and away games against Newfield, Smithtown West, North Babylon, Copiague, Smithtown East and Centereach.