Knowles Presents Breast Cancer Research Findings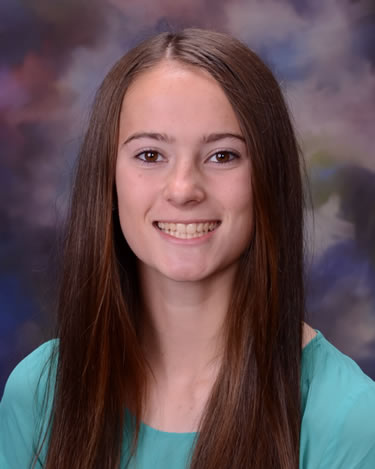 Caitlin Knowles is well-known as a Huntington High School basketball player and as the Class of 2015's recording secretary. She wears many other hats, too, and is one of the top scholars among nearly 300 juniors. But, did you know that the teenager engaged in breast cancer research and has presented her findings at several conferences?
Ms. Knowles applied for a spot in the Huntington Breast Cancer Action Coalition's Students and Scientists environmental research scholarship program. "This program places high school students interested in environmental research with mentors studying the environmental causes of breast cancer in labs around the country for a summer internship," the junior said.
HBCAC typically selects five or six students for the scholarship program, but a lack of funding limited the organization to just one award last year: Ms. Knowles. She spent four weeks last July working at the National Institute of Environmental Health Sciences in Research Triangle Park, North Carolina. "I learned a lot about breast cancer research and environmental toxicology," she said.
When the internship concluded, Ms. Knowles took the data she collected with her mentors and presented it at the annual Breast Cancer and the Environment research program conference in Madison, Wisconsin last November.
"Most of the presenters were distinguished professional scientists in the field of breast cancer research, but there were a few high school students from Great Neck who attended as well," Ms. Knowles said.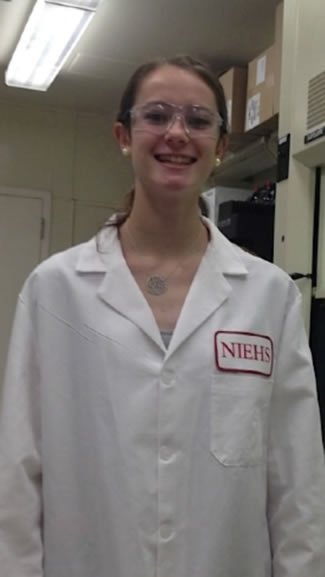 The Huntington teenager found her trip to Wisconsin to be quite worthwhile. "While I was there I was fascinated by both the complexity of the projects and the ease with which the researchers were able to explain their abstruse data to a mixed audience, ranging from professional researchers and postdoctoral fellows to graduate, undergraduate and high school students," Ms. Knowles said. "This emphasis on communicating knowledge to the public inspired me to share what I had learned about the environment's impact on health with students at Huntington High School."
Ms. Knowles recently joined HBCAC President Karen Miller and the organization's community communications director Kelsey Domino for a presentation on "Environmental Awareness: Identifying Endocrine Disruptors in Personal Care Products and the Health Risks That They Pose" to about 300 high school Living Environment, Earth Science and Chemistry students, as well as a business class studying environmental law.
"Although these presentations did not directly focus on my specific research project, the information I learned by working with HBCAC and interning at NIEHS was definitely applicable," Ms. Knowles said. "The main message of these presentations is that there are substances in the environment that we are constantly exposed to that can cause major health issues, including breast cancer, obesity and diabetes. Often, we have no idea that we are exposed to these substances because they are hidden in personal care products (i.e. shampoo, soap, toothpaste, etc.) Most people do not read the labels when they purchase these products and they rely solely on the brand name or packaging to decide what they put into their bodies. Chemicals that should be avoided include parabens, phthalates, triclosan and bisphenol A."
Students attending the presentation were shown photos of common personal care product brands and realized some of the items they were using contained chemicals and compounds that are harmful and could threaten their health.
"Although there are several agencies working to protect us from environmental toxins, among them the National Institutes of Health, National Institute of Environmental Health Sciences, FDA and EPA, the regulations are still insufficient," Ms. Knowles said. "We need to be educated consumers to drive the market in favor of safe products by using our purchasing power. I think students really took this message to heart and will remember the negative health impacts associated with harmful substances in personal care products the next time they go shopping."
Ms. Knowles said she is applying for another summer research this year through the National Institute of Environmental Health Sciences.