Blue Devil Great Jen Tietjen
a College Coach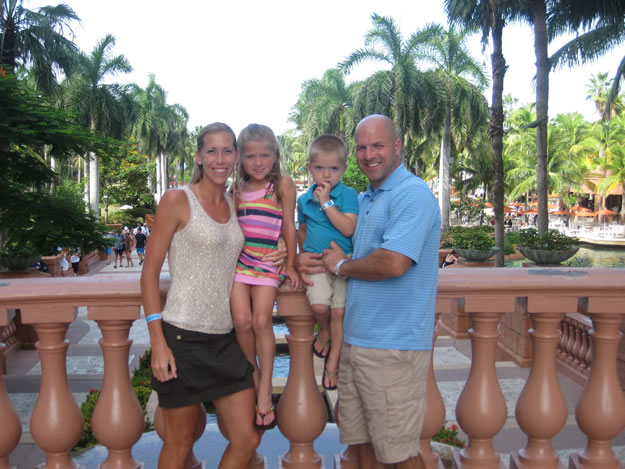 Jennifer Tietjen and her twin sister, Margaret are the two greatest girls' soccer players in Huntington High School history. Both are now married and work as assistant coaches on the college level, with Jennifer at Central Connecticut State University and Margaret at the University of Connecticut.
The Tietjen's were high school All-Americans and Co-Players of the Year in New York in 1994, the year the Blue Devils won the state title. They have been extremely close throughout their lives and today live 20 minutes from each other.
Jennifer completed her eighth season at CCSU last fall. She resides in Southington, CT with her husband, Darren, daughter Riley and son Luke. Margaret lives with her family in Glastonbury, CT.
During her years at Huntington High School, Jennifer Tietjen was an exceptional athlete and fine student. She was well-liked by her teachers and worshipped by her teammates, many of whom are still good friends today. She played on the soccer, basketball and volleyball teams and was a happy teenager. "I loved my life growing up in Huntington," she said. "I wouldn't have changed anything."
The Huntington grad has been married for the past 10½ years. Her husband played baseball at UConn, where the couple met. Riley is six years old and Luke is three.
Fabulous Career at UConn
Now known as Jennifer Prozzo, the HHS Class of 1995 member enjoyed a fabulous soccer career at the University of Connecticut, where she starred from 1995-1999, earning a Bachelor of Science degree in kinesiology/exercise science.
"My daughter has started playing soccer," Mrs. Tietjen-Prozzo said. "Let's see if it takes; So far, so good." The former Blue Devil great is still "very close" to several of her Huntington teammates and classmates, including Jane Andersen and Lauren Walsh as well as Tara Lohan, Brad Reminick, Travis Uvena, Erin Zammett Ruddy and several others that ran in the same circles.
"Facebook helps a lot with staying connected to a lot of people," Mrs. Tietjen-Prozzo said. "But pretty much Jane, Lauren and Tara are my closest friends. We get together a lot, as well as Brad and Travis."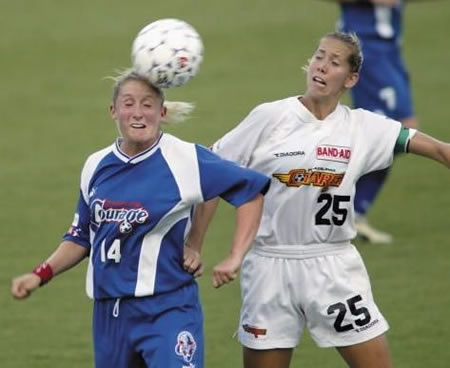 The Tietjen sisters get to see a lot of each other, too. Talking everyday and spending time together at least twice a week. "My parents moved up to Connecticut two years ago so I don't get back to Huntington as much except for recruiting trips to the Island about four times a year," Mrs. Tietjen-Prozzo said. "I will always get my pizza and bagel fix on those trips."
One of UConn's all-time great athletes, Mrs. Tietjen-Prozzo closed her collegiate career with 16 goals and 64 assists for 96 points in 97 games. She is the all-time career record holder for assists at UConn. She is also ranked sixth in games played and 11th all-time in career points. She was a finalist for Soccer Buzz's Player of the Year in 1998. The midfielder/defender graduated with the school record for assists as a sophomore (23) and as a junior (22). Her sophomore year total is also the best single-season total in school history.
At UConn, she was the team MVP in 1997 and a First Team All-Big East, All-Northeast, and All-New England honoree three separate times. She is the owner of a long list of honors and awards.
Played Professional Soccer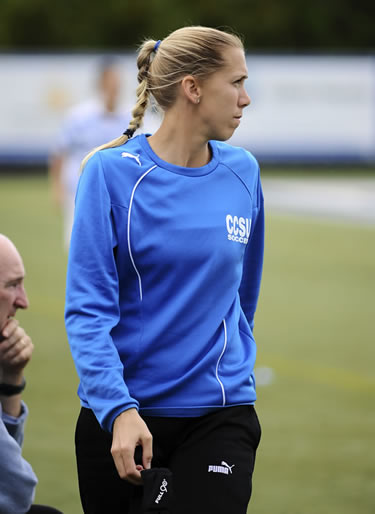 Mrs. Tietjen-Prozzo played soccer professionally with the WUSA's Philadelphia Charge during its initial season in 2001. Incredibly, she played all 90 minutes of every single game except for one during her three-year career with Philadelphia. She was named a team captain at the end of her first season and remained in the position through the next two years. The Huntington alum was a First Team All-WUSA player and started in the league's All-Star game.
When the professional soccer league folded, Mrs. Tietjen-Prozzo embarked on a coaching career at CCSU. Since she started to roam the sidelines, CCSU has won three conference titles, advanced to the NCAA tournament three times and made the Northeast Conference (NEC) tournament every other year, losing either in the finals or semi-finals.
"I have a great working relationship with my head coach," Mrs. Tietjen-Prozzo said about Mike D'Arcy who leads the CCSU staff. "We share a lot of the coaching responsibilities. We have built up a program that I am very proud to be a part of."
Today, 17 years after her high school graduation, the mere mention of Jennifer Tietjen's name conjures up images of one of the great runs in Huntington High School sports history. She's still revered by those in the community who followed the Blue Devils and who will always remember that state championship season when the team was ranked No. 1 in the country.