Bike Safety & Rules of Road at STEM School
The warmer weather is coming and that means more kids out and about on roads. So it's a good time to review bike safety and general "rules of the road." That's just what Jack Abrams STEM Magnet School students recently did over a two-day period in the gymnasium.
Spearheaded by physical education teachers John Walsh and Beth Vogelsang, the program focused on keeping young people safe when they are riding their bikes or otherwise having fun in the proximity of traffic.
Mr. Walsh discussed his ideas for the program with Suffolk Police school resource officer Andrew Fiorillo, who quickly agreed to participate and get his department colleague Claudia Delgado involved, too. The duo spent parts of two days working with students in the school gym.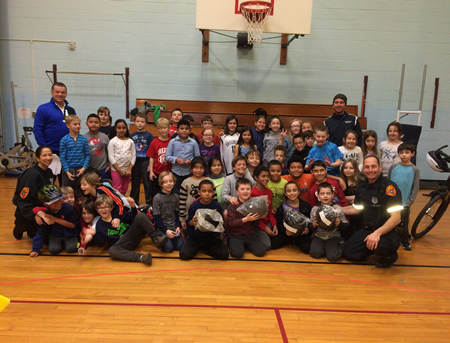 "We wanted to do something special and have it carry immediate practical implications for students," Mr. Walsh said. "This is information and techniques that can be used right now to reduce the change of accidents and to keep everyone safe."
STEM School security guard Glenn DeVeau, who moonlights as a professional DJ also signed onto the initiative, bringing along his lighting equipment to simulate green, yellow and red traffic signals. Art teacher Karen Morea created neat murals that were hung on the gym walls and mirrored the look of a village, enhancing the atmosphere of the area.
Principal Rae Montesano stopped in to see how the students were doing and encouraged them to take safety seriously. "We wanted everyone to take this seriously because it really is a serious matter," Mr. Walsh said.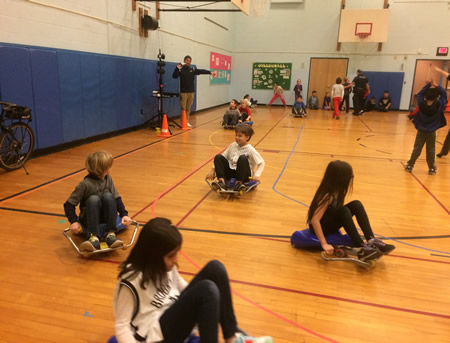 The National Highway Traffic & Safety Administration's safe riding tips include: Wear a properly fitted bicycle helmet; adjust your bicycle to fit your size; check your equipment; see and be seen; control your bicycle; watch for and avoid road hazards; avoid riding at night.
"Before using your bicycle, make sure it is ready to ride," the NHTSA advises. "You should always inspect your bike to make sure all parts are secure and working properly. Many bicycle-related crashes resulting in injury or death are associated with the bicyclist's behavior, including such things as not wearing a bicycle helmet, riding into a street without stopping, turning left or swerving into traffic that is coming from behind, running a stop sign and riding the wrong way in traffic. To maximize your safety, always wear a helmet and follow the rules of the road."
In the run-up to the workshops, Mr. Walsh and Ms. Vogelsang worked in the gym until 6:30 p.m. organizing the initiative, putting markings on the floor and getting all the equipment ready for use. Students utilized Roller Racers and scooter boards as they traversed around "roadways" and needed to observe all traffic laws, including yielding the right of way, etc.
Officer Fiorillo demonstrated some techniques on his bicycle and tried to keep the presentations lively and interesting. Students quickly grasped the message and saw the wisdom behind the key points.
Traffic violations were cited by Officers Fiorillo and Delgado as the students made their way around the course mapped out by Mr. Walsh and Ms. Vogelsang. The youngsters quickly realized what they can and can't and should do as bicyclists and even pedestrians. If they were cited for a violation, they had to do a set of exercises to get back on the road.
Officers Fiorillo and Delgado have shown a remarkable commitment to keeping Huntington school children safe from the sorts of mishaps and poor decisions that could have a devastating impact on their lives. That sense of professionalism and heartfelt interest was behind their participation in the bike safety and rules of the road program.
Angela Brockmann of the Long Island Parenting Institute arranged for the donation of 24 bicycle helmets that were raffled off to Jack Abrams STEM School students during the workshops. "The helmets really went over well," Mr. Walsh said. "We appreciate Officer Drew coordinating the donation with Ms. Brockmann. They will be put to good use by our students."
Visit www.nhtsa.dot.gov for more information on bicycle safety.