HHS Art Students Help Beautify Courtyard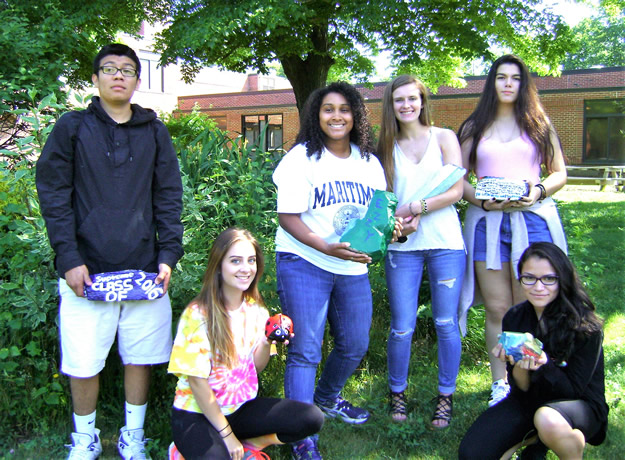 Huntington High School opened in late November 1958 and for most of the time since, the building's two courtyards have been off-limits to students. Those days are officially over and students couldn't be happier.
First year Principal Brenden Cusack has openly stated that he's in favor of giving students access to the courtyard near the cafeteria. Picnic tables have been placed in the area and as long as students act responsibly and don't disturb classes that overlook the courtyard it will remain accessible.
Art teacher Kim Valerio and her Ceramics & Sculpture II and III students along with a few of their friends hand painted rocks for a recent project and placed them the courtyard near the variety of trees and shrubs that dot the area.
"We found a bunch of rocks of various sizes taking up space in some cabinets in the ceramics room and decided to paint them," Ms. Valerio said. "My class of mostly seniors and a few sophomores and juniors were told they could paint the rocks any way they liked. Some chose to put Class of 2016 on them, some wrote inspirational messages and some chose to make the rocks colorful or make them into something, like a lady bug."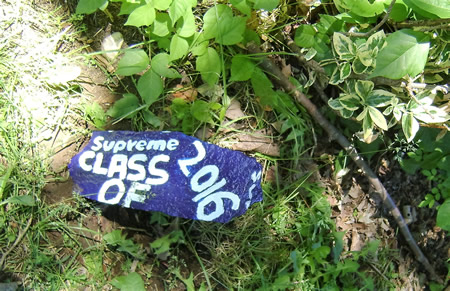 In keeping with his desire to make the courtyard a special place for students, Mr. Cusack signed off on placing the colorful pieces of art around the courtyard, enhancing the overall landscape.
Eleana Canas, Jessica Garcia, Ezzy Hernandez, Kelly Tenbus, Vernon Alexander, Giulia Gourgue, Arianna Martino, Afroditi Mountanos, Ashley Wright, Brandon Guerrero, Ted Deegan, Quincy Nelson, Ashley Herkimer and Will Thomas were all involved in the beautification project.
The students enjoyed adding their creations to the school landscape. Mr. Cusack toured the area he couldn't be happier.