Huntington's Relay For Life is
Full of Love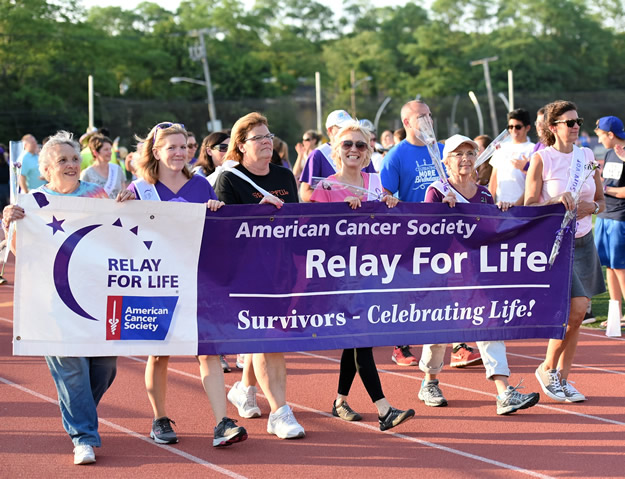 Last weekend's Relay For Life at Huntington High School was a celebration of life. People of all ages, including many who have battled the dreaded disease of cancer joined students, teachers and parents to raise funds for the American Cancer Society's efforts to help eradicate a scourge that continues to claim far too many lives.
Standing on McKay Road near the entrance to the school grounds and gazing down at dozens of gazebos and more than a thousand people of all ages walking silently on the track, playing games, reading, socializing, eating and otherwise interacting and going about their business, it was a challenge not to get choked up at what Huntington's students had managed to pull-off.
A total of 665 registered participants spread across 64 teams had raised $126,000 as of Sunday afternoon. Many of those in attendance last Saturday night were not officially registered, but enthusiastically participated, walking in remembrance of those loved and lost, offering encouragement, love and support to those battling cancer and standing in silent witness at the opening ceremony while survivors and their caregivers walked the opening laps on the Blue Devil Stadium track.
The general event chairs, which included junior Christiana Reinertsen and seniors Katie Keys and Jessica Straub worked closely with a group of several dozen classmates who played key roles on the organizing committee with each assuming responsibility for a particular aspect of the huge undertaking. Joseph Cohen and Tara Fisher who serve as high school National Honor Society chapter co-faculty advisors and Alyssa Patrone, the American Cancer Society's staff partner assigned to Huntington's Relay For Life, provided students with guidance and support along the way.
"This was my fourth year at Relay For Life and as always, I was completely impressed with the pitch perfect execution of every detail," Principal Brenden Cusack said. "Mr. Cohen, Ms. Fisher and all of the members of the student committee are to be commended for their year-long efforts. To me, there is nothing better than watching the sun rise over our campus knowing that our school community has invested itself so fully in a greater good. This is Huntington High School at its best. Only one thing was missing ... the rain, thankfully! The heavens were truly on our side and we were all grateful. It couldn't have been any better."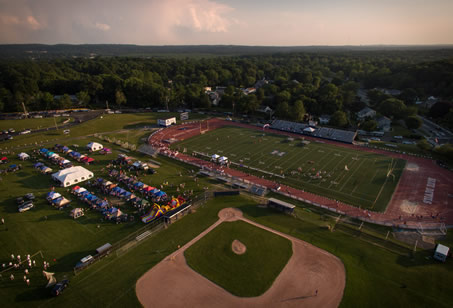 The opening ceremony drew a crowd in excess of 1,000. It included an emotional testimonial by high school seniors Alexandra and Cassandra Berwick. The twin sisters stood before the crowd and battled tears while telling how cancer had claimed the life of their mother and how the Huntington school community had helped them get through the terrible ordeal.
"Despite the weather concerns, it turned out to be a beautiful night characterized by a terrific turnout," Superintendent James W. Polansky said. "Mr. Cohen, Ms. Fischer and the high school student organizing committee did not miss a detail. From the opening ceremonies to the very end of the event on Sunday morning, the Huntington community, once again, showed its true spirit in coming out for an important cause, celebrating cancer survivors, providing support for those who have lost loved ones and highlighting the fact that there is more work to be done in battling the disease."
"It brings everyone together"
"Relay was a lot of fun this year," senior Meghan Plant said. "It was weird being the oldest one there, but it made me appreciate the community I grew up in. The knocker balls and the candle lighting was the highlight of the night. We were so lucky that it didn't rain. I love Relay because it brings everyone together to fight a terrible disease."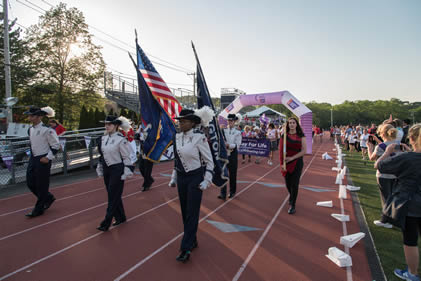 As of Sunday afternoon, Alyssa DeVoe ($7,575), Jaclyn Schultz ($4,585), Stefanie DeVoe ($3,140), Emily Williams ($2,250) and Kim Schaefer ($1,432) were the top five individual fundraisers. The top five teams included Dancin' for Miss Nancy ($21,475), The Rat Pack ($6,390), Huntington Highsteppers ($6,196), Rays of Hope ($5,065) and Cancer is Treble ($3,107).
"Relay is one of my favorite events of the year," said Ms. Williams, a senior who served on the organizing committee. "It is a way for the whole community to get together to support each other and fight against a disease that touches everyone in some way. I am so glad to have been part of such a great event for the past five years. It ran smoothly without any flaws. Everyone put so much hard work into this and it certainly paid off. I'm sad I won't be able to be on the planning committee next year, but I know I'll come back to the event to continue to support the community."
Woodhull School fifth grader Abigail Baade was on hand with her two high school sisters, Brooke and Christie for the opening hours of the overnight event. "Relay was another great success," senior Brooke Baade said. "It's amazing to see how many people come from all different ages to support. The night was filled with non-stop fun events, activities, performances and so much more. The Relay committee did an excellent job once again. It was really an amazing night."
By the time the sun had risen on Sunday, junior Anna Gulizio was exhausted, like so many of her classmates. "It was a lot of fun and everyone on the committee did a really good job organizing the event," she said.
Ms. Gulizio thanked high school physical education teacher Jamie Fishlow for letting her make-up a class with a 1 a.m. workout on the Blue Devil Stadium turf. "It was greatly appreciated," she said.
Senior Dan Mollitor made fresh guacamole and his team, Holy Walkamolies sold it along with chips. The crowd found it so hard to resist that more than $400 was raised and will be added to the night's total.
"Relay For Life is a special time for our school," Mr. Mollitor said. "We get to see the whole school district as well as the entire Huntington community come together to fight for a cure. It's been an honor to participate these past four years."
"Such an incredible night"
Senior Jeannie Kopstein turned out with many of her friends. "It was such an incredible night as everyone came together as a community to mourn those we've lost, support those who need a shoulder, celebrate those who have survived and fight back for those still suffering from cancer," the teenager said. "The breathtaking sunset and sunrise represented for me, an end and a new beginning. Last night made me appreciate how lucky I am to have grown up in Huntington, because of how loving and supportive our community is of one another and I'm going to miss it incredibly. I couldn't be more proud of Mr. Cohen for working so hard all year long to put together what turned out to be an incredible event."
Beginning with the opening ceremony, where hundreds of Huntington High School students sat silently on the turf field as cancer survivors and healthcare professionals told the large crowd about the individual battles waged to fight and conquer the dreaded disease to the lighting of luminaria that ringed the entire running track to the closing ceremony that saw hundreds of participants quietly circling the track at daybreak on Sunday at 5 a.m., it was just about impossible to maintain your composure.
Reviewing the creatively decorated luminaria bags was another experience that was hard to get through without being overcome by emotion. Each of the bags chronicled the personal reasons why participants were "relaying" in often heartbreaking terms, calling out to family and friends taken down by cancer and expressing unconditional love for them. Many inscribed the names of parents and grandparents, brothers and sisters and other close relatives and friends along with the specific type of cancer they had been stricken by.
An energetic organizing committee met for months to plan the event down to the smallest detail. Mr. Cohen and Ms. Fisher said they provided the teenagers with guidance, but otherwise gave them free rein and let students take the lead. The two faculty advisors were anxious to give students the credit for the event's success.
When the opening ceremony concluded, cancer survivors assembled on the track to walk the first lap of the event. Watching folks of all ages make their way around the oval, some supported by their caregivers was a heart-wrenching experience for other participants and spectators who stood along the edge of the track.
"Cancer never sleeps"
Each participating team was required to have at least one member on the track walking at all times because "cancer never sleeps." Some participants covered more than a dozen miles over the course of the night. When they weren't walking, folks were socializing, playing lawn or other types of games, reading, eating or enjoying round-the-clock entertainment.
Dozens of local businesses pitched in by buying ads that were placed on signs around the site, contributing to the Relay online through donations to participants and by providing goods or services.
When the sun went down portable lights powered by diesel generators illuminated the athletic fields and the Blue Devil Stadium complex. Participants played games on the synthetic turf field while hundreds quietly circled the track through the overnight hours.
Mr. Cohen said that organizers "couldn't have made this happen without the administration, school board, buildings and grounds department, security, staff, students and community."
When the event wrapped up early Sunday morning, those who stayed overnight appeared clearly exhausted. As they struggle to make their way to waiting vehicles, they did so content in the knowledge they had just participated in an impressive display of love, hope and celebration.
"Being my last Relay made me appreciate the event even more," said senior Brianna McDonald, who served on the organizing committee. "Every year this event gets better and better and it really exceeded my expectations. It's heartwarming watching our community come together for a cause that effects so many lives. This year was my favorite out of the four years I have done it. Our committee did an amazing job. I couldn't have asked for better people to finish my last relay with."