Eric Reynolds Named Director of Fine & Performing Arts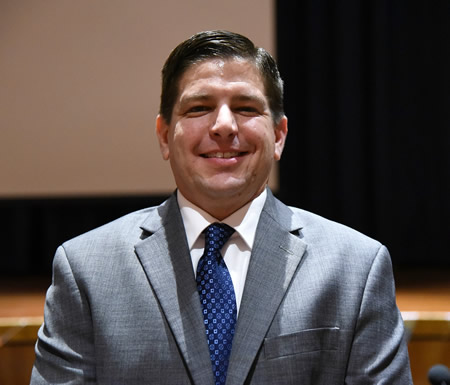 Huntington School Board members have appointed Eric Reynolds to serve as district director of fine and performing arts. He will assume the post on July 1.
Currently employed by the Sag Harbor school district, Mr. Reynolds studied at the Boston University College of Fine Arts, where he earned a Bachelor of Music degree in trombone performance in May 2000 and a Master of Music degree in music education in May 2013. He obtained an advanced graduate certificate in educational leadership at Stony Brook University in May 2015.
A music coordinator and teacher in Sag Harbor, Mr. Reynolds has been employed there since September 2008. His teaching responsibilities include directing the high school and sixth grade bands in lessons, rehearsals, parades, community events and performances. He's also the director of middle school and high school musical productions and he designed, implemented and teaches Sag Harbor's Advanced Placement Music Theory course. He created the district's secondary string orchestra program.
Mr. Reynolds wrote the curriculum for and teaches Sag Harbor's International Baccalaureate music course. He also secured funding for and initiated a music technology practice and assessment program for students in grades 6-12.
Prior to his appointment in Sag Harbor, Mr. Reynolds worked as an instrumental music teacher in the Brockton Public Schools in Massachusetts for three years. He directed the city's first middle school band and created the city's first elementary festival band for parades, school events and civic events.
Mr. Reynolds holds memberships in the Association for Supervision and Curriculum Development, Stony Brook University's chapter of Phi Delta Kappa, National Association for Music Education, New York State School Music Association, New York State Council of Administrators of Music Education and the Suffolk County Music Educators Association.
In accordance with state education law, Mr. Reynolds will be eligible for tenure after successfully serving a four year probationary period.