STEM Students Visit LI Robotics Regional Finals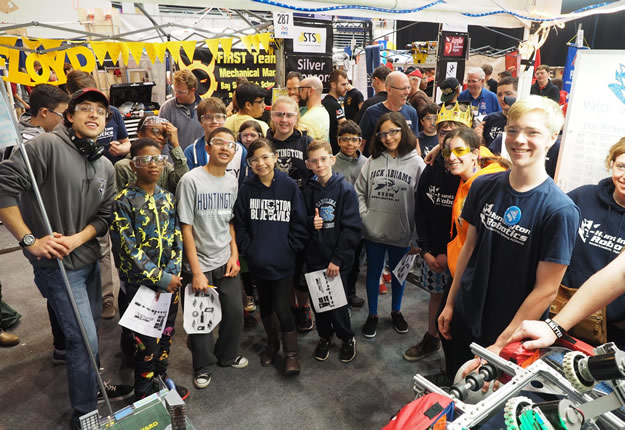 A large contingent of Jack Abrams STEM Magnet School sixth graders was on hand as the FIRST robotics competition played out at Hofstra University last Friday. With a trip to the world championships in St. Louis on the line, about five dozen high school teams vied against one another on the floor of the David S. Mack Sports and Exhibition Complex.
The Jack Abrams School group numbered 98 students and its entry into the arena made a statement of sorts that the Huntington School District means business. Huntington High School's team, which had already qualified for the world championships by winning the New York City regional at the Jacob K. Javits Convention Center two weeks earlier, reached the semifinals at Hofstra after overcoming a variety of technological challenges. Huntington eventually entered into a successful alliance with Northport and Center Moriches. Cole Blackburn was named team MVP.
The sixth graders were able to quickly grasp what they were watching unfold as many of Long Island top high school students matched wits against one another, including solving daunting problems as they popped up.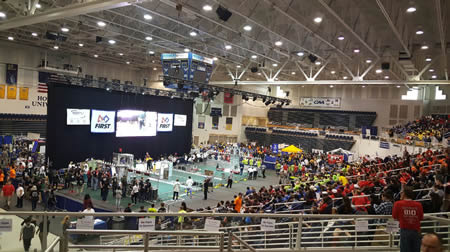 "In preparation for their visit, students were given an introduction of what engineering is all about and the message was clear; engineering is about teamwork and collaboration, people working together towards a common goal," said science teacher Donna Moro, the Huntington School District's STEM coach. "Each member of the team has an important role in the end result even if they aren't on the mechanical or computer programming design team."
Jack Abrams STEM Magnet School sixth graders were introduced to many of the most important facets of high school robotics teams, including fundraising, marketing, engineering design, computer programming and public relations/communications.
"Students were prepared to help scout alliance team members for Huntington Robotics," Ms. Moro said. "Each pair of students was assigned teams they were responsible for scouting."    
The Jack Abrams School students were able to visit the pit area where high school team members worked on their robots and strategized. The sixth graders observed the teenagers problem solving the challenges that popped up throughout the competition. "The students were eager to ask questions and learn about all aspects of the competition," Ms. Moro said. "They even learned how one team had a 3-D printer on site to replace important parts that were damaged during the competition."
The sixth graders came to Hofstra decked out in Huntington blue and ready to cheer on the high school robotics whiz kids. "It was a great day that exposed students to the real life application of their math and science skills," Ms. Moro said.  
The sixth graders saw their Huntington High School counterparts overcome serious electrical problems with their robot last Friday. They were able to get a real taste for competitive robotics and the knowledge it takes to succeed in such an atmosphere.
"These students left the competition eager to participate in the opportunities that lie ahead at Huntington High School," Ms. Moro said. "The future of Huntington engineering and robotics is very bright."