Exceptional Huntington Seniors Capture English Awards
Ten exceptional Huntington High School seniors were honored last month when the English department presented members of the group with special awards for their outstanding performance in a variety of categories.
The teenagers were recognized during the annual academic awards ceremony in the high school auditorium. Several hundred classmates, parents, teachers, administrators and district officials were in attendance.
Huntington English teacher and drama club advisor Michael Schwendemann presented the awards, speaking about each of the recipients.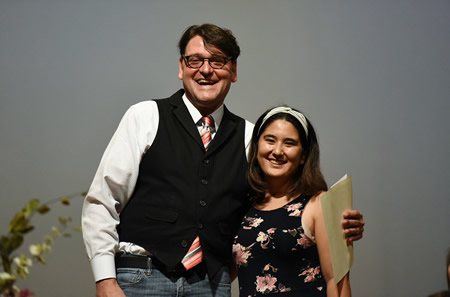 Hanae Wada garnered the English Honor Society's annual award, which carried with it a $50 stipend. The teenager is headed to Roger Williams University in Rhode Island. She plans to study real estate.
Vice President of the English Honor Society and Gay-Straight Alliance, Ms. Wada was inducted into the National Honor Society as well as the Spanish and Tri-M Music honor societies. She was a Blue Devil marching band section leader and also found time to volunteer with Huntington's Habitat for Humanity chapter.
The John F. Kellog Theatre Award was presented to Rachel Carpenter, Nancy Fallon and Kevin McConnell. The three teenagers turned in remarkable stage performances for the Huntington drama club. The Kellog award includes a $50 stipend.
Valedictorian of Huntington's Class of 2016, Ms. Carpenter will be attending the University of North Carolina at Chapel Hill where she plans to study biology.
President of the high school's National Honor Society chapter, Ms. Carpenter appeared in all eight drama club productions over the past four years.
Ms. Fallon will attend Johns Hopkins University in Baltimore, Maryland. A veteran, award-winning actress, singer and dancer, Mr. Schwendemann called her a "triple threat" for her versatility on stage.
A field major and section leader with the Blue Devil marching band, Ms. Fallon is interested in studying history education or musical theater at Johns Hopkins.
Mr. McConnell is still another stage veteran and exceptional performer. A member of numerous academic honor societies, the teenager plans to study mathematics at Boston College. He's also been an integral member of the Mathletes team.
Relaxed and confident before large crowds, Mr. McConnell served as master of ceremonies at Huntington's 155th commencement exercises as well as at the high school's spelling bee and Relay For Life.
The Joseph Samodi Theatre Arts Award was presented to Carolanne Buoniello, Andrew Gunthner and Justin Waite. The award included a $50 stipend.
Ms. Buoniello has been a standout on stage for the drama club, entertaining audiences during fall and spring productions and helping fellow cast members reach new heights with their own performances. The teenager will be attending Quinnipiac University in Hamden, Connecticut.
Mr. Gunthner is still another sensational actor. President of the drama club and vice president of the Science Honor Society, the teenager has enjoyed an incredible four year run at the high school.
A member of the National Honor Society as well as the Math, English and Tri-M Music honor societies, Mr. Gunthner sang with the a capella honors choir. He intends to study biology at the University of Michigan in Ann Arbor.
Mr. Waite has been a valued member of Huntington's drama club team. He performed in a variety of roles and never failed to move the crowd. His versatility was put to good use by Mr. Schwendemann when casting the fall and spring productions. The teenager will be attending LIU Post in the fall.
Page Montecalvo captured this year's Journalism Award. He served as music editor for the Dispatch, the high school's student newspaper. The teenager will be attending SUNY Delhi in upstate New York.
Ann Glackin won the Promising Young Writer Award. She interned with high school English teacher Victoria Lombardi and was vice president of the A World of Difference club.
The teenager was the senior editor of Et Cetera, the high school's literary magazine, historian of the Tri-M Honor Society and a peer mediator. A veteran of the drama club as well as community acting, Ms. Glackin also sang with the chamber choir. She plans to study English and theater performance at New York University in Manhattan.
Jeannie Morgenstern is this year's recipient of the Steve Tribus Memorial Scholarship. The $1,000 award honors a former Huntington School District assistant superintendent who worked as an English teacher earlier in his career.
A talented writer, she made notable contributions to the high school's literary magazine, Et Cetera. The teenager intends to study liberal arts at New York University in the fall.