Huntington Foundation Inspires
Tech Education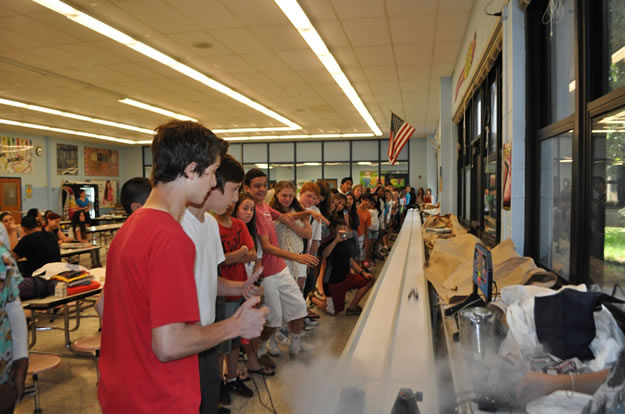 These are exciting times for the J. Taylor Finley Middle School technology program. The Huntington Foundation for Excellence in Education has played a major role in several initiatives that are increasingly making a positive difference in the classroom education of hundreds of students.
Significant support from the Huntington Foundation has allowed Finley's tech program to begin transforming dated 20th century labs into 21st century STEM innovation centers.

Over the past two years the Huntington Foundation has approved three Finley technology department grants, which helped fund many "new and exciting changes in curriculum and classroom technologies," teacher Michael Ferreira said. "Technology classes hope to encourage problem solving and critical thinking in a hands-on approach to create the best learning experience for students. The changes made will help move our technology program forward while creating connections between several major subject areas. This shift in our curriculum will allow us to better fulfill Common Core standards in both math and English language arts.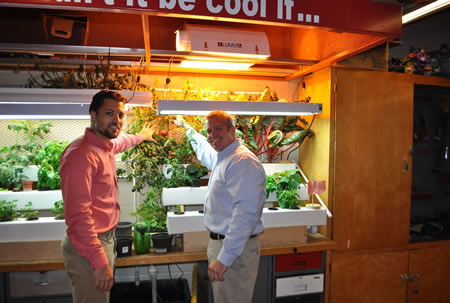 Students across the world are increasingly being challenged to become technologically literate in order to excel academically and in the modern workforce and economy. "Technologies are changing as fast as we are teaching students how to use them," Mr. Ferreira said. "It is important for students to learn basic elements that go into technologies and how technological systems can interact with each other."  
The initial Huntington Foundation grant spurred changes to seventh grade technology classes. "This grant allowed for the acquisition of 13 EV3 LEGO robot kits," Mr. Ferreira said. "These kits will allow for robotics to be taught as a unit to the entire seventh grade. The same kits are also used in the afterschool robotics club, which has grown from only eight seventh and eighth graders to 65 in its second year of existence.
Technology teacher Brian Reynolds said that "LEGO robotics is an excellent, engaging, hands-on approach to explore a vast array of topics such as simple machines, mechanisms, mechanical advantage, engineering, design, problem solving, team working, data collection, computer programing, manufacturing, and critical thinking."
The kits are designed for years use and they will continue to be utilized in classes and for robotics club activities. LEGO robotics allows students to engage in important STEM fundamentals through meaningful, real world problem-based learning scenarios. "The solutions to such problems could help change the world and technology based problem solvers will be the people to make it all possible," Mr. Ferreira said. "Early experiences in robotics will also help fulfill the growing societal need for more of today's students to become the scientists, engineers, and problem solving leaders of tomorrow. In our 21st century world, strategic problem-solving and higher-order thinking are of the highest priority and robotics inspires this type of thinking."
A second Huntington Foundation grant helped underwrite the purchase of a state of the art CO2 race track. This project challenged eighth graders to be real-world problem solvers and them to apply concepts from physics, math, engineering and technology into the designing, building and testing of a CO2 dragster.
"Their first task was to design an aerodynamic, stylish and futuristic dragster," Mr. Ferreira said. "Students took their dragsters to the next level by designing and 3D printing their own set of wheels. Their completed dragster were then tested and compared with other dragsters based on design, craftsmanship, aerodynamics, and speed. The summation of this capstone project was a race of dragsters held in front of the school."
A third HFEE grant allowed students to participate in a new unit on hydroponics, which is the process of growing plants without soil. The process helps plants grow bigger, faster and greener and better tasting, too. "It requires less water and light than regular farming methods," Mr. Ferreira said. "Most of the world's vegetables are grown this way today. It is important that students understand and experience these changes first hand. Hydroponics is a fun way for students to learn practical applications of subjects such as biology, chemistry, history, math, business, geography and engineering/physics."
Aspects of the new hydroponics unit touch on biology (understanding photosynthesis, experiments with pH and nutrients, microbes and root development, light color spectrum effects, etc.), chemistry (interaction of various nutrients, pH adjusting, calculating ppm of nutrients, etc.), history (ancient history and hydroponics, scientific pioneers of hydroponics), math/business (sell cuttings/seedlings for a school project, calculate the cost to produce and selling price), geography (research plants from around the world) and engineering/physics (system designs, capillary movement).
The Huntington Foundation has announced that its 2016 gala will return to OHEKA castle next winter. The organization is planning to celebrate STEM education and honor Huntington technology teacher Brian Reynolds and Suffolk Police school resource officer Andrew Fiorillo.
The Huntington Foundation's 23rd annual gala is set for Thursday, February 4. A sellout crowd is expected. All proceeds from the evening will be plowed back into district classrooms through the organization's two grant programs.