Huntington Foundation Creates
Youth Board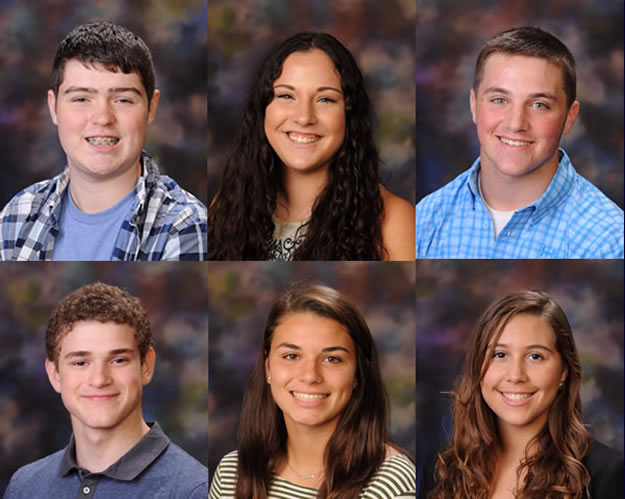 The Huntington Foundation has spent more than two decades raising funds and giving it all away through two grant programs that encourage innovative classroom practices. Now for the first time ever, the organization is bringing students directly into its fold.
Dedicated parent volunteers who have donated untold hours of their time have made the Huntington Foundation for Excellence in Education the envy of countless other districts. The organization has increasingly come to realize the importance of obtaining the perspective of students, believing the district's teenagers can offer valuable insight into how HFEE might continue making a difference.
Creation of the Huntington Foundation's first youth board is effort by the organization to gather together a group of students and use their combined knowledge to benefit those of every grade level across the district.
HFEE's first youth board ever consists of Lena Scarpulla, Alexandra Koumas, Nick Lanzisero, Joe Mangan, Kayla Ryan and Aaron Feltman. Members of the group were selected with input from Principal Brenden Cusack and college counselor Bernadette Walsh. "Each of these students has demonstrated academic achievement as well as interest in the Huntington Foundation's mission," said Alice Marie Rorke, the organization's president. 
Each of the youth board members is being asked to volunteer six hours a month, assisting the Huntington Foundation with its work. "From filming and editing grants awarded and how the district has benefitted from them to increasing the amount of HFEE website visitors, the youth board will undoubtedly add its own touch as they develop a social media campaign for our organization," Mrs. Rorke said.
The six youth board members will also serve as liaisons to the district's individual schools, helping to ascertain the needs of teachers and encouraging them to submit grant applications. "Real life experience in event planning will also be gained as they assist with the annual gala at OHEKA castle," Mrs. Rorke said.
New Huntington High School librarian Julie Miller will be volunteering her time to work with the youth board members to guide and support their efforts. "I'm very excited to work with the HFEE Youth Board," she said. "These young ladies and men have some great ideas. It's great to have the opportunity to collaborate with them."
The Huntington Foundation is aggressively reaching into the student ranks to get the younger generation involved in the organization. Senior Alanna Harvey is also serving as the group's first ever student intern this year.
"With exposure to such variety in tasks and responsibilities the students will have an opportunity to not only grow in their own areas of expertise, but also develop new interests and talents," Mrs. Rorke said. 
Huntington Foundation officials believe the students it has associated with will strengthen the organization as it moves forward into a new era.