Huntington Football Wins Wild Game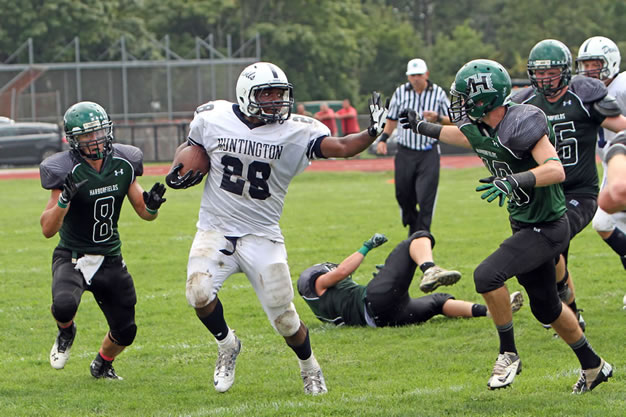 Christian Jamison's end zone interception with seconds remaining in the fourth quarter sealed the Huntington High School football team's season-opening 20-18 victory at Harborfields last Saturday before a crowd of about 1,500 in Greenlawn.
Harborfields dominated the opening minutes of play, seemingly moving the ball at will en route to grabbing an early 6-0 lead. The Blue Devils responded as quarterback Ben Kocis hit Tyler Greenhill with a 26-yard touchdown pass to knot the score. Neither team could muster much offense in the second quarter. The score stood at 6-6 at halftime.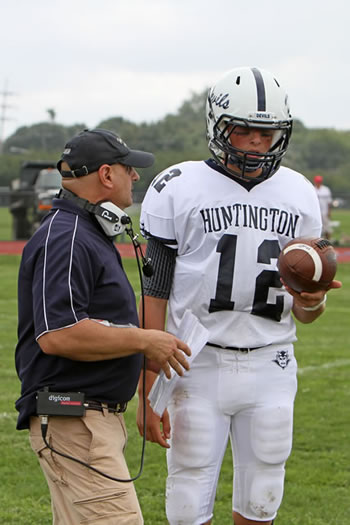 Huntington took control of the game in the second half. Kocis connected with Jamison for a 43-yard touchdown pass and fullback Devon Nelson scored on a punishing six-yard run. Place-kicker Patrick Reilly split the uprights following each touchdown to give the Blue Devils a little breathing room although Big Blue just couldn't put the game away.
Nursing a somewhat precarious two-point lead, the Blue Devils played stellar defense in the final minutes as the Tornadoes mounted one final offensive. With a strong wind swirling under darkened skies, Harborfields went for the win, sending a sharp spiral pass into the end zone, but Jamison picked it off with just seconds remaining as Huntington's players and fans went into delirium.
"It was a wild finish to a great game between two proud programs," Huntington head coach Steve Muller said. "It was a great way to start off the season. There was some fierce hitting out there today. We came ready to play."
The Blue Devils will play this Friday night at Rocky Point at 7 p.m. The Eagles upended Eastport-South Manor in their first game of the season, 37-12.
Blue Devil Notes: Kocis completed 7-of-12 passes for 120 yards and two touchdowns . . . Nelson rushed 19 times for 105 yards and a touchdown . . . Greenhill caught four passes for 60 yards and a touchdown . . . Jamison had two receptions for 57 yards and a touchdown . . . Josh Long caught one pass for three yards . . . Troy Greene rushed three times for 27 yards . . . Kocis also rushed six times for 25 yards . . . Greenhill picked off a pass.