Huntington Welcomes
4,300 Students Back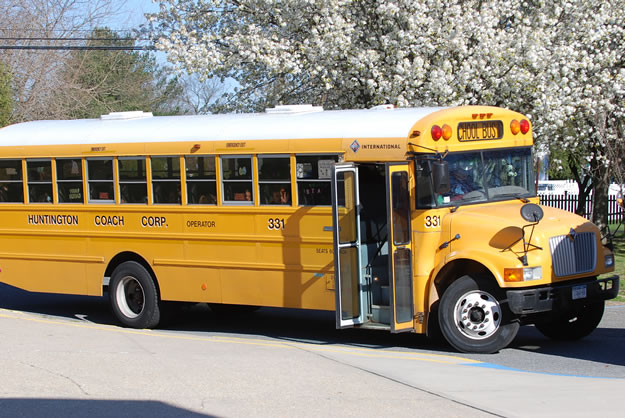 With its buildings sparkling, the Huntington School District welcomed more than 4,300 students back to classes this week. Officials said everything is in place for what they expect will be a great year.
"Everything is ready," Huntington High School Principal Carmela Leonardi said. "In spite of the fact that we housed summer school and a freshmen seminar program, the building is in top shape. We held the ninth grade orientation last week and were able to enjoy the energy and freshness that incoming students bring to the high school. It was wonderful to meet parents who are new to the high school and get reacquainted with those who are returning with their younger ones."
The district's cafeterias are all set to serve meals, with abundant fresh food on hand. Huntington Coach Corp., the district's bus carrier, has analyzed routes for safety and made dry runs to iron out any potential problems in advance. Classrooms are well-stocked with new equipment and supplies, including hundreds of new computers and printers on the elementary grade level.
"The art and music teachers are happily awaiting the arrival of their new and continuing students," said Joan R. Fretz, district director of fine and performing arts. "Many have spent the summer developing new projects for their classes. Our marching band students had a fabulous band camp. They learned the entire drill and memorized all the music for the competitive field show and are excited about the season. We can't wait to begin making music and art with our talented Huntington students."
Buildings and grounds department workers have thoroughly cleaned rooms in every building and completed several renovation and repair projects. The district facilities are in fine shape to start the new school year.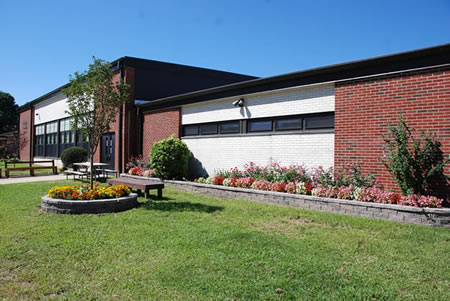 Faculty and support staff members attended meetings on Tuesday, coming together as a group in the Huntington High School auditorium for speeches by School Board President Emily Rogan and Superintendent James W. Polansky. Faculty and department meetings followed along with some special sessions depending on subject and grade level taught.
"The teachers have been coming in steadily to set up their classrooms and get ready for the first day of school," Dr. Leonardi said. "I am certainly looking forward to a promising school year and to the opportunity to work with colleagues and students so that we can offer everyone the best experience both academically and socially."
Woodhull Intermediate School held a "welcome day" on Tuesday for fifth and sixth graders and their parents, who were allowed to visit around the building between 2:15-3:15 p.m. Teachers were putting the final touches on their classrooms, but were happy to meet their former and future students.
"They are always so excited to see their teachers, find their classrooms and meet new friends," said Woodhull Principal Mary Stokkers, who has been back at work for two weeks along with Assistant Principal Jarrett Stein.
"We tell them to wear the color of their team: yellow, green and orange for fifth grade and red, white and blue for sixth, to create school spirit," Mrs. Stokkers said about the day set aside for students to stop by the school. "Some students may be a little anxious as they transition to a new school. This visitation day seems to alleviate the anxiety. Our students run in from the beach with bathing suits on not wanting to miss one minute of their last day of summer, but find time to come for a half hour to meet their new their classmates. It is a fun day to be the principal."
Woodhull's teachers and PTA have been on the scene periodically for weeks, preparing for the start of classes. "Mr. Stein has been crunching the numbers, making the schedules, building class rosters and gearing up for opening day," Mrs. Stokkers said. "We make a great team and I am eager to begin another great year at the home of the Eagles."
All across the district, things seemed to rapidly take shape for the new school year. "I think we have everything in place for the opening of school," Flower Hill School Principal Marlon Small said. "Our custodians have done a great job getting the building ready. Our secretarial staff and teachers have also been busy preparing for the arrival of our students. I want to thank them for their hard work. We are excited for the start of the new school year. I am confident we will have fantastic year."
Athletic teams at Huntington High School began practice sessions during August and the Blue Devil varsity football team will play its first game on Saturday at Harborfields. Homecoming Day is set for Saturday, September 29, so the school's student government and clubs will need to quickly organize and commence preparations for the popular event.
Science teachers welcomed a pair of new department members in Terence Doran, who will teach Earth science and Brendan Burkhart, who was hired to teach physics. Veteran science teacher Dame Forbes engaged in scientific research at Columbia University while other teachers taught in summer schools and at camps. Still others traveled around the United States and Canada, returning with a variety of photographs of scientific phenomena they are eager to share with their students.
"Several or our students were involved in research projects this summer and we are beginning to set up our new cell culture lab," said Rae Montesano, chairperson of science and instructional technology, 7-12. "We are looking forward to a busy and productive year."